The 34th Georgia Golden Olympics are in Warner Robins starting Wednesday. The Olympics will span four days starting Wednesday and wrap up on Saturday.
The four-day athletic competition is for adults aged 50 and older and organizers still need volunteers.
At the Senior Activity Center preparations are underway for the games. Organizers are expecting a record number of competitors, nearly 800. Organizers say this is a qualifying year for the National Senior Games, so participation has risen.
Because of that, they'll need a lot of help.
"We desperately need more volunteers. Anybody that can donate some time, spend some time with us, a lot of the events are all day, but some of them are just a few hours," said rules and events coordinator Lola Frost.
One Golden Olympian says the volunteers provide extra motivation.
"They encourage, they inspire, they provide us with water, they provide us with needs, and they say-- and I think I've often said this not only to me but to other participants, 'you're doing great' and they'll clap," said Mary Alice Ealer.
Ealer has participated in more than ten Golden Olympics. She said she loves to compete and meet new people. Swimming is her favorite event.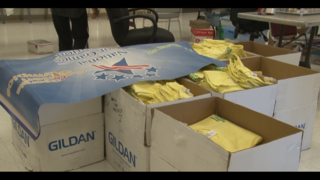 The Golden Olympics have been in Warner Robins for more than 30 years and they say if you volunteer once, you'll be hooked.
"Many of them come back year after year because they just have so much fun, they interact with the participants, with the athletes, and they get to know them. A lot of times they volunteer with their friends, so just grab your friends and come down and volunteer," said Frost.
Volunteers are still needed for all-day events and for shorter competitions. People interested in volunteering can go to the Georgia Golden Olympic website and download the form. After filling out the form, email it to GGOvolunteer@gmail.com or drop it off at the Senior Activity Center in Warner Robins.
The Center is located at 152 Maple Street.