This Labor Day weekend, dogs from all over the country will take over the Georgia National Fairgrounds.
Organizers at the Fairgrounds are expecting about 1,500 dogs to participate in their shows throughout the weekend.
"It's not unusual to get people coming in from all over the place. I know we've got some people from the Midwest, and so far, no one's been hassled by the storm. So, everyone's taking it well, but this is our big Fall dog show," said Rowdy Yates from the Middle Georgia Kennel Club.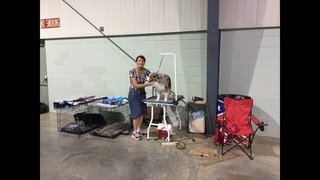 There will be eight shows this weekend, two a day, Friday through Labor Day on Monday.
It isn't just Georgia dogs at the Fairgrounds. 13WMAZ talked to dog owners who brought their pets from Florida, Texas, and even Missouri. None of them said they had any trouble getting through the storms that hit Thursday and Friday.
One woman from Texas said she's willing to come all this way for a reason.
"This is the best show ever to come to. It's the funnest, the most organized, and it's great," said Cheryl Lantz with her dog Balthazar.
Harry Owens and his dogs come all the way from Missouri for a similar reason.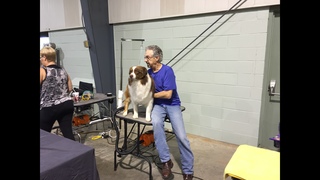 "Well, we like the people, they're like family. Rowdy and his wife Sharon, they're like brothers and sisters to us. And we know everyone generally who comes here," said Owens.
Besides, as far as Owens is concerned, no storm could come between a man and showing off his dog.
"She's my baby," Owens said next to his dog, Ruby.
The shows are free and open to the public all weekend. The shows on Saturday and Sunday go from 9:30a.m. to 5:30p.m. On Labor Day, the first show starts at 8:30a.m. and the event ends at one in the afternoon.