Some counties in Georgia are still suffering from the aftermath of Tropical Storm Hermine. Macon-Bibb County Emergency Management is sending a few workers to Savannah to "lend a helping hand."
Three men and three trucks are on their way to Chatham County in Savannah to help clear debris from Tropical Storm Hermine. Gary Watkins said the damage is 'pretty heavy.'
Macon Bibb EMA Director Spencer Hawkins agrees.
"It's pretty significant and they definitely need the help," said Hawkins. "This is what I call our neighbors helping neighbors."
According to Catherine Neal, public information officer, Chatham County is looking at more than $500,000 in "unbudgeted expenses" and there's still weeks of debris left to clean.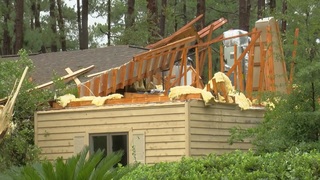 Hawkins says they're going to help clear the mess, and hopefully remove some county stress.
"We have a statewide mutual aid agreement with all participating counties in the state just for instances like this," said Hawkins.
Watkins said he's optimistic and ready to help those in need.
"I've never been to Savannah for work, but I'm thinking we're going to do real good," said Hawkins.
EMA Director Spencer Hawkins says their guys will stay in Savannah all week to help clean up.