Mrs. Andrea Reid teaches third grade at Kings Chapel Elementary School, and this week she is our Top Teacher.
Cylie Boyce says Mrs. Reid roots for them every day.
"I feel like I am their biggest cheerleader, but they do all the work so you have to cheer when they do hard work. So, knowing that Cylie put an effort and some thought and some heart into writing a letter about me, makes me feel special," said an emotional Mrs. Reid.
She works hard to make her students learn. That's why Cylie wrote her letter.
"She helps us with our math and our rounding and it's really fun and that's it," said Cylie.
If you ask her students, Mrs. Reid is a fun and helpful teacher.
"She's fun and we do a lot of activities with her and she likes all of us and then she likes doing activities with us," said Savannah Steinmetz.
Mrs. Reid said she cares for her students like they are her own children.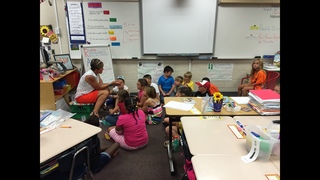 "One of the things I like about my class is that it's small, that we're like a family. And I feel like I'm momma bear and they're my baby bears. So, these are my kiddos, these are my babies," she said in front of her classroom.
If you want to nominate your teacher, just send a one-page handwritten letter to:
"My Teacher is Tops"
1314 Gray Highway,
Macon, Georgia 31211.
Make sure to include your name, your teacher's name, the name of your school, and remember that neatness counts!