Hundreds show up to Poss memorial service None
Friends and family gathered at First Baptist Church of Perry to say their goodbyes to Sam Poss.
The following is Poss's obituary published on Watson-Hunt Funeral Home's website.
Samuel Christian "Sam" Poss, 18, died unexpectedly on Saturday, October 15, 2016.
Sam was born in Cary, North Carolina, and spent all of his school years in Perry, attending Perry Primary School, Tucker Elementary School, Perry Middle School, and Perry High School, from which he graduated in 2016. He was always a happy-go-lucky kid. A lifetime "barefooter," he was always being told, "put on your shoes!" Through the years, he discovered that music, gaming, and tinkering with computers were the things he enjoyed most. In fact, he was very computer savvy and liked helping others fix their computer issues. Sam was always pleased to be able to assist others, and always helped his Nana and Papa whenever they needed him.
Sam's father, Chris Poss, remembers his son
Sam also earned a black belt in Tae Kwon Do, of which he was so proud.
In middle school, he developed a passion for playing percussion in the band, and music, in general. His band director made "Sam Poss Day" at the high school, where all the kids would wear their socks like Sam - one tall sock and one short sock. During Sam's Senior year, he led the percussions as the Captain of the Drum Line. Recently, Sam had begun teaching himself to play the piano, which he actually did quite well.
Band director Andy Hursey speaks about Sam Poss
Sam was a traveler all of his life, with his parents and his grandparents, learning to appreciate the world and all it had to offer. He truly loved spending time at the beach, and cherished the memories of vacations up and down coastal Georgia, Florida, and even California. On his 12th birthday, he was celebrating at the Grand Canyon, and his 17th birthday was spent at the famous Bonnaroo Music Festival, something he had dreamed of attending. Sam also had aspirations of joining the US Navy, like his father and his grandfather before him, hoping to eventually be stationed in Japan, and traveling the world while proudly serving our country.
Pastor remembers Sam Poss
In the past few months since graduation, Sam was spending the final time of his life as a kid. He did not have to "adult" yet, and was just happy being Sam. He had a heart for animals, and rescued a sweet dog that has loved and protected him unconditionally.
Left to cherish the memories of Sam are his mother, Nicole Poss of Macon; his father, Chris Poss of Perry; his brother, Logan Poss of Perry; his paternal grandparents, Nana Judy and Papa Jim Poss of Perry; his beloved dog, Annebelle; and numerous aunts, uncles, and cousins.
To honor Sam, the family invites everyone to wear casual clothes to the service, and if you so choose, celebrate "Sam Poss Day" like the band does by wearing one tall sock and one short sock, or come barefoot! Condolences for the family may be left in the online guestbook at www.watsonhunt.com. Watson-Hunt Funeral Home has been entrusted with the arrangements.
In lieu of flowers, the family respectfully requests memorial contributions to the Sam Poss Memorial Scholarship Fund that will be created for a percussionist student each year. Any donations may be mailed to Watson-Hunt Funeral Home, P. O. Box 52, Perry, GA 31069.
Hundreds gather at vigil for Sam Poss None
Hundreds turn out for Poss' memorial
Samuel Poss' body was found October 20. Monday, hundreds of people showed up to a Perry church to hold a memorial for the slain teenager.
A final song from the Perry High School band was played for their friend and bandmate.
Nearly a thousand people showed up to his memorial service. His father, Christian Poss, took to the podium to share some words about his son.
"Sam's life will continue to matter. He really wanted to help people, so many of us will remember the way that Sam was there when they needed him. That's how we can honor Sam," says Poss.
He was a bass drum player in the band. Poss' Band Director said it is just like him to follow the number one band rule.
"If you're on time, you're late, so if you're early, you're on time. Maybe Sam just wanted to be early to heaven," says Perry High Band Director Andy Hursey.
One bandmate says people used to call him "Little Poss" because they looked alike. Jack Plummer says everyone liked Poss.
"People came here to remember such a great kid, not only from band, but Tae Kwon Do and overall just being there for everyone. There's no bad memories of him. It stays that way," says Plummer.
Poss' father has some advice on how his friends and family can best keep his son's memory alive.
"Continue to remember him to show the world that Sam's life still matters after you leave here today and every time you remember Sam please help each other lend a hand and help the world," says Poss.
Samuel Poss was only 18 years old. A preliminary autopsy says he was strangled to death and had stab wounds to his torso area. Dakota White and Brandon Warren have both been charged with murder.
"Disturbing" case
A preliminary autopsy Friday concluded how Poss was killed.
He was strangled to death, according to Perry police Capt. Heath Dykes. Poss also suffered stab wounds to the front torso, Dykes said.
Dakota White, 17, and Brandon Warren, 18, have both been charged with murder in the death. They're being held in Houston County jail without bond.
Poss was killed sometime between 11 p.m. Oct. 14 and 7 a.m. on Oct. 15, according to a search warrant. It says Poss was killed at Dakota White's home at 1102 Tucker Road.
Poss was last seen alive Oct. 15 leaving White's home. Authorities have said he went there to help White repair his computer. He was reported missing prompting a large search.
Lynn said Poss was friends with White and Warren was an acquaintance. They all attended Perry High School.
White was arrested around 10:30 p.m. Wednesday before Poss' body was found, said Detective Quridsha Gilliam. Warren was arrested around 3 a.m. Thursday.
Perry police Capt. Heath Dykes gives a summary of details on the case of Sam Poss. The 18-year-old was missing since Saturday and found dead early Thursday morning. Two other teens have been charged with murder in his death. None
Suspects' "disturbing" Facebook pages
A veteran Perry Police investigator calls the killing of Poss unlike any other case he's worked.
Capt. Dykes saysWhite and Poss were friends who would often play computer games together.
But he says the relationship between Poss and Brandon Warren is unknown.
Dykes says as he investigates the case, the Facebook pages of the suspects disturb him.
Dykes confirmed that a page with the name TG Rilla belongs to White.
A post on the page from Sept. 13, 2015 reads:
I wouldn't mind taking a knife, shoving it into someones throat and just watch them choke on their own blood until they die (the post ends with a heart emoji).
The intro to Brandon Warren's Facebook page has an entry that reads:
"Who could love you, but the mold that sprouts from your cold sad corpse."
"Some of the stuff you see on these Facebook posts and pages, it's very disturbing," Dykes said. "Some of the stuff that we've learned during this investigation that was talked about prior to and after ... you know this young man Sam lost his life for merely nothing. I mean for no reason whatsoever, no one deserves to be killed, murdered and dumped like that."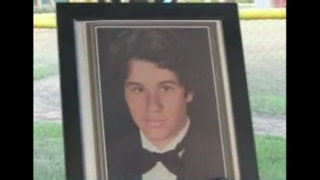 White shared several Facebook posts to his page from media outlets reporting stories about the search for Poss who went missing Saturday. Police have said Poss was last seen leaving White's home.
Police are still investigating the motive behind Poss's murder.
Perry police Chief Stephen Lynn and Capt. Heath Dykes talk about some of the details surrounding the death of Sam Poss. None