Taylor County's school superintendent is out of a job after the school board voted Monday to let Gary Gibson go. So far, the district has declined to say why.
Claire Davis spent the day there as more than 50 people gathered outside the school board's office to protest.
Frustration, anger and concern are just a few of the words parents, students, and others used to describe how they felt after the school board voted 3-2 to fire superintendent Gary Gibson.
Brenda Gates is one of those parents.
"Things have changed here since Dr. Gibson has been on board. I mean have changed," said Gates. "Student scores are going up. He's always doing updates. When somebody's out, he'll drive the bus! Grass need cutting, he'll cut the grass! I ain't ever seen a superintendent get out there and cut the grass or drive the bus, but he's a good man."
Kevin Eubanks has several children who have graduated from the Taylor County School District.
"This school system has been stagnant for years. It has not produced quality students ready to move on out of high school and Dr. Gibson has been here wanting to change that," said Eubanks.
Kenyadia Heath is a sophomore at Taylor County High School. She became emotional when she heard the news.
"He's just encouraging, he's like a second dad to us. We've, we've never seen nothing like it," said Heath.
Another student, John Corbin agrees.
"All of the things he's done for us. I just can't see him gone. I need some answers like for real," said Corbin.

So far, the school board hasn't given a reason for Gibson's firing, but Gibson says Taylor County has a lot of poverty and his goal was to take care of all of its students.
"Public education is that leveler. In Taylor County, there is resistance to that. There's a group that wants to take care of the top 20 percent and the other 80 percent seem to get left out," said Gibson.

Even though Gibson's been let go, he says he hopes board members will open their eyes.
"We're in a small town and there's always small town politics. This is not unlike any other small town in America and that's part of this, for that small group to make every decision and to ignore groups like this. The plan will be to ignore this group that's behind me," said Gibson.
Gibson was hired two years ago and his salary was a little more than $115,000 dollars.
WMAZ called all five school board members to ask why they fired Gibson, but so far none have called us back. School spokeswoman Jennifer Albritton, an assistant superintendent, declined comment.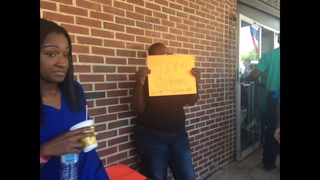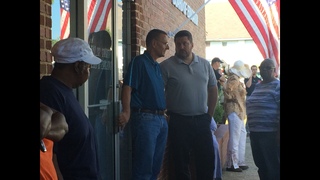 \