The Warner Robins City Council appointed the fourth fire chief in the city's history on Tuesday night. Current deputy chief Ross Moulton will take over the department starting on Monday.
The City Council approved Ross Moulton as the new chief of the department with a unanimous vote.
Moulton takes over for Chief Robert Singletary, who has led the department since 1999.
Singletary's last day will be Sunday, September 11. It is a day he says was chosen for a reason.
"Well it's a very memorable day in the fire service. You know a lot of firefighters lost their lives that day and this gives me the opportunity to retire and go out on that same day. On my own means," Singletary explained.
For his replacement, it was an emotional appointment.
"And I think you all know that I'll do everything I can, to do the best for the city and for the employees," an emotional Moulton said to the Council.
As for Singletary, he leaves with the thanks of a grateful Mayor and Council.
"We wish you the best, thank you, it was a privilege to work with you," said Councilman Chuck Shaheen.
"Robert, we're going to miss you. But, you've left the department in good good hands," Councilwoman Carolyn Robbins explained.
"We appreciate everything you've done and continue to do and will continue to do," Councilman Clifford Holmes said after the appointment.
"Chief Singletary and I will be friends for the rest of our lives and have been friends since I was in the 1st grade," reflected Mayor Randy Toms.
The Council says they have faith in Singletary's replacement.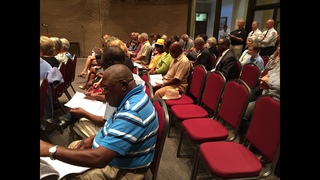 "He's always been an asset in our fire department, he's been a hard worker, he came in from day one and he just really worked hard. You won't find a better person than Ross Moulton," Councilman Mike Davis stated after the meeting.
Moulton's first day as chief will be the 12th.
The Council also took public comments on the plans to improve recreation department facilities.
Council members say they will wait for the Recreation Advisory Board to make a recommendation before moving forward.