At their latest meeting, the Recreation Advisory Board said they planned to have a proposal for Warner Robins mayor and council ready by October 17th.
Parrish Construction gave the board a presentation about the cost of the suggested projects.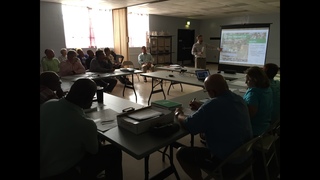 Their presentation went through renovation proposals at several different city parks. Combined, many of those proposals would cost millions. Right now, the city has about $5 million set aside for recreation projects.
Vice Chairman Andy Thomas says they are trying to spread the money around the city.
"Everybody in the room, that was from different areas of the city and county even, realized that there was something in this proposal for everybody and we could act on it November the 1st, 2016. And the majority of it could be done by Spring 2017," Thomas said after the meeting.
He also said he was confident that the Board's proposal, whatever it might be, would be approved.
Several people from around Warner Robins and Houston County attended the meeting. Some of them suggested specific renovations, while others asked how the City planned to pay for all the projects.
The Board will meet again next week and plans to talk with Parrish Construction and decide what the city can afford with their current budget.