A Tropical Storm Watch has been upgraded to a tropical storm WARNING for the counties shaded below. It includes the cities of Warner Robins, Dublin, Wrightsville, Cochran, Eastman, Unadilla, McRae, Soperton, and Abbeville. These areas have the possibility to see tropical storm force wind gusts of 40 to 70 mph. The wind field in this system is large with tropical force winds (39 mph or higher) extending outwards of 185 miles from the center of the storm. With the combination of drought conditions, heavy rain, and strong winds, trees could fall down. Power outages will be likely. You'll want to make sure all of your electronics are fully charged. You will want to park your car away from trees. You'll also want to make sure you secure any loose objects outside (like flags/trash etc.). Wouldn't hurt to have a NOAA Weather Radio on overnight in case a warning has been issued. (or an app that can alert you in case a warning has been issued)
This storm is nothing like Alberto (1994) as it will push out of here by Friday evening. Rainfall totals somewhere around 3 to 6 inches.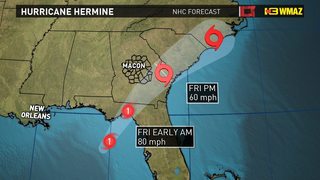 When: Midnight through 7 PM Friday
Time for strongest winds: 5 AM - 12 PM Friday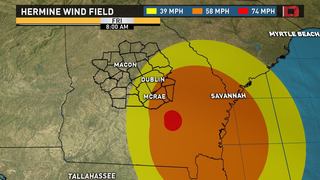 Threats:
1) Tornado Watch for Telfair, Wheeler, and Treutlen counties until 8AM Friday. Isolated tornado can't be ruled out, but most likely staying along coastal Georgia
2) Flash flooding (Turn around, don't drown!)
3) Strong winds (25-40 mph with gusts 60 to 70 mph)
If you are NOT in the tropical storm warnings (Cities like Macon, Forsyth, Milledgeville, Roberta, Butler, Gray, Eatonton, Monticello and Sparta), then expect periods of heavy rain, winds around 20-30 mph with gusts near 40 mph. Rainfall totals will drop as you go north on I-75. Impacts not as high. Could be a huge dropoff with some areas seeing half an inch of rain and 25 miles southeast seeing over 2 inches. If the center of Hermine is further west by 10-20 miles, then that can dictate more rain and wind for our areas just to the north and west of the tropical storm warnings.
Main point: Biggest concern is our southern counties.....areas along and south of I-16 and locations east of I-75. Center of the storm should push to our south, but tropical force winds will be possible. Be weather aware. I can't give you exact rainfall totals for your particular city. Just know it will rain. Heavy at times. If you don't have to be out in it, don't. By Friday evening (near sunset), it should be all over and we'll have a very nice weekend to enjoy!