They call her the Chinese Southern Belle!
Natalie Keng is an Atlanta native who loves sharing family recipes and her Asian-American culture with a growing audience. Visit her website for more recipes and food for thought.
1-Minute Fresh Vegetable Stir Fry
2 cups fresh vegetables, julienned (Any combination: bok choy, cabbage, carrots, zucchini, red pepper)
[Timesaver Tip: 2 cups Superfood, Kale Slaw mix]
1/3 cup teriyaki or soy ginger sauce*
1 T each of "Mom's 3 G's" (ginger, garlic, green onions), minced/chopped
Place skillet on medium-high heat. Add vegetable oil and 3 G's to hot pan, stir once. Add vegetables and sauce to hot pan. Stir fry 1 minute. Drizzle with sesame oil. Serve hot with rice, noodles or as a side. Optional: Top with grilled chicken, shrimp, beef, pork.
*SAUCE – DIY From Scratch --Chinese Southern Belle's Asian Home Chef Stir Fry Sauce Recipe below, mix all ingredients together. (Double recipe if you want extra sauce to keep in fridge for another stir fry.)
Short on time? Check out Natalie's sauce shortcuts, recommendations and more cooking & shopping tips on ChineseSouthernBelle.com
· 1/3 cup naturally brewed soy sauce
· 2 T rice wine (or sherry)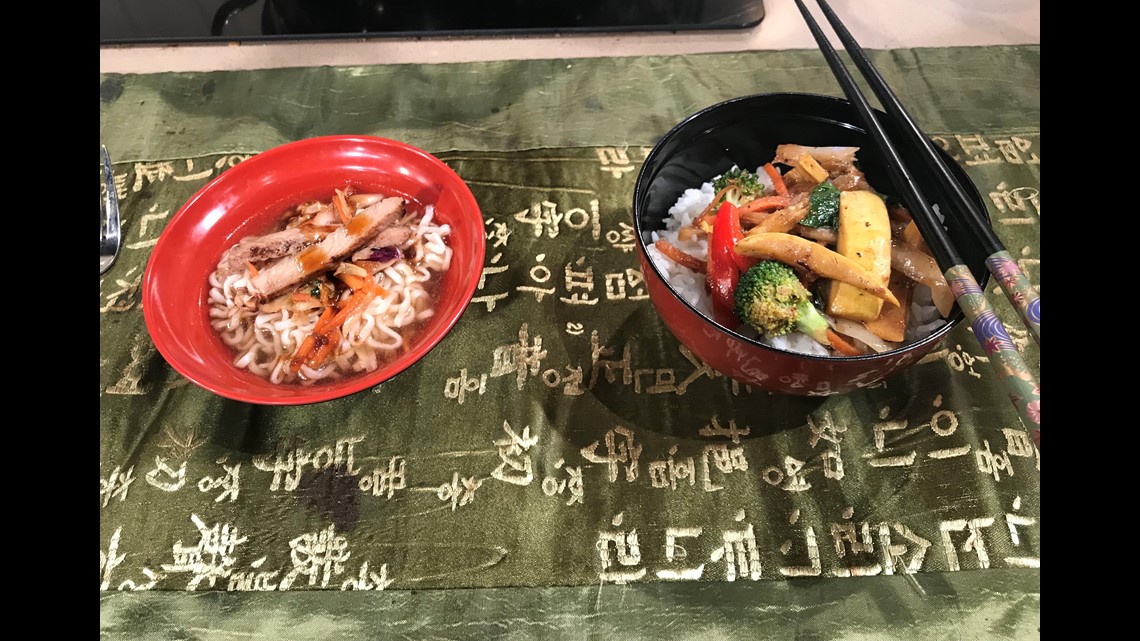 Easy, Creative Variations (or Natalie's Leftover Makeovers J )
v Fried Chicken Stir Fry: Mix in sliced rotisserie or fried chicken with vegetables. Add extra sauce if desired.
v Asian Bowls: Serve Stir Fry over Brown Rice. Top with grilled chicken, shrimp, beef, pork. Drizzle with extra sauce. Garnish with toasted sesame seeds and chopped scallions.
v Chinese Spaghetti: Serve Stir Fry over any shape cooked pasta. Drizzle with extra sauce.
v Mu Shu Burritos: Wrap 1 cup of Stir Fry with ½ cup brown rice in warm tortilla.
v Teriyaki Chicken Lettuce Wraps: Layer ¼ cup Stir Fry in romaine or buttercup lettuce leaves. Top with 1-22 small slices rotisserie chicken. Garnish with crushed peanuts (or cashews). Drizzle with Teriyaki sauce.
v Spicy Szechuan-Style Stir Fry: Add 2 T Sriracha or Asian garlic chili paste to sauce mixture.