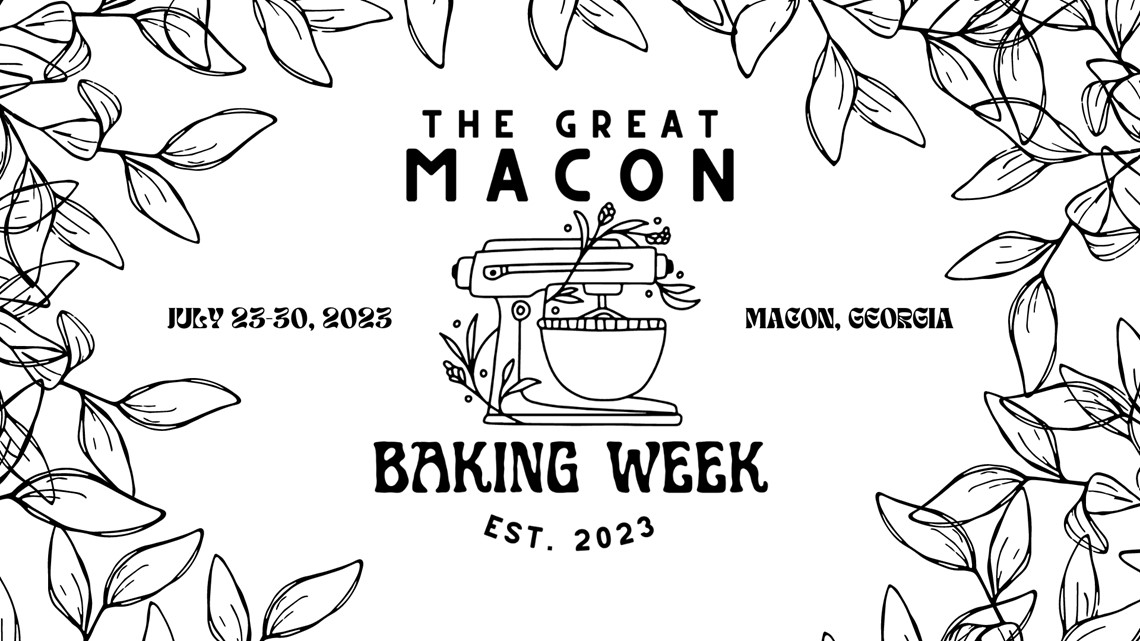 One Macon bakery is making mouth watering macarons for the contest.
They are entering their Pistachio flavored Italian macarons with brown butter buttercream and a white chocolate ganache center.
You can pair them with a delicious honey bee latte or iced chai and enjoy them while relaxing in the beautifully decorated sitting area.
Baker and owner Adriana Horton says they are so excited for everyone to try their macarons and see what they have to offer.
We're just so excited to participate! July is such a hard month for business in Macon, and so we're just really excited to have the opportunity to show the community what we're best at."
Horton is a baker who is clearly passionate about her business, and wants to make her customers feel welcome and happy.
She started baking because growing up, she remembers her mom always having the best baked goods.
"My mom was always known for bringing her pies to parties, and I think that somehow that ended up rubbing off on me and one thing led to another and my cakes just kinda took off so..." she said.
You can tell she was meant to bake - she has a warmth and care for Oh Honey that makes the place worth stopping by.
If you want to visit Oh Honey and try some macarons for yourself, you can find them on Ingleside Drive, between Ingleside Village Pizza and Society Garden.
They are open Monday - Friday from 7 a.m. to 6 p.m., and on Saturday from 8 a.m. to 8 p.m.
The Great Macon Baking Week officially starts on Sunday July 23, and lasts until the 30th. There are 16 total eateries competing, including:
Acres & Oaks: Petit Fours
Bear's Den: Banana Pudding
Dawson's Kitchen: Wedding Cookies
Dovetail: Chocolate Pecan Pie
Felicia's Cake Factory: Cupcakes
Kinjo Kitchen & Cocktails: Black Sesame Snickers Cheesecake
Layers: Signature White Velvet Cake
Loom: Mini Cheesecakes Trio
Macon Bagels: Bagel Bites
Natalia's: Chocolate Coffee Toffee Tart
Oh Honey Bakery: Macarons
Pearl: Irish Cheesecake
Rookery: Christmas Tree Cheesecake
Satterfield's: Smoked Fruit Crisp
Tommy's Bakery: Maple Bacon Donut
Yollah: Cheesecake Empanada
To conclude The Great Macon Baking Week, on July 30 the Central City Bake Off will happen from 4 - 6 p.m. at Mill Hill Community Arts Center. It will feature "local hobby & cottage food bakers facing off to win the title of Central City Bake Off Champion," according to a press release from Visit Macon.
The Bake Off is open for anyone to participate and they can sign up here.
The top 3 places with the most votes from Great Macon Baking Week will be announced and awarded during the event.
Tickets for the Central City Bake Off can be purchased at the line here, or at the door on the day of the competition.
To vote for your favorite spot during the contest, you can pick up a passport of restaurants from any of the participating places, the Downtown Macon Visitor's Center, or Macon Arts Alliance.
You can scan the QR code on the passport to be taken to the voting website, and from there you just select which place you want to vote for!
Voting will be open on Sunday, July 23 and close on Saturday, July 29 at 11:59 p.m.
If you visit 5 or more places and recieve stamps on you passport, you can claim a free Macon baking Week T-Shirt (while supplies last). If you try all 16 places, you can get a "fully baked" prize package that gives you full bragging rights!
You can turn in you passports for prizes in person or by mail at the Downtown Macon Visitor's Center at 450 Martin Luther King Jr Blvd.