Several places have incorporated the fruit into their summer drink and food menus.
Here's a list of some peach-flavored treats around Central Georgia, and where you can get them:
The Rookery's cheesecake of the month for August is the peach cobbler cheesecake!
They say it is "swirled with peaches, cooked in brown sugar and cinnamon, topped with graham crackers, peach icing, and peaches."
If you want to stop in and try the cheesecake for yourself, you can find the Rookery at 543 Cherry Street in Macon.
If cheesecake isn't your thing, they are also known for their delicious milkshakes. They have one called the "Georgia peach" if you still want to fulfill that peach craving.
Jag's is offering some new specialty drinks for all those returning to campus in Mercer Village. They have five drinks to choose from, but they say their bar favorite is the "peach mule."
You can pair the peach drink with one of their specialty pizzas, or the pizza of the month!
Jag's is located at 1635 Montpelier Avenue Ste A in Macon.
20's Pub is partnering with peach experts to add some desserts to their menu!
They are getting peaches from Dickey Farms to kick off their monthly 'farm to table' featured dishes to support local farmers.
This month, they'll have a homemade peach cobbler.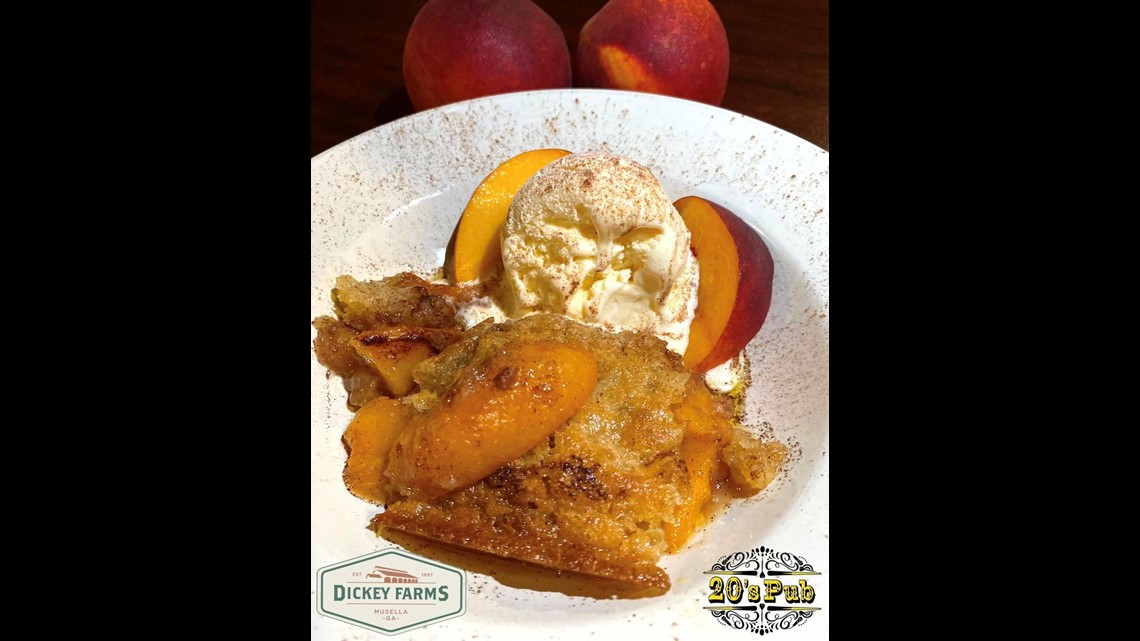 You can also check out Dickey Farms here! They have lots of delicious peaches in store, as well as some delicious peach ice cream and other goodies.
20's Pub is located at 3076 Riverside Drive in Macon.
4. Parish on Cherry Street
Parish on Cherry said that this week's recreation of the cocktail "The Bee's Knees" is their "Stinger Bee."
It features Blended Family's Peach Liqueur, and they say it showcases "that true Georgia Peach flavor."
It is paired with a bit of honey and a little Parish spice.
Parish on Cherry is located at 580 Cherry Street in Macon.
The Brick has a new summer cocktail list, featuring one drink called the "Just Peachy."
It features Old Smokey Peach, Grenadine, Lemonade, and pineapple juice.
They also have happy hour every Thursday where you can get 1/2 off (most) drafts, 1/2 off wine, and 2 for 1 well (doubles) all day!
The Brick is located at 1305 Hardeman Avenue in Macon.
6. Lane Southern Orchards
If there's one place to go for peaches in Central Georgia, it's Lane Orchards!
You can go there to pick your own peaches, buy some delicious baked goods, and of course, grab some of their famous peach ice cream.
They have every peach dish you could think of, but recently they debuted a more adult treat.
They have the 'Georgia Deep Dish Peach Cobbler' Sour Ale, only available for a limited time!
So if you like IPA's, this one's for you!
Lane Orchards is located at 50 Lane Road in Fort Valley if you want to stop and try the ale for yourself.