'84 Strong': Kentucky veterans finally receive welcome home celebration they didn't get years ago
The day is long and their itinerary is packed. These veterans are about to experience one of the most emotional rollercoasters of a day they've had in decades.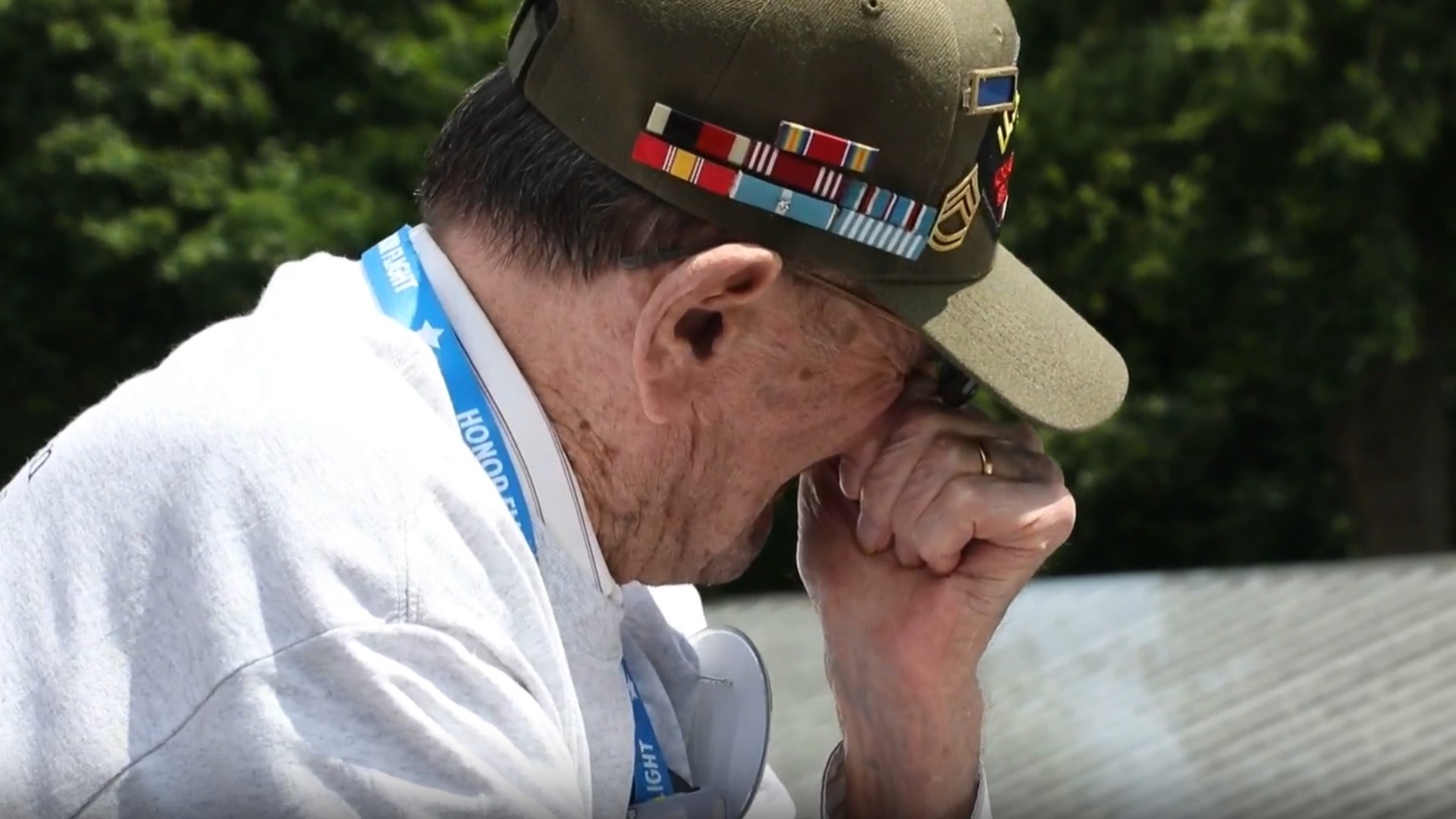 It's 5 a.m. on a Wednesday morning. Despite the hour, hundreds of people are packed into Muhammad Ali International Airport.
Hit songs from the Andrews Sisters like Boogie Woogie Bugle Boy and Oh, Johnny fill the waiting area ahead of the TSA checkpoint.
It's not a recording, but rather a live performance by the Ladies for Liberty, igniting the spirit of patriotism reminiscent of the 1940s and 1950s.
A man, sporting a Vietnam War Veteran cap, is the first to be serenaded by the trio. He won't be the last. The excitement and the energy is palpable.
He's one of 84 local veterans, including two women, from Vietnam, Korea and World War II preparing for a trip of a lifetime with Honor Flight Bluegrass.
In just a few hours, they'll be transported back in time, unlocking fond memories they'd forgotten and others they'd like to forget.
The day is long. The itinerary is packed. But the adrenaline and a rollercoaster of emotions will keep them going until the day's end.
It's 7 o'clock - time to board an American Airlines flight to Washington D.C.
The veterans make their way toward the gate, each accompanied by a guardian, whom they may know or have just met.
Cheers and applause from the Honor Flight's ground crew and airport guests send them off on what's about to be a picture-perfect day.
It's the same reception on the plane. The pilot, too, is a veteran of the Marine Corps, making his appreciation known for all the precious cargo on this flight.
"We hope you enjoy your time in our nation's capital," he says over the intercom.
Chapter 1
:
Welcome to the nation's Capital
About an hour after leaving Louisville, the plane lands in D.C. and is met with a water cannon salute, splashing the windows.
Applause erupts once again as the veterans enter Reagan National, with patriotic music playing in the background.
Phones are out, a Facebook Live is rolling, and tears are running down the cheeks of several passengers at neighboring gates, overcome with gratitude.
Arlington and the Tomb of the Unknown Soldier
All eyes are on the Changing of the Guard and a wreath-laying ceremony. There's precision in every step - not a flaw in sight.
In the shadows, there's a more intimate moment between two strangers. A tearful, young man approaches Vietnam Veteran Paul Lumbatis. What's said at that moment is private.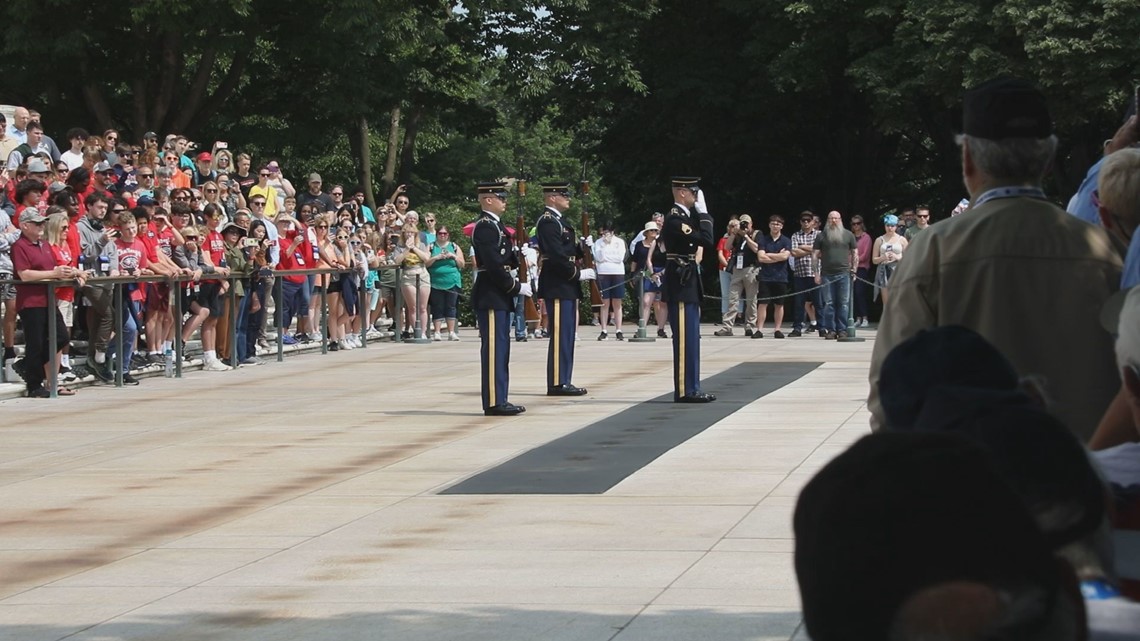 The two lay a hand on each other's shoulder for a brief minute, before saying goodbye with a handshake and a salute.
Half an hour later, buses carrying Kentuckiana's veterans drive past the rolling green hills of Arlington National Cemetery, the final resting place for 400,000 active duty service members, veterans and their families.
Today, anywhere from 27 to 30 funeral services are held each weekday and between six and eight services on Saturday.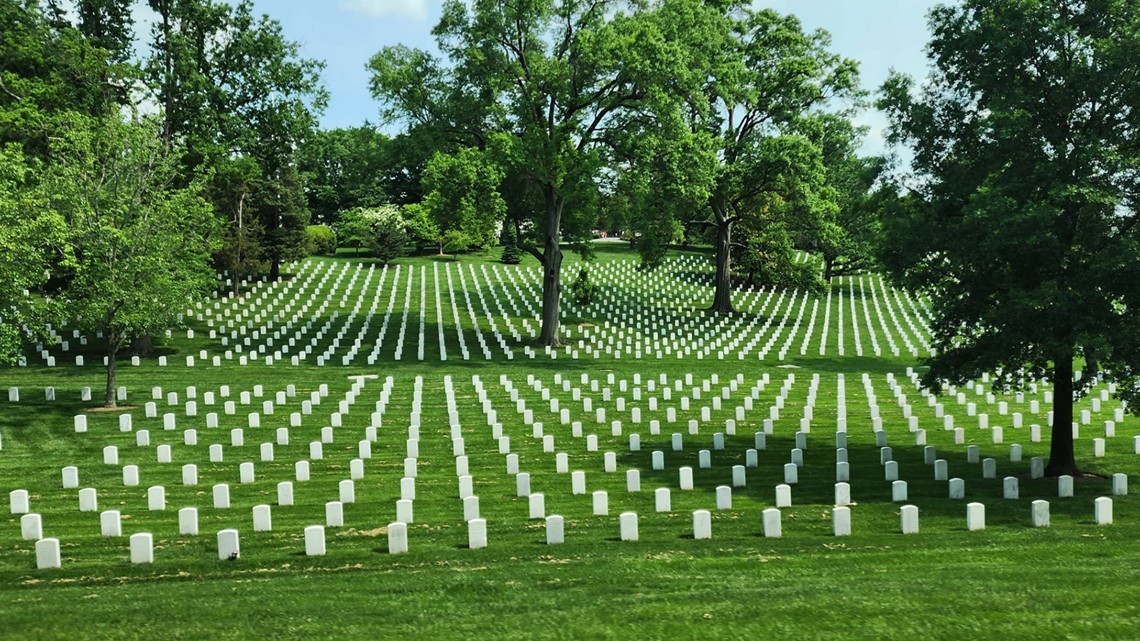 "It hurts my feelings to watch people nowadays not care about the men that have bled and died for this country, and then you go to a place like that and see all the tombs, and graves, and think, why can't you just rejoice? You're living in the best country in the world?" Vietnam Veteran William Gardner said.
Iwo Jima Memorial
Beneath a colossal sculpture of six Marines at Iwo Jima, it's our first look at all the veterans together. The lone World War II veteran on this trip, Richard Gay, sits in the middle of what will become the cover photo of the day.
"It's important that they know who we are," Gardner said.
The visit is short and it's off to the Korean and Vietnam War Memorials.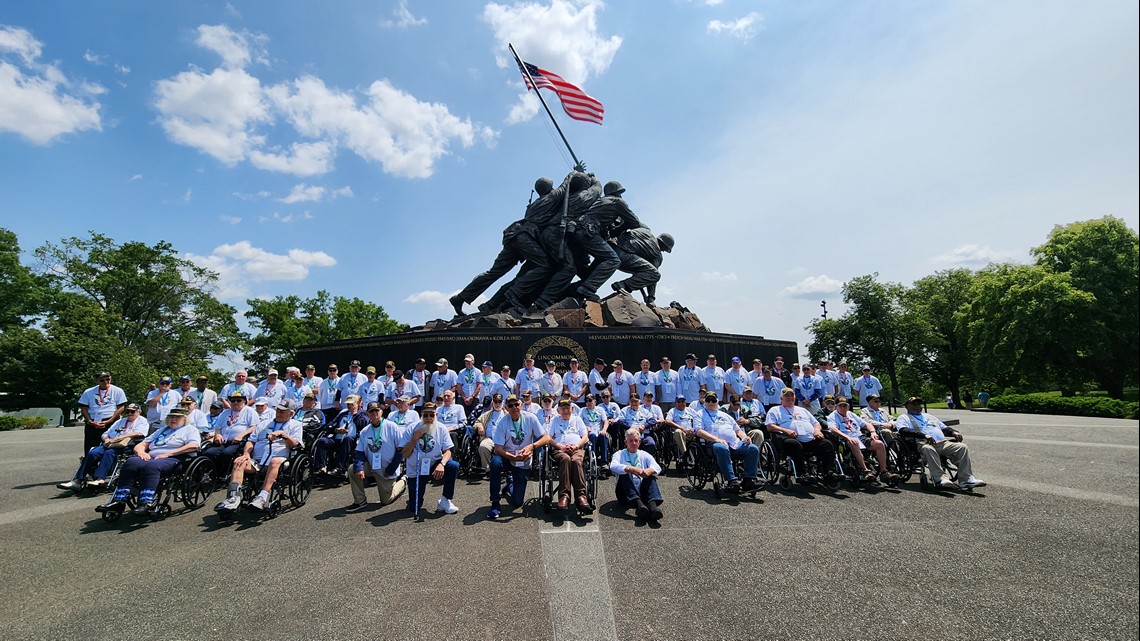 Korean War Veterans Memorial
This July will mark 70 years since the end of the Korean War. More than 5 million Americans served, with 500,000 of them alive today.
John Meyers is one of them. At the age of 93, his days in combat are as fresh in his mind as the day he enlisted. It was 1950. He was assigned to Japan, having no idea of the war brewing next door.
"Korea was a real shocker," Meyers said.
It was after World War II when the country was divided by the US and the Soviet Union at the 38th parallel. The two zones acted as sovereign states, until June of 1950, when North Korea invaded the south.
Meyers was assigned to the tanks, first as a loader, and then a gunner. A year into battle, he was asked to take command of the tank, but never got the chance. He was headed home.
"When I came back, it was, 'Oh well, so what,'" he said. "There was no high five, or 'How are you doing?'"
Meyers was one of 1.7 million Americans who fought in the Korean War. It's often referred to as "The Forgotten War," between World War II and Vietnam.
Meyers was never physically injured, but the emotions from his combat days run deep, even decades later.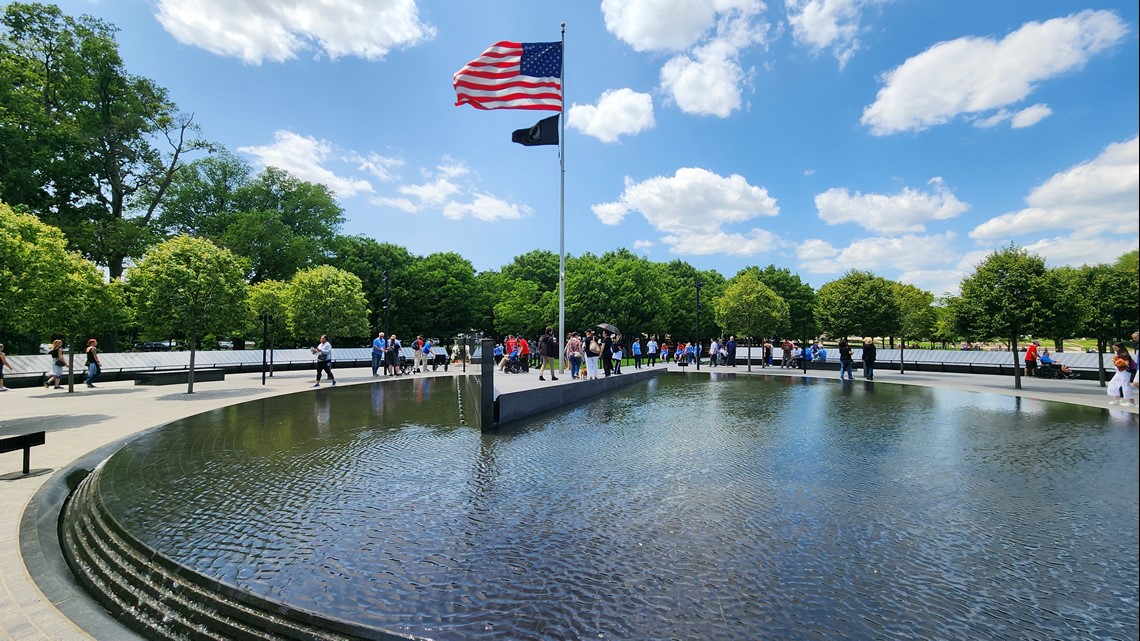 Now, he sits in a wheelchair, scanning through the 36,000 names engraved on the Korean War Veterans Memorial, looking for a handful of people he knew. Friends who never made it home.
Meyers enlists the help of his family to search for the Army section. He's looking for Willie Royal.
"Willie was a tank commander. I think he got killed at the Iron Triangle," he said.
His daughter points to Willie's name on the wall. It's a heart-breaking moment, as tears roll down Meyers' face, his head in his hands.
Vietnam Veterans Memorial
A short distance away, Vietnam veteran James 'JR' Harris is looking for his brother, Robert Eugene Harris.
His guardian points him to a name low to the ground, toward the end of the wall. "There it is, that's my brother!" he says, as he sits back in his wheelchair overcome.
Harris' brother was to be promoted from Captain to Major, but never made it.
"It's been a long time, but it still hurts," Harris said. "Some gave all. I just gave some. Brother Bob...he had orders to get out of there, but he made one last patrol because his replacement hadn't got there, so he stayed. It was a trap. An ambush and 13 men in his company were killed."
More than 58,000 names are etched on the Vietnam Wall.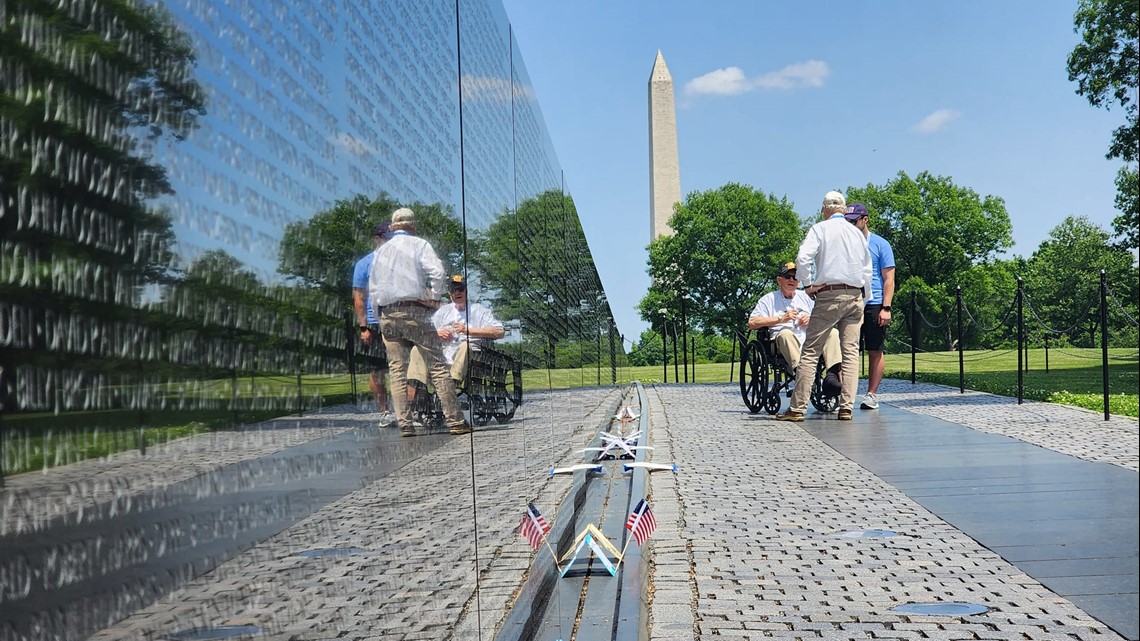 "I've got friends whose names are on the wall," a tearful William Gardner said. "His name is Dale William Coldiron. He and I were friends in Vietnam and we got into a little tussle, got in a fight in the bunker and he said, "I don't have to put up with this," so he joined the Arvins, and ended up losing his life. I always felt like maybe I was the cause of that."
Lloyd Elkins fought in Vietnam and continued to serve from 1963 to 1989.
"It's kind of sad in a way. I like to come to see them, but I wouldn't want to do it again. I've seen enough," he said. "It brings back a bunch of memories. You don't need them."
Charles Curry went to Vietnam in December of '68, months after losing his brother, William Reece Curry, to the same war.
"I got to see the wall today, and got to see his name, got to sketch his name and a couple of other friends," Curry said. "I love the Army. I would have retired there. I enjoyed what I was doing, but the way he was coming off a convoy and a tank turned over trying to miss some Vietnamese and crushed his head, it's the way it happened. I just didn't have no more use to be in that part to remind me every day what my brother went through."
World War II Memorial
Tall granite columns wrap around visitors at the World War II Memorial, honoring the 16 million Americans who served in the Armed Forces, and the 400,000 who never made it home.
"I looked at all these gravesites and it bothers me like I should've been one of them and I wasn't," WWII Veteran Richard Gay said. "We were lucky and they were unlucky, that's how I feel."
At 95, he still feels some guilt.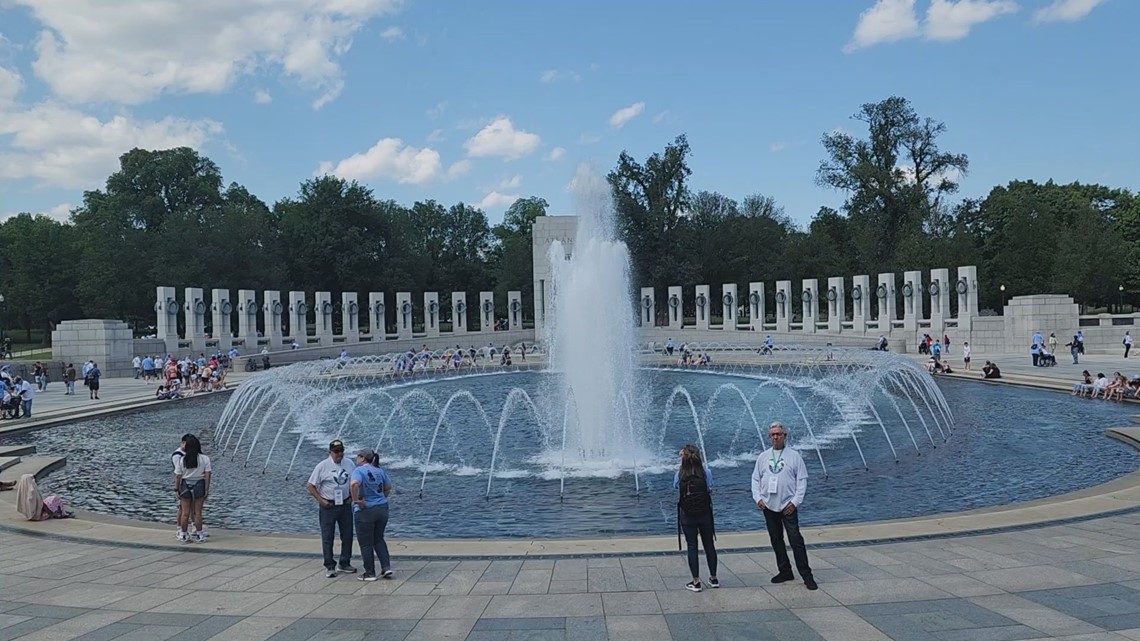 "I see so many thank you's and it bothers me because I didn't see the combat that most of these guys did," Gay said.
It's a day of reflection and recognition they all deserve.
"I'll never forget today. I'll tell you right now," Gay said.
Franklin Delano Roosevelt Memorial
Located in West Potomac Park between the Lincoln and Jefferson Memorial, the Franklin Delano Roosevelt Memorial is open 24 hours a day.
It's one of the more peaceful and secluded places on the itinerary. It's also a great photo op for many veterans, standing against stone walls engraved with famous quotes of FDR, the man who guided America through the Great Depression and World War II as our nation's 32nd president.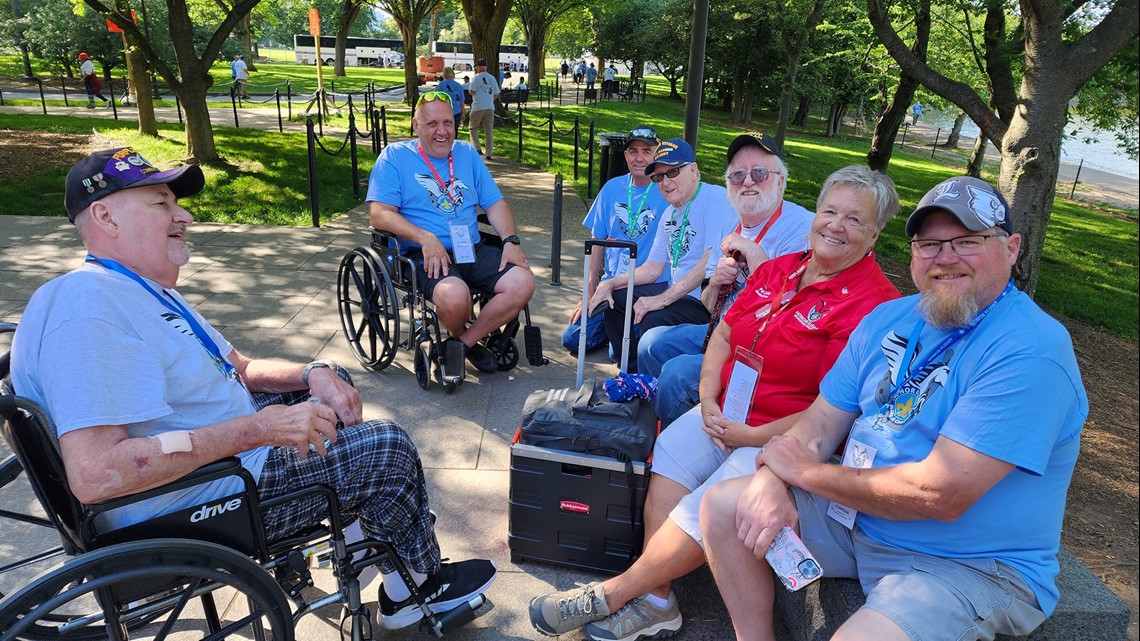 The Air Force Memorial
Three stainless steel spires soar into the sky in Arlington, Virginia, some 402 feet above sea level. They overlook the Pentagon - yet another photo op for visitors on this cloudless day.
The Air Force Memorial is the last military service monument erected near the nation's capital.
It's also the last stop on the trip before it's time to head home to Kentucky.
Chapter 2
:
An emotional mail call
The airport gate is packed with veterans once again, each one ready for some rest. But the day's not over. Perhaps, one of the most moving experiences has yet to happen.
Anyone who's served in the military will tell you, getting letters in the mail was one of the most exciting moments during one's service.
Sometimes, you'd go weeks without word from anyone and then one day, a handful would land in your lap.
Here at Reagan, it's time for a mail call. The Honor Flight staff begin passing out 84 manila envelopes, each one addressed to a specific veteran.
Everyone's treated to stacks of letters from family, friends and strangers thanking them for their sacrifice, their dedication, and their willingness to do what others couldn't.
"From people I don't even know. They're fantastic, honest to God," Vietnam Veteran Robert Schiavone said. "A lot of people, a lot of them my grandchildren. Some of them little kids in school sending me something nice like this...I get emotional, I'm sorry."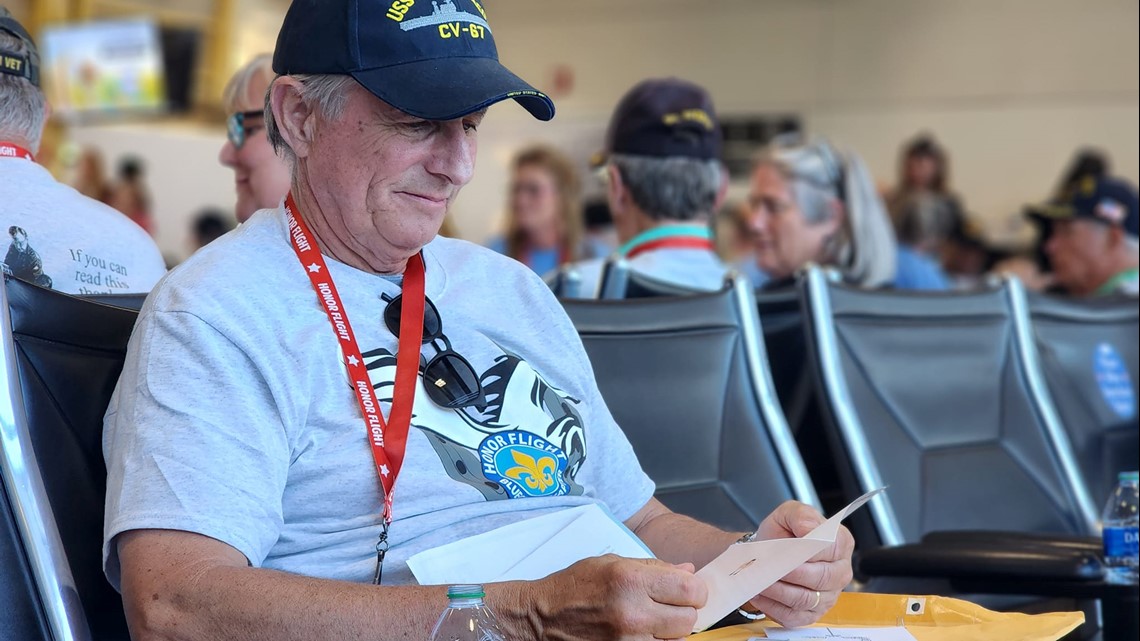 "I opened it up and seen all these names and all these people...I can't do it," Charles Curry said, holding onto the envelopes he'll open at home.
One veteran's card reads, "Thank you for your service, for protecting our country and freedom."
They open more letters penned by Girls Scouts in Somerset, from Holy Trinity and St. Patrick School in Louisville.
Another card is from a son: "Dear dad, you performed a proud and honorable duty and sacrifice that few in the present generation can understand and appreciate. If not for men like you, this world would be a far different place. I love you, your proud son Joseph."
Chapter 3
:
'Welcome home, veterans. Welcome home.'
Back in Louisville, a massive crowd of supporters is growing by the minute. Hundreds of people are decked out in red, white, and blue, waving American flags, and holding homemade signs for their veterans.
This is the welcome home celebration they deserved decades ago.
"We're here for Bob Haysley," a woman shouts in the crowd. "It's overwhelming. I couldn't believe they're all lined up this way and that way."
Just a few minutes past 10 p.m., our veterans make their way toward the airport lobby, unaware of the crowds just around the corner. With the first veteran in sight, the cheers grow louder, and the applause returns.
Every person on the flight is greeted by handshakes, 'welcome homes' and salutes from area Boy Scouts, among other groups.
The tears are back and in full force.
It's a moment in time these veterans will never forget - some smiling from ear to ear, others more stoic, taking in every moment. Ask any one of the 84 - they've never felt like this before.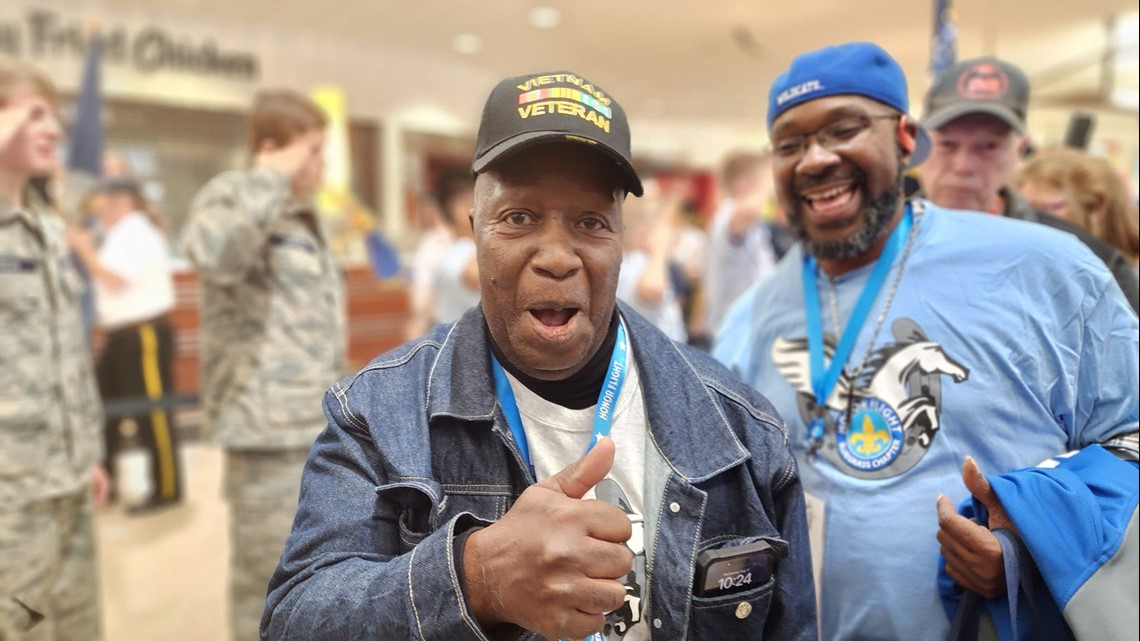 "To me, veterans are very special people because of what they did for America so, America can do what they need to do," Charles Curry said. "The people that do this for these veterans are special and they've done one heck of a job."
No words can truly do their welcome home celebration justice. It's something you have to witness yourself. No doubt, once you do, you won't want to stop.
Honor Flight Bluegrass is now in its 16th year of flying our Veterans to Washington D.C. to see their national memorials.
To date, it's flown over 2,000 veterans on over 40 chartered flights from central and western Kentucky and southern Indiana.
Make it easy to keep up-to-date with more stories like this. Download the WHAS11 News app now. For Apple or Android users.