'That is not smart': Bibb County tax lapse helped cause $3.9 million shortfall
The shortfall came from business-license revenue collection during some of the consolidated government's most cash-strapped years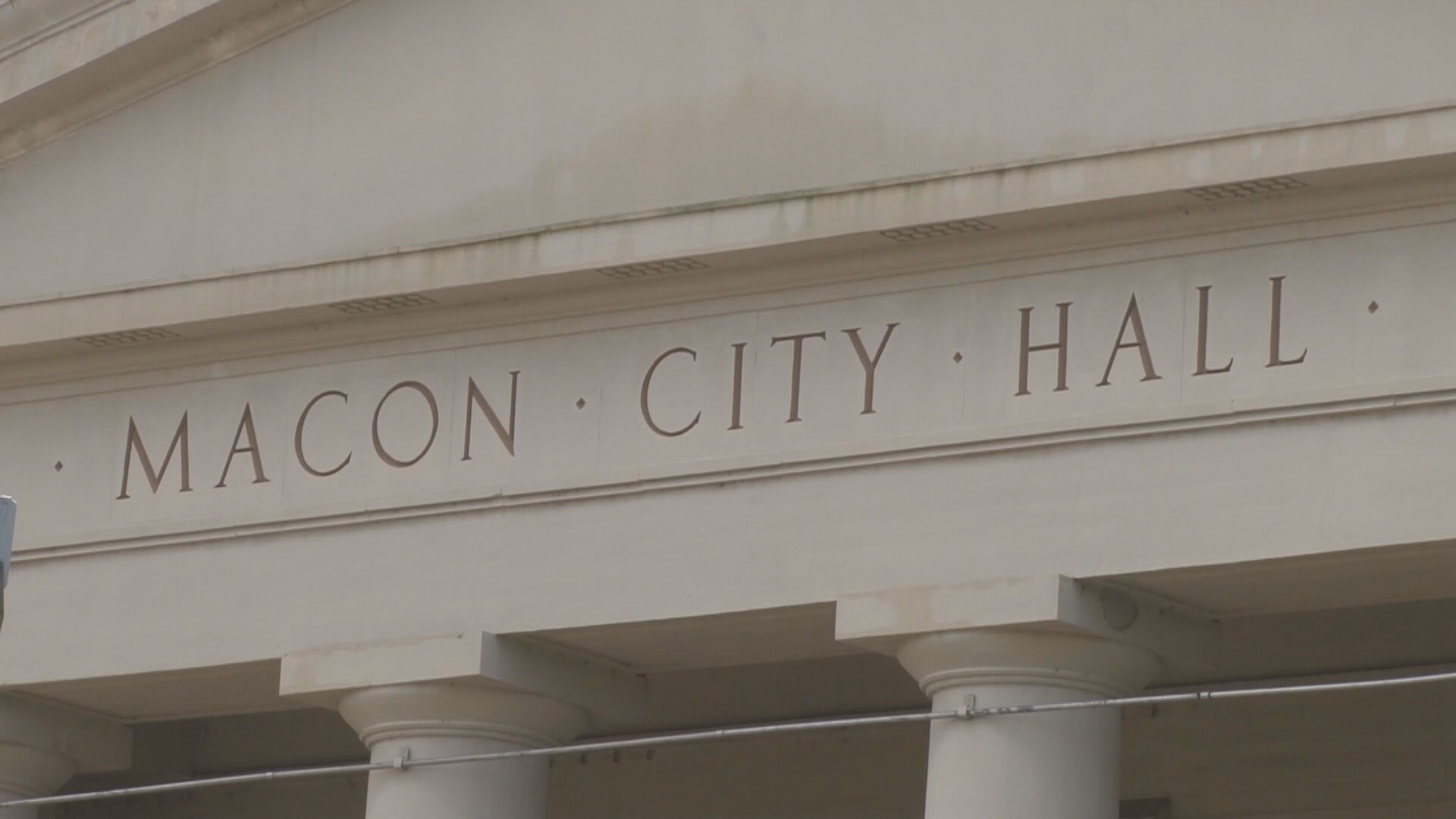 The Bibb County budget is long and complicated.
Hundreds of line items add up to the total annual budget of more than $160 million.
But one of those line items consistently under-performed: From fiscal year 2015 to 2018, Bibb County came up nearly $4 million short in business-license tax revenue.
According to business license department records, the county may have failed to collect from thousands of businesses in that time.
Chapter one
:
'Not a good practice'
"We had some glitches," said Commissioner Mallory Jones. "We know for instance that some notices did not go out."
Paying the license tax gives businesses the right to operate in the county, but the county did not even notify some businesses they had to pay the tax.
Others who failed to pay it one year were forgotten by the county.
"There was a practice from our business development services that they sent out a notice," said Jones. "If they didn't get a response, they dropped them off the list, which is not a good practice."
In other words, a business that didn't pay the tax one year would be treated like it closed -- even if it was still operating.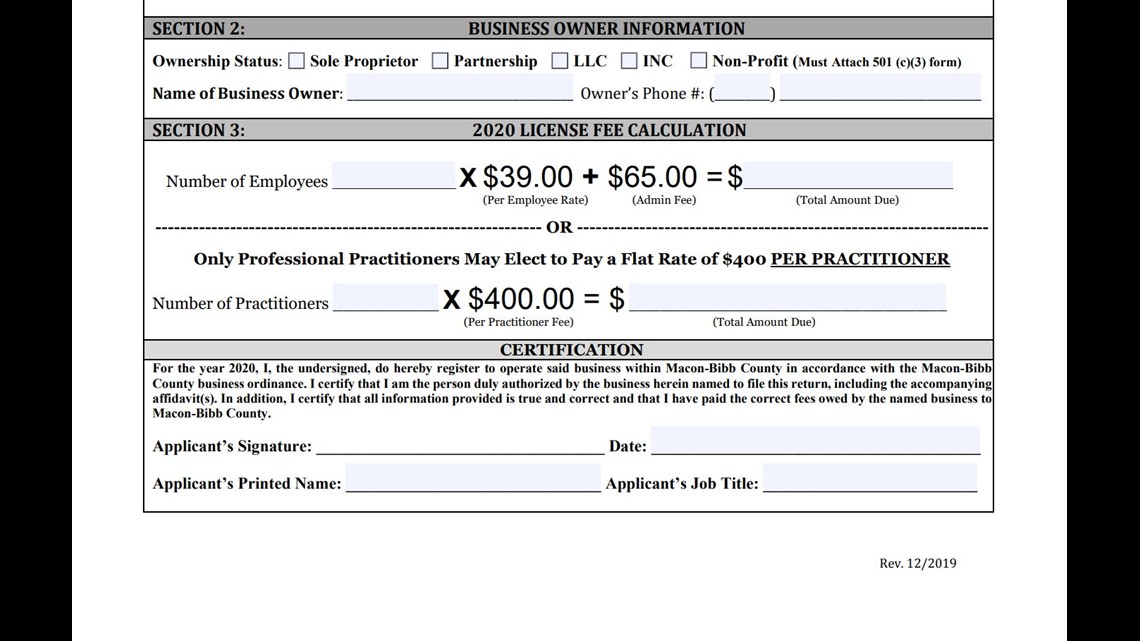 According to the 2020 business license form, a typical business must pay a $65 flat charge plus $39 per employee.
That means a business with 10 employees would owe $455.
"We want to collect what we're supposed to be collecting," said Jones.
But in potentially thousands of cases, they weren't.
Chapter two
:
The county did not collect from thousands of businesses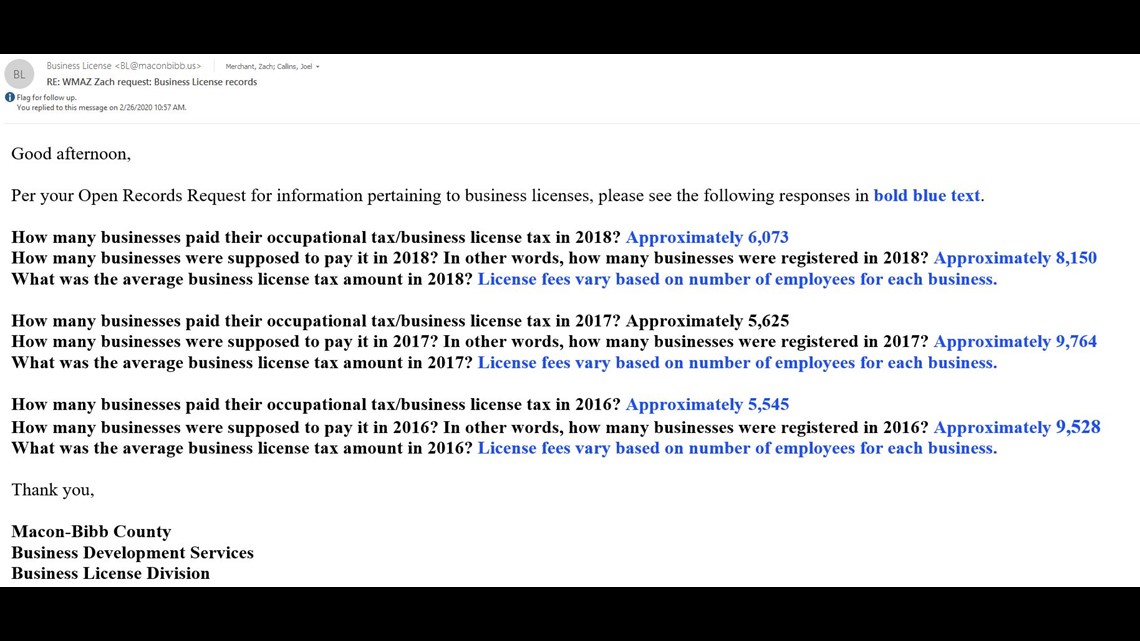 In an open records request, the Bibb County business license office confirmed the county did not collect from thousands of businesses.
In 2016, the county listed roughly 9,500 businesses, they say should have paid. Only about 5,500 did.
In 2017, close to 9,700 were supposed to pay, and only about 5,600 did.
And in 2018, roughly 8,100 had to pay, and only about 6,000 did.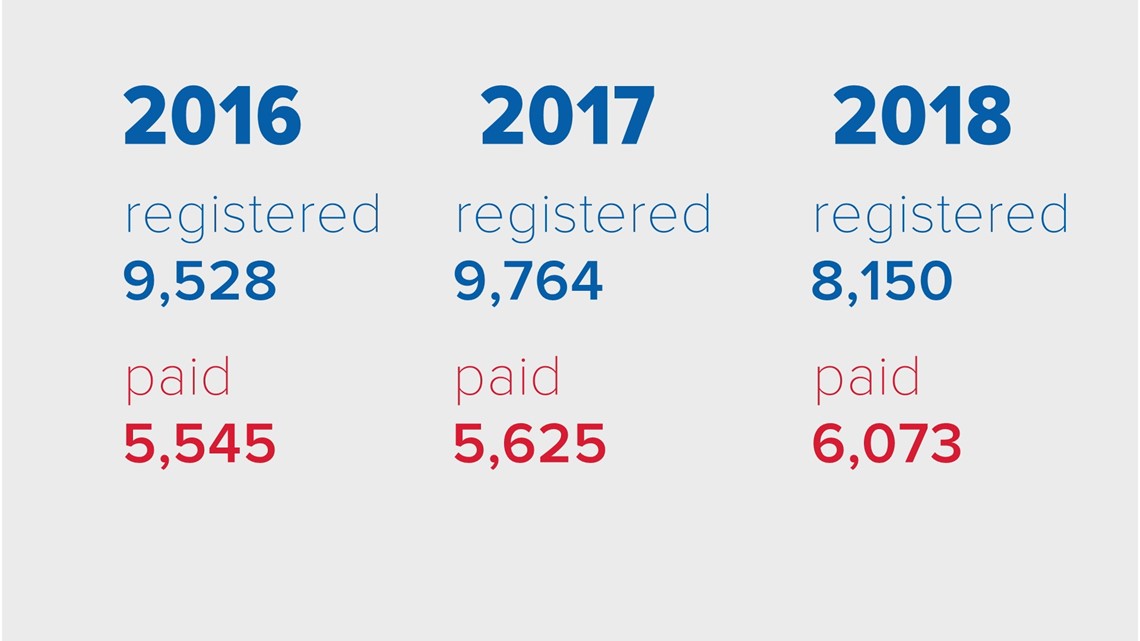 Macon-Bibb spokesman Chris Floore argued the number of registered businesses in those years may be inflated.
He said they may include some businesses that closed but didn't inform the county.
But he confirmed Bibb County wasn't accurately tracking how many businesses were actually operating, only how many paid, so it's almost impossible to know for sure how many businesses are out there but didn't pay.
Chapter three
:
No followup or reminder to collect
Commissioner Mallory Jones, who helped bring attention to the issue, says county collection efforts were almost nonexistent.
Besides a yearly courtesy notice mailed to businesses, Jones says Bibb County did nothing else to collect this revenue.
Mayor Robert Reichert said the same thing.
We asked him, "Besides that notification, was there any followup, reminder, any of that?"
"My understanding is no there was not," he responded. "If you didn't pay, the only, believe it or not...the only thing they did was drop your name off the list for next year so you didn't even get a courtesy notice. Jeepers creepers, that is not smart."
County Manager Keith Moffett said Bibb employees began this year to follow up with some businesses that did not pay their most recent license tax.
"I believe like 150, 200 (businesses) that we did start following up on," he said. "We did follow up a little bit on this year, but it was a process at getting better at figuring out what happened."
Chapter four
:
A breakdown of the numbers
Between fiscal year 2015 and 2018, Bibb County had a business license tax revenue shortfall of nearly $4 million.
We arrived at that figure by looking at the county's annual budgets over those years.
The county approved a fiscal year 2015 budget projecting $2,700,000 in "business license general" revenue. It brought in only $1,593,964 according to FY 2017's budget (the first one where the actual FY 2015 business license revenues appear).
Again, in fiscal year 2017, Bibb County approved a budget that significantly overestimated business license revenue. It projected $3,196,000 in business license revenue. That year, the county brought in only $1,957,335 according to FY 2020's budget (the first one where the actual 2017 license revenues appear).
Finally, in fiscal year 2018, the county adopted a budget that projected $2,000,000 in business license revenue. That year, it only collected $1,801,297 according to figures from FY 2020's budget (the first one where the actual 2018 license revenues appear).
All that math boils down to this: from fiscal year 2015 to fiscal year 2018, Bibb County had a $3,959,294 total shortfall in business license tax revenue.
Chapter five
:
Not quite close to a crisis
How much of that nearly $4 million shortfall can be blamed on the county's collection problems is hard to say -- business cycles and local legislation also affect how much money can be collected.
Spokesman Chris Floore and other county leaders noted that in several years, the manager in charge of the business license office proposed an increase in business license tax rates. It's possible, they say, the manager based their revenue projections on that increased license tax rate, only to have county commission scuttle the proposal.
However, if the actual revenue left on the table is even a fraction of that nearly $4 million shortfall, that could have made a huge impact.
We asked him how close his agency is to "an absolute crisis."
"We're not quite there yet," he answered. "But I can see it on the horizon."
The sheriff says just a portion of the business license shortfall could have solved the problem.
"Almost a million of that would get all of my people who make less than $40,000 up to $40,000, and that's where we'd like to see our starting salary be," he said.
Chapter six
:
'We didn't realize the extent of the problem'
Bibb County Mayor Robert Reichert noted even if the entire business license shortfall was due to collection problems, that's just about 2 percent of the county budget.
That's still significant.
We asked Reichert why that revenue was not "more aggressively being sought out and collected."
"We didn't realize the extent of the problem, I guess would be a fair answer," responded Reichert.
The mayor says the department responsible for collecting those taxes was overstretched after the county folded new roles into that office. Leadership changes during the shortfall years didn't help the matter.
"We've come to find out that was not the wisest combination to make and hindsight is 20-20," said Reichert. "We're in the process now of trying to separate some of those functions back out."
Chapter seven
:
Who's responsible?
Reichert, Jones, and others are working to make the county tax commissioner's office responsible for collecting that business license money. County commission recently passed an extended grace period for businesses to make up any unpaid business license taxes free of penalties.
"This year, you have a one-time safe haven," said Jones.
And while the issue may be complicated, Reichert doesn't shy away from the blame. When asked who's responsible, his answer was direct.
"Ultimately, it's my responsibility," he said.
That grace period to pay back business license taxes lasts until June 30th of this year.
Reichert says how much money comes in between now and then will be a good indicator of just how much revenue they actually lost.
STAY ALERT | Download our FREE app now to receive breaking news and weather alerts. You can find the app on the Apple Store and Google Play.
STAY UPDATED | Click here to subscribe to our Midday Minute newsletter and receive the latest headlines and information in your inbox every day.
Have a news tip? Email news@13wmaz.com, or visit our Facebook page.