ATHENS, Ga. — We don't typically identify potential rape victims, but Faith Carter sat boldly before our camera to make clear - she is willing to testify against the man she accuses of attacking her.
"I don't want it to happen to nobody else," she stated.
But time is running out. Nigel Brown's defense attorney filed a motion for a speedy trial in February, before the district attorney decided not to prosecute. That means the DA's office only has a few weeks to get a judge to agree to set aside its earlier motion and get the case before a jury.
The court has mandated notification timelines and judges only schedule trials for certain periods each month. Attorney Kevin Epps, who is now helping Carter to see if she can navigate the challenges to get her day in court, admits it's a tough timeline.
There are several ways it could play out, but Epps believes the most direct is for the judge to hold a hearing on Friday to approve District Attorney Deborah Gonzalez's motion to vacate her nolle prosse on the charges, essentially reviving the charges. Right now that hearing is schedule for Tuesday. If that remains, the judge will have to agree to set a special trial date in order to meet the speedy trial demands.
Brown has maintained his innocence in this case and in a proposed plea deal asked that the charges be dropped in lieu of probation on a different, lesser, offense. To date, that's essentially what has happened.
Body camera footage details the investigation in the hours after Brown called police. Initially, Carter didn't want to file a report.
"I didn't think anyone would believe me, Carter explained. "Being homeless and a female… it's a lot of things that went through my mind that made me feel like it would be better to just be glad I was alive."
But a passerby who saw Carter crying insisted she make that call.
"He raped me and told me he would bash my head with a cinder block," she told the officer.
To escape, Carter said she had to leave her stuff behind. She described a bag of clothes, some pens, and a phone which she said Brown stabbed with a knife.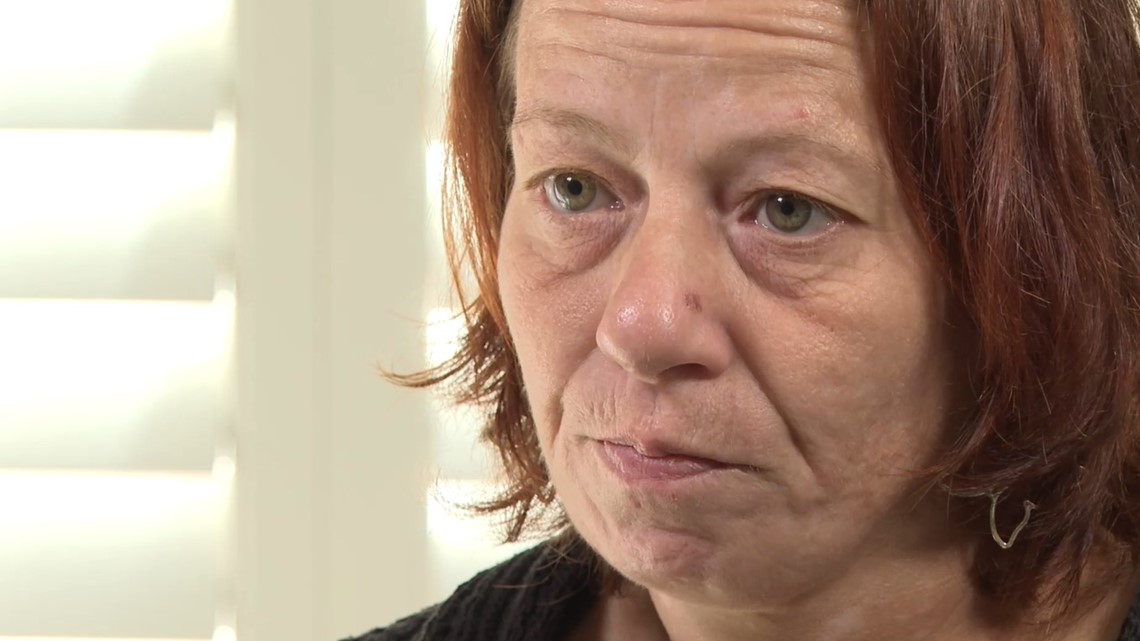 Carter was able to give police enough information to retrace her steps and knock on Brown's door. Inside his apartment police said they found those objects.
"This one was in the bathroom. This one is actually broke. Could you tell me how it got broke?" one of the officers asks Brown as he shows him the cell phone.
Carter also agreed to a sexual assault examination, hoping DNA evidence would back up her claim. Brown's DNA sample was needed to check for a match, but it wasn't sent to the GBI until a month before trial. Despite a request to have the test expedited, the results still weren't ready.
"Rape cases are probably the most difficult cases in our criminal justice system to successfully prosecuted," said former Dekalb District Attorney J. Tom Morgan.
He specialized in prosecuting cases involving sexual and physical abuse. To win a case like rape, he said you have to prove the victim was forced against her will to have sex.
"The last part with force and against her will means you really need the testimony of the victim," he explained.
But when it came time to find Carter to testify, the DA's office said it had no luck. They knew she had gone to Brunswick and remained unhoused. Emails exchanged between District Attorney Deborah Gonzalez and her staff indicate they reached out to the local sheriff and DA's office for help finding Carter. They also called an acquaintance.
Carter said they just needed to call the local homeless shelter or even the police, who had run-ins with unhoused people living in area encampments.
But without Carter's testimony or that DNA evidence, instead of asking the judge for more time, DA Gonzalez dismissed the charges.
"If you've got a stranger on stranger attacking homeless people, you're dealing with a sexual predator," Morgan explained. "And so it would be incumbent upon both the police and the D.A. to use every resource available to find that victim."
Attorney Kevin Epps is now trying to help Carter get her day in court. He shared emails obtained through open records showing prosecutors and police believe Brown is a serial sexual offender who targets the homeless community.
11Alive's investigation uncovered 76 interactions with police since 2020, including three accusations of rape. Carters though, according to court records, is the only one to lead to an arrest.
DA Gonzalez is also familiar with Brown. A judge let him out of jail because the state was "not prepared" for a probation hearing. Being prepared takes staff and Gonzalez only has seven attorneys in an office funded for 17.
Morgan added that staff is exactly what you need to successfully prosecute rape. He said you have to help victims throughout the process, not just at trial.
"It is a lot of hand-holding. And without that hand-holding victims feel abandoned by the criminal justice system," said Morgan.