ATHENS, Ga. — Attorneys for an Athens business owner are seeking an arrest warrant for District Attorney Deborah Gonzalez after she allegedly committed multiple violations of state open records laws that include asking one of her employees to destroy records, according to a new civil lawsuit.
The lawsuit is the latest development in an ongoing legal saga between Gonzalez and Athens bar owner Jarrod Miller over Gonzalez's ability to properly serve as district attorney in Clarke and Oconee counties.
Neither party provided comments to 11Alive before publication.
The lawsuit, filed Wednesday in Athens-Clarke County Superior Court, alleges that Gonzalez asked former Western Judicial Circuit Assistant District Attorney June Teasley to delete messages between the two.
In a sworn statement filed as part of the lawsuit, Teasley alleges that Gonzalez asked her to delete text messages regarding Teasley's medical leave request. Gonzalez told Teasley she didn't want the information "in the newspapers in case (Gonzalez) received an open records request," according to court documents.
"DA Gonzalez ordered her subordinate, ADA Teasley, to destroy records of text messages specifically for the purpose of altering and falsifying records of communication to frustrate and prevent the disclosure of such communication," the lawsuit reads. "Rather than redact the records or claim an exemption, DA Gonzalez ordered the destruction of the records."
In March, 11Alive filed an open records request asking for communications between Teasley and Gonzalez as part of an ongoing investigation into staffing challenges in the Western Judicial Circuit District Attorney's Office.
While 11Alive received a series of messages that discussed Teasley's intention to resign, none made reference to medical leave. Although the resignation letter received as part of that records request did reference an "emergency medical matter."
11Alive sent a follow-up request to Gonzalez asking if any exemptions had been used in relation to the text exchange to withhold messages but received no response.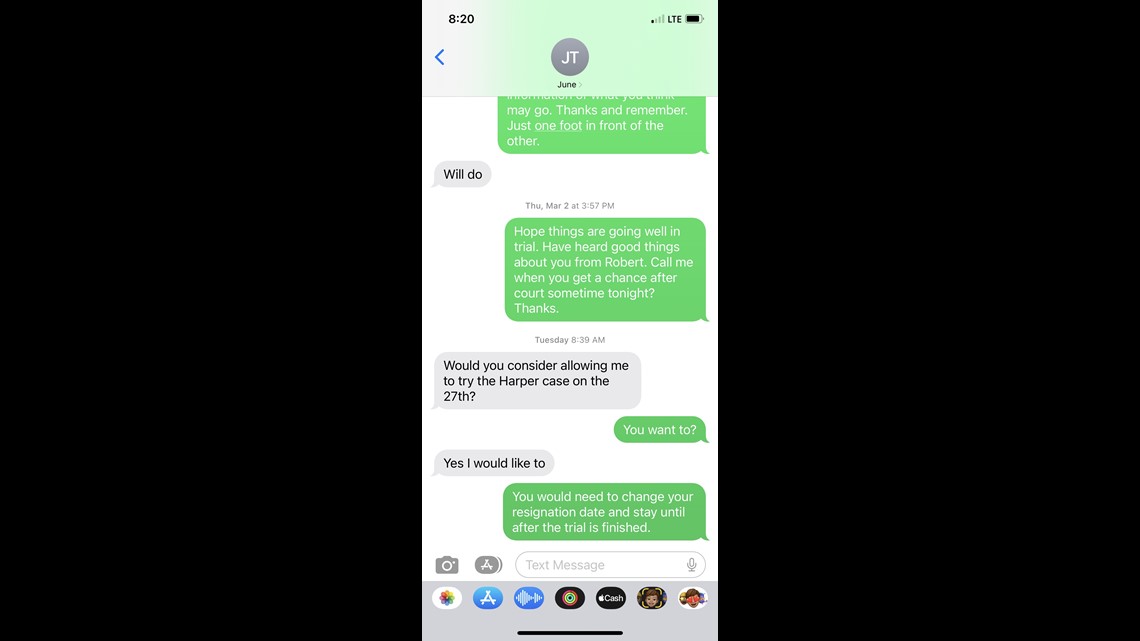 The lawsuit also alleges that Gonzalez failed to produce documents for 22 of Miller's open record requests. Lawyers for the business owner also allege that the Athens district attorney's office failed to partially produce records for another 12 requests.
Miller's attorneys allege that Gonzalez has not properly explained why some records requests have not been fulfilled.
The DA's office has used a blanket statement in response to Miller, claiming that certain information is exempt from release. However, Miller's attorneys argue that each response from the DA's office must explain why the specific records were not provided.
"During her tenure as District Attorney, DA Gonzalez has suffered many failures," a portion of the lawsuit reads. "Unfortunately, she has also subsequently failed to uphold her commitment to transparency, accountability, and access to information. This is epitomized by DA Gonzalez's failure to lawfully provide complete and adequate responses to Mr. Miller's Open Records Requests."
Miller's attorneys want a judge to issue a warrant for Gonzalez's arrest for the alleged records violations. The attorneys cite a state law that allows for judges to issue warrants for a peace officer, law enforcement officer, and others for offenses that were allegedly committed while in the performance of their official duties.
In addition, they want Gonzalez to turn over the records Miller has requested. They also seek a $1,000 fine against Gonzalez for the first violation of Georgia's Open Records Act and $2,500 for each subsequent violation during that year.
Gonzalez 'unable and unwilling' to do job, previous lawsuit alleges
That lawsuit, called a writ of mandamus, alleges that Gonzalez is not fulfilling the requirements of her office due to a lack of prosecutors. Miller's attorneys also allege that Gonzalez is unable or refuses to prosecute specific cases like certain minor drug offenses.
Miller's attorneys, Kevin Epps and Tyler M. Gaines, want a judge to force Gonzalez to "perform the duties of her job." Epps and Gaines are also representing Miller in the open records lawsuit.
In proceedings, Gonzalez and her attorneys have argued that the order Miller wants can't provide the oversight he seeks under state law. There are other measures — such as a recall vote or having state lawmakers begin impeachment proceedings — to deal with a district attorney's performance.
Gonzalez's attorneys have taken the case to the Georgia Supreme Court. The case is on the court's September calendar, according to recent filings.
Gonzalez was elected the Western Judicial Circuit District Attorney in December 2020, after presenting herself as a progressive prosecutor who wouldn't try certain minor drug cases and would reduce the use of probation. Her term has been plagued by staffing issues and courtroom struggles.
11Alive Investigates found at least 34 attorneys have left from January 2021 through March 2023 under Gonzalez's watch. Some took pay cuts, and others left the DA's office without another job lined up.
Of the 763 felony cases in Athens-Clarke County filed between January and May, more than half of the cases closed were dismissed or pleaded down to a misdemeanor. About 73% percent of all closed felonies didn't lead to prison time, an 11Alive review of court data found.