Millions of Americans whose insurance won't cover the cost of their prescription medications say they are finding relief over the border.
Doctors diagnosed Larry Rehberger with diabetes decades ago. Since then, Rehberger says he has watched the price of insulin climb in recent years.
"It's spooky," Rehberger said.
Rehberger has Medicare, and it doesn't fully cover his insulin costs.
His two-month supply goes for $1,508.94 in the US. That is more than Rehberger can afford.
"I don't know how. I'm on social security. I'd never make it," Rehberger said. "That's 90-95% of your social security before you ever do anything."
Larry started making the trip from Northern Washington to Canada to buy insulin about a year and a half ago when he heard about the savings.
"It's diabetes," Rehberger said. "To stay alive, you have to spend the money."
The Centers for Disease Control estimates four to five million Americans fill their prescriptions internationally each year.
An organization known as the Canadian International Pharmacy Association, which regulates online pharmacies in Canada, said their members had at least one million American customers to date in 2016 and of those, 23,000 live in Washington.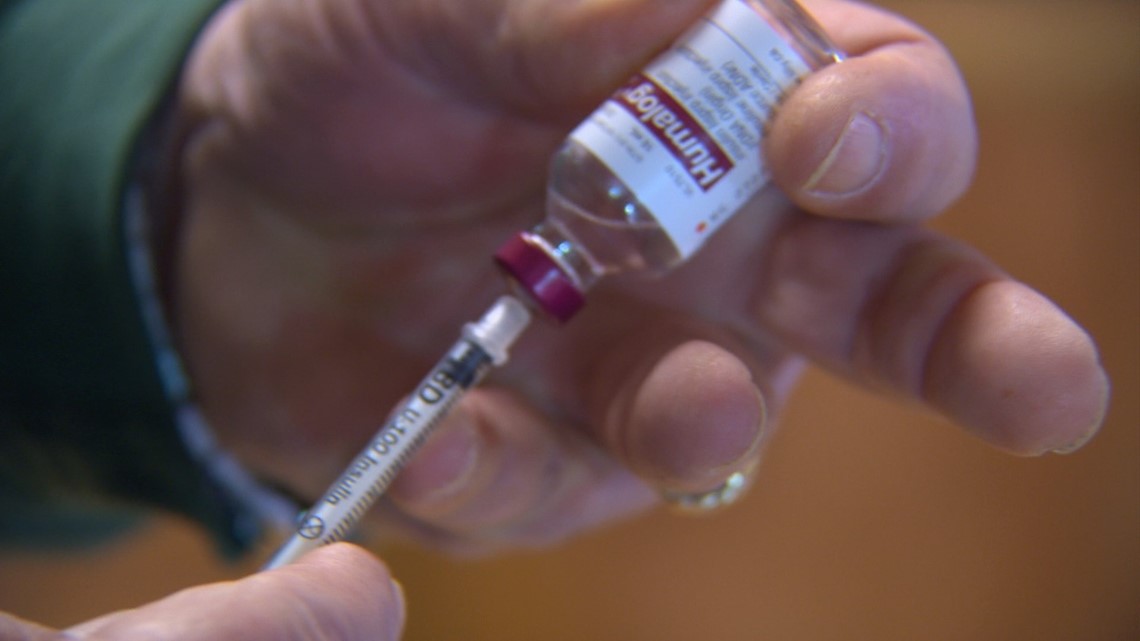 It's no wonder why people are crossing the border.
Unlike the US, Canada places restrictions on what drugmakers can charge, making most any drug available in the US, out of pocket, available in Canada for less.
A study by the International Federation of Health Plans compared price differences.
If found Cymbalta, which treats depression, was $84 less in Canada.
Humira, for rheumatoid arthritis, was $296 less in Canada, and Gleevec, which treats cancer, was $5,073 less in Canada.
"They are manufactured by the same pharmaceutical companies," said Rebecca Kelley, executive director of the Campaign for Personal Prescription Importation. "They are sold in the US. They are sold in Canada. These are medications that individuals have to buy and take every single day, and if they can't afford these medications, you are talking about a serious impact on their health."
Technically purchasing prescription drugs in Canada and bringing them into the US is illegal. The "Food Drug and Cosmetic Act" prohibits importing drugs from Canada or any other country since the US can't guarantee sure the safety of the medication.
However, the FDA has created an exception for people like Rehberger.
It will look the other way when the product is intended "for the patient's own use" and is "not more than a three-month supply."
"That is not something the FDA is going to go after them for," said Dr. Janet Woodcock, the FDA's director of drug evaluation and research.
For Rehberger, the jaunt across the border is well worth his time.
"You don't need a prescription. You don't need anything. Just tell them what you need," Rehberger said.
The two-month supply of insulin cost Rehberger $116.65.
The price represents a 92% savings compared to the $1,508.94 he might have spent in the US.
"Yeah, it's well worth the trip," Rehberger said. "For the money I save on the insulin, maybe I can do something I want to do rather than hanging out and waiting for my insulin day."
Many Americans can't drive into Canada as easily as those living in northern Washington. Many of them are buying their medications from international online pharmacies which send the prescriptions in the mail.
The FDA advises consumers to proceed with caution when purchasing medication online because not all online pharmacies are legitimate.
CIPA does certify and inspect its member pharmacies.
Consumer advocates advise looking for the CIPA seal and also making sure to speak with the pharmacist directly before placing an order to find out where the pharmacy is based and where the drugs originated.
While bills to formally legalize prescription drug importation from Canada have been proposed in Congress, none have passed.