11Alive watched the unedited video of the six camera angles during the hour and 20 minutes LeCroy, Willock, and several other UGA football players and staff were inside.
The lawsuits
There are two lawsuits related to the crash. Both named UGA and various members of its athletics department for creating the environment that allowed the crash to happen and Jalen Carter who was allegedly racing with LeCroy at the time of the accident.
However, the lawsuit filed by Willock's father also targets the company that it says gave Carter a Jeep Trackhawk with an SRT Hellcat engine, as part of its Name, Image, and Likeness Agreement. Carter was driving the vehicle when he saw LeCroy hit the curb and crash into a power pole.
Willock's lawsuit also seeks $30 million from Toppers for allegedly overserving LeCroy and failing to stop her from driving.
January 14, 2023, was a day that started with the sounds of celebration as the community held a victory parade to celebrate UGA's back-to-back national championship win.
"They give you a total picture of what happened that day, you can see where the alcohol was consumed," argues attorney Kevin Epps, who represents Toppers.
Epps argues it wasn't just at Toppers, even though they are the only bar named in the lawsuit.
Willock's legal team hasn't seen the video, but based on their own research of events, they have painted a picture in their lawsuit of what happened inside. Epps says the lawsuit has it wrong.
"The way they wrote this lawsuit you have some bottle popping, shots taking, celebration from the national championship," said Epps. "So walking in, I was expecting to see a scene like that… a huge party."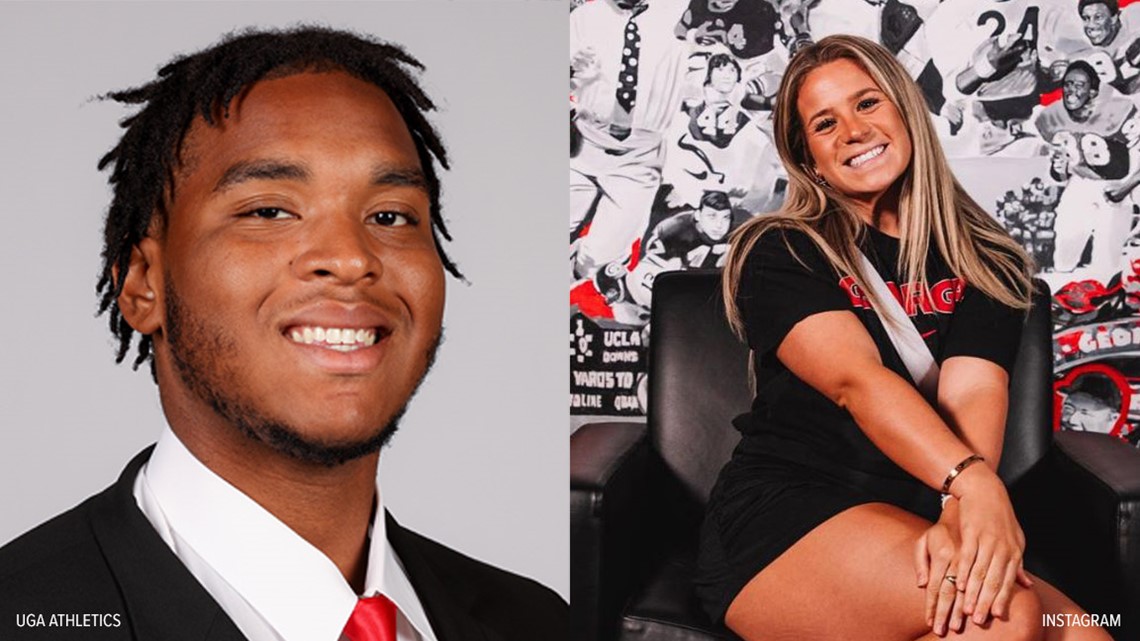 Surveillance video
Instead, most of the video shows the group standing or sitting at tables chatting. They occasionally go to the floor where the women are dancing to throw cash.
The lawsuit claims, "Toppers employees were overserving players and their guests, including providing them free drinks, shots, and free champagne bottles." These are assertions Toppers denies.
But as 11Alive analyzed the video, we focused on LeCroy, the woman behind the wheel in the crash. The GBI's autopsy, reports her blood alcohol level at more than twice the legal limit: .197.
Again, we don't know what she had to drink before arriving at Toppers, but video from the club shows LeCroy purchased one drink. Then, she goes to sit down with a group and returns to the bar where she stands for several minutes. An exchange takes place, but it's unclear if she purchases a second drink or walks away with the first one ordered. It does appear near the end of her time there, she takes a shot.
There are times in the video when the view of LeCroy is completely blocked, about 38 minutes in all, so we don't know what she drinks or how she acts during that time. However, we did review the footage of each bar in the club and never saw her go back. That means whatever she personally ordered, she did it in roughly the first 20 minutes of her visit.
We've asked Toppers for receipts to better understand what she had to drink that night. The bar says it's still trying to track that down.
Even if LeCroy ordered two drinks and a shot, Epps believes that's not abnormal at a bar over the course of an hour and 20 minutes. He defends the nightclub, pointing to LeCroy's mannerisms in the video.
"She is walking throughout the club with no assistance from anyone else," said Epps. "Not an intoxicated person. Not someone who is stumbling."
The impact of those drinks and how much she should have been served will be up to attorneys to argue.
While there are people in the video who appear to have had too much to drink, Willock's lawsuit admits LeCroy wasn't visibly drunk.
Bowles was also there when LeCroy bought her drinks at the club. Her lawsuit states she had no basis to believe LeCroy was impaired by alcohol when she got into the car later that night.
Still, Willock's father claims if the bartenders had been properly trained they would known, refused to serve, and stopped her from driving. He's seeking $30 million from Toppers for their failure.
"Families were hurt, people were lost, and a community mourned," said Epps. "We're not going to bring them back. We're not going to take the injuries away. We're not going to stop what happened that evening."
11Alive reached out to Terry Jackson, the lead attorney on the Willock lawsuit, for comment. In a written response he said, "I cannot add more than is in the complaint at this point. As discovery including depositions proceeds, new evidence may change my view, or not."
Body camera released
Video shows moments before deadly crash with UGA football player, staffer
More coverage
Photos from the scene