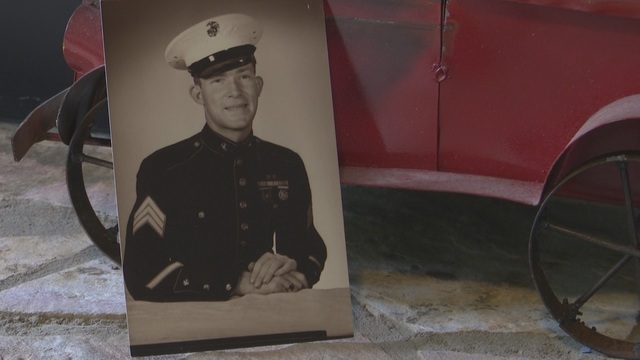 Rocking on a back porch swing, Cindy Hillsman holds a photograph of her father.
"This is when he was a fairly young marine and a 30 year veteran in the United States Marine Corps," she says.
You'd have a hard time arguing Lieutenant Colonel Ronald Fraser was anything but a hero.
"He served during Korea and World War II and did two tours in Vietnam," said Hillsman.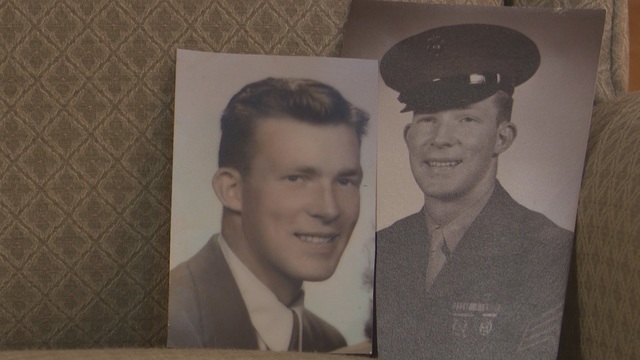 But even this warrior couldn't stop the march of time. In his 80s, Fraser was admitted to the Carl Vinson VA Medical Center nursing home in Dublin.
It's a place where his daughter says the nation he served let him down.
"It was a constant fight to get even basic care," said Hillsman.
During her dad's roughly 5-year stay, she says he had too many falls to count, broke multiple bones, and developed skin problems due to what she says was bad nursing care.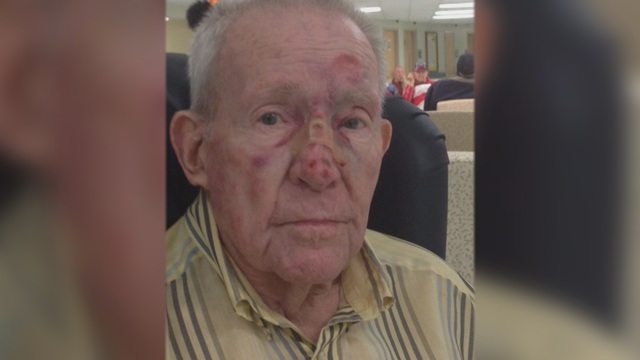 "He started getting sores and rashes and things of that nature from just sitting in a soiled diaper all day," said Hillsman.
She says all the way up to the moment he died, nursing staff treated Ronald Fraser like they didn't care.
"They've covered his body with the American flag, the CNAs go into my father's room. They take the American flag and they ball it up and put it in a chair in the corner of the room. His belongings are bagged up and put on the floor. He was basically treated like, 'It's time to take the garbage out,'" said Hillsman.
Carl Vinson public relations did not dispute Ronald Fraser's sores, falls, or broken bones, but did say the flag that was crumpled up was actually a blanket designed to look like a flag.
According to newly-released Department of Veterans Affairs documents obtained by USA TODAY and The Boston Globe, Ronald Fraser's experience might not have been unique.
The department's own data shows that the Dublin nursing home underperformed private facilities in many of the quality metrics it was ranked on.
More than 45 percent of residents at the Dublin home reported being in serious pain -- more than 8 times the rate in private facilities.
Over 20 percent of patients were on anti-psychotics. That's close to 5 percent higher than in private nursing homes.
And more than 14 percent of residents had serious bedsores, nearly triple the rate of the VA's private counterparts.
In all, the Carl Vinson nursing home scored worse than private facilities in 7 of the 12 quality metrics it was rated on.
To view the complete list and compare different VA nursing homes around the country, you can view the data here.
Dr. Jayesh Patel says he spent several years working for the Carl Vinson VA's outpatient system but now works in Macon for Navicent Health.
He has close to a decade of experience in geriatric medicine and says some of those numbers are concerning.
"I would say these quality metrics does [sic] indicate the quality is compromised in some ways," said Dr. Patel.
13WMAZ invited the nursing home leadership team to speak on camera multiple times but the public relations department declined each of those requests. Instead, they provided us with a one page written statement.
In it, they say they're expanding their facility so that every resident has their own room.
They also argue that it's unfair to compare a VA nursing home to a private facility because, they say, the VA serves patients with more serious medical conditions "which makes achieving good quality ratings more challenging."
But even compared to other VA nursing homes the Carl Vinson underperforms.
In a ranking that graded the 133 VA nursing homes around the country out of a possible 5 stars, the Carl Vinson is one of only 11 to receive a 1-star overall quality rating.
Those numbers alarmed Dublin's state senator, Larry Walker.
"Some of the statistics, you know, bedsores and severe pain and all, of course, are disturbing," he said. "We need to get to the bottom of that."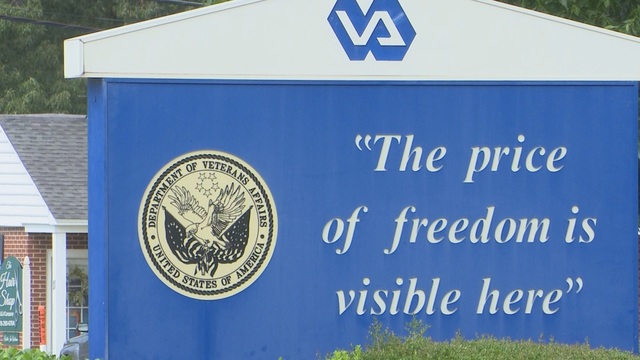 Since the Carl Vinson VA Medical Center is a federal site, state senator Walker has little control over what happens there.
The Carl Vinson VA Medical Center sent a statement, saying:
CVVAMC Wmaz Statement 2.0 by 13WMAZ on Scribd
But if any fixes do come, they'll still be too late for veterans like Ronald Fraser.
Walker wasn't the only politician who was concerned. Dublin's U.S. representative Rick Allen said in a statement he was "extremely disappointed."
Congressman Allen stated,
"I was extremely disappointed to learn about the recent one star rating at the Carl Vinson VA Medical Center, and my office just received an update from the Department of Veterans Affairs on what they are doing to remedy this situation. Our veterans deserve the best care for their service to our country, and as your Congressman, I will do everything in my power to ensure that our veterans' needs are being met. The Carl Vinson VA Medical Center recently had an intensive on-site review and I, myself, will visit again soon to discuss the results and strategies on how to improve the quality of care.
Additionally, one of issues most pressing to our rural VA clinics is the ability to attract and retain quality physicians. Earlier this year, Congress passed the VA Mission Act, streamlining the VA's community care programs into one cohesive program to allow for more accountability within the VA. This important legislation also includes a number of provisions to improve and expand the VA's ability to train, recruit and retain the best healthcare providers—which is critical for VA medical centers like the Dublin VA. President Trump signed the VA Mission Act into law, and I look forward to continue working with the VA to implement this law. I thank the Veterans Administration for providing transparency through this review process and will do all I can to maintain strict oversight so that our veterans get the best care possible."
Senate veterans affairs committee chair Senator Johnny Isakson said he was "very concerned."
"I am very concerned about the low rating given to the VA community living center in Dublin, Ga. I've been in touch with VA leadership and our committee has been briefed on this issue. I was informed by the VA that a team was sent in May to do an on-site review of the Dublin facility and provide training and hands-on performance improvement work. I will continue to push local VA leadership to complete a review of the facility and to work diligently to correct these issues."
– U.S. Senator Johnny Isakson, R-Ga., chairman of the Senate Committee on Veterans' Affairs
Isakson's press secretary Marie Gordon said if the Dublin VA's low rating is due to "staffing or resource deficiencies," the senator will talk with the acting VA secretary to make sure the Carl Vinson "has the resources they need."
Gordon's statement reads:
"Senator Isakson will continue to deliver oversight and follow-up to ensure improvements are made at the Dublin VA community living center.
If specific staffing or resource deficiencies contributed to the facility's poor quality rating, Senator Isakson will certainly communicate that to the acting VA secretary to make sure they have the resources they need.
As far as how the Dublin VA community living center reached this state, Senator Isakson is actively seeking those answers. It's likely a combination of factors, but Senator Isakson's work on the 16 pieces of legislation passed this year have all been to help our veterans and to help the VA address issues such as these. If there are other areas he also needs to address through future legislation, he wants to know about those areas as well.
From accountability and whistleblower protection legislation – to the VA MISSION Act, which includes some of the most significant reforms proposed to-date to improve the VA's current healthcare delivery system and helps provide veterans with more choice and fewer barriers to care – Senator Isakson is committed to continuing his work to always be looking for ways to improve the U.S. Department of Veterans Affairs and their facilities.
Senator Isakson's commitment as chairman of the Senate Committee on Veterans Affairs is to make sure America takes care of the veterans who have dedicated their lives to serving our country. He has repeatedly stated that our veterans deserve nothing less than the best possible health care and services."
Congressman Allen said he will be personally visiting the Carl Vinson to discuss the results of what he calls an "intensive on-site review."