Macon — Adam Youmans was known as a class clown, a leader, and a beloved brother and son. In 2016, he died by suicide, contributing to a trend that has only risen dramatically since the turn of the century.
"My brother and I were really close," said Courtney Youmans, his sister. "We really didn't know the extent of his depression and what he was really going through."
Despite being described as a vibrant, ambitious and funny young man, Adam Youmans struggled with clinically diagnosed depression and possibly bipolar disorder. After the passing of his great-grandmother and a sickness belying his mother, Adam lost the job he had grown incredibly fond of. It proved to be too much. In April of 2016, Adam died by suicide by car accident.
"I literally collapsed to the floor because it was so earth-shattering -- my whole world changed in a millisecond," Courtney said. "I was so shocked when my parents mentioned suicide. I was like, 'No, not my brother. Not my Adam.'"
Adam is not an isolated case. According to the Center for Disease Control, 47,000 people died by suicide in 2017. Since 1999, the suicide rate has increased a staggering 33 percent. In recent years, more attention has been paid to suicide and mental health, but stigmas still surround the subject.
"Stigmas of depression and mental illness are all intertwined with suicide, death by suicide as well. We have to get beyond that," said Mary Boener, Clinical Director of the Oconee Center in Milledgeville.
The center provides mental health services including outpatient and adolescent support, group therapy, and residential services. Boener says often loved ones can find fault in themselves when someone kills themselves.
"They think that somebody could have done something or should have done something. A teacher should have seen it. Somebody should have seen something. Those blaming things are a way for a lot of survivors of suicide to try to understand it," Boener said.
Courtney Youmans and her family did their best to hide Adam's suicide at first, hoping to avoid the stigmas that surround suicide. After weeks of hiding it, Courtney made a choice. She got a tattoo of the note her brother wrote to her, one of about 20 pages that he wrote to loved ones in the weeks before his death. She also made a Facebook post describing her brother and the battles he faced.
"Since then, I have just actively pursued talking about it because it's something we don't talk about it and it's happening right in our backyards," Courtney said. "It's not this abstract concept that people think it is. It's happening in Milledgeville, it's happening in Macon, it's happening in Middle Georgia, it's happening to our families, it's happening to our friends. "
Despite suicides rise over the last two decades, funding is still vastly dwarfed by other leading caused of death. Suicide is the number 10 cause of death in the United States, according to the National Institute of Health. $68 million is allocated to research for suicides, while $592 million is directed towards the 9th leading cause of death, kidney disease. Over $6 billion is allocated to cancer research.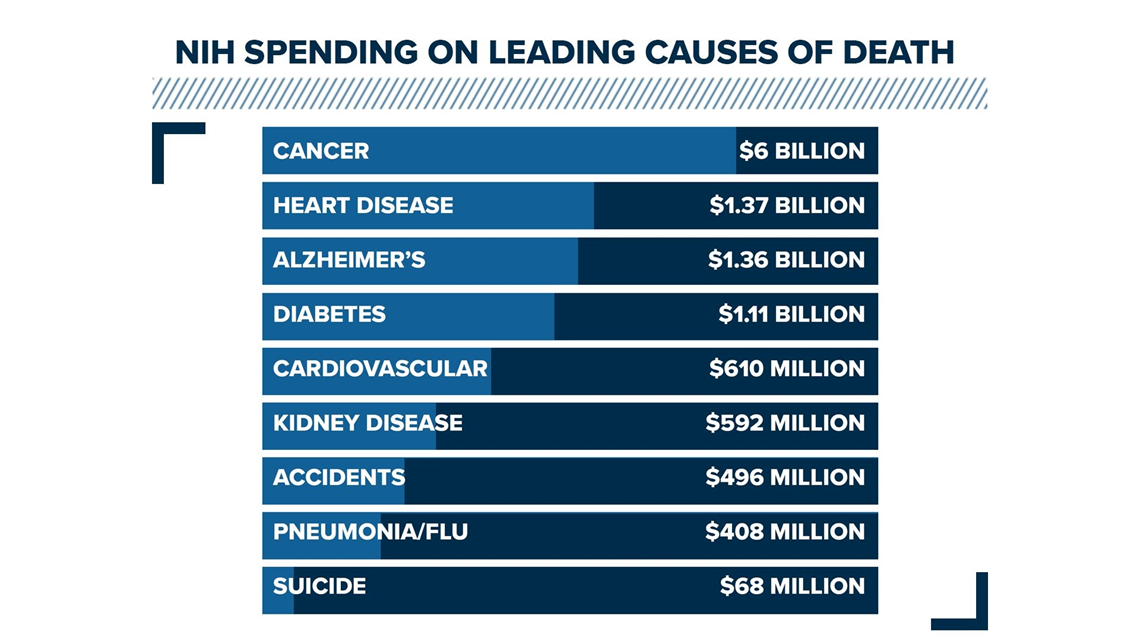 CEO of the Oconee Center Tyrone Evans said he believes that suicide is starting to get the attention it deserves, but the ability to help is still lacking.
"I can tell you, in the last ten years of my career in this field, the funding has definitely been improving in the state of Georgia," Evans said. "But the need for the service is growing at a faster pace than the resources that are available for it."
Boots on the ground, like Courtney's, are doing their best to turn the tide. They are working to let every person struggling with suicidal thoughts know that they are loved.
"There's nothing you can say that would make it OK that you're not here. There is nothing that Adam could have told me that would OK that he's not here," Youman said. "What you do matters, who you are matters, and your life really does matter. You count, you're important, and you're so needed in this world."
If you're struggling with suicidal thoughts and want someone to speak to, you can contact the National Suicide Hotline at 1-800-273-8255 or text the word "HOME" to 741-741.