Houston County train wreck did $5 million-plus in damage, posed hazmat risk
An October train wreck near Perry was one of the most expensive in state history, but one fire chief was more concerned about hazardous chemicals on board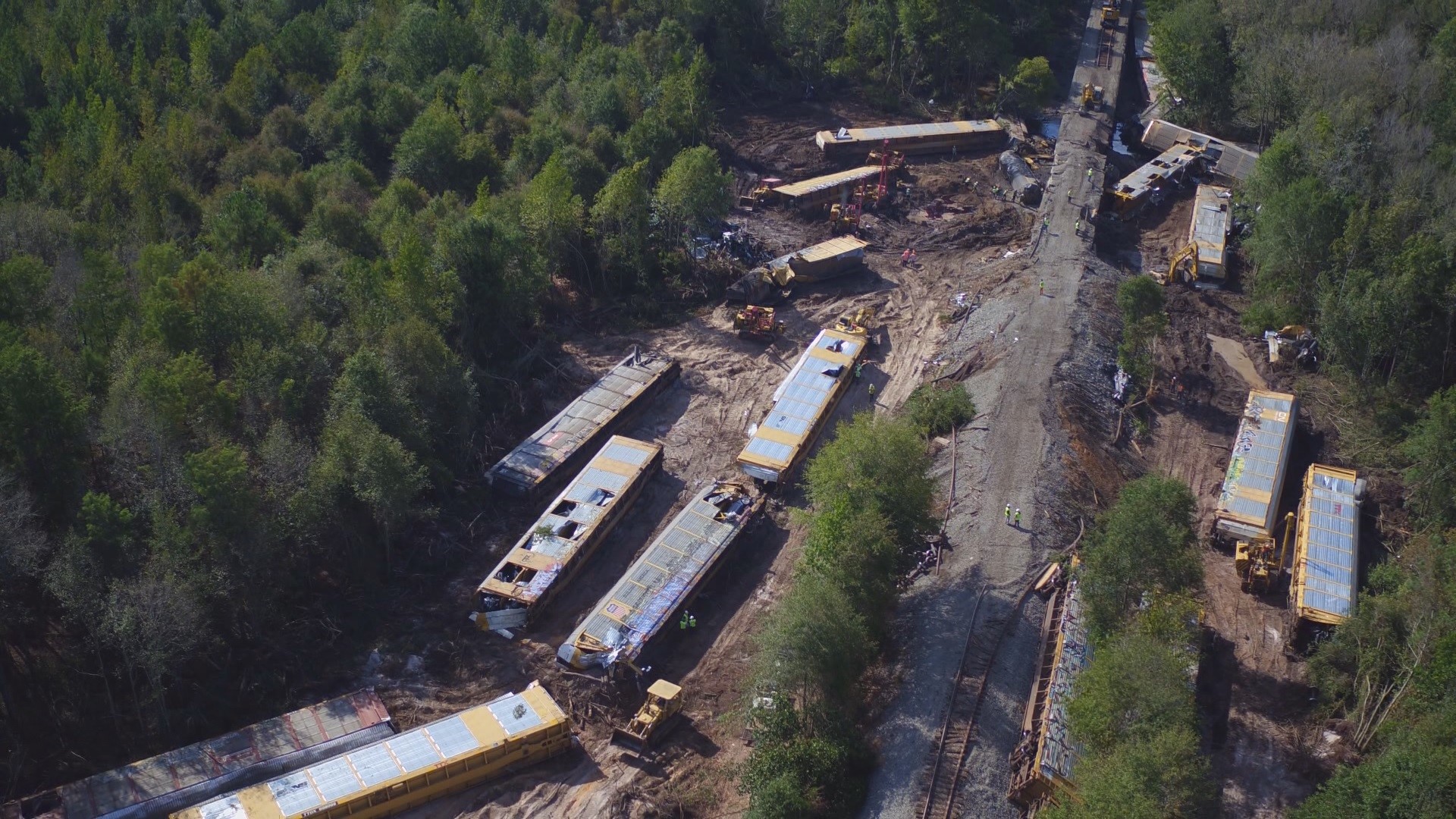 'It's amazing, in a bad way'
:
"It wasn't World War III, but, doggone it, man, it was pretty bad," said Rodger Moore.
"(It looked like) a very bad train wreck," remembered Jerry Barton.
"When they hit, they just kind of, (fell) off the rail, off the rail, off the rail," remembered firefighter Jamie Lindsey.
It was a more than $5 million derailment--Georgia's most expensive train wreck on record, according to Federal Railroad Administration reports that begin in 1975.
The cost could be even higher, too. That figure represents only damage to the train and the track.
Neither the state Environmental Protection Division nor the Norfolk Southern railroad would say what the total cost will be, partly because the cleanup is still underway.
But the train company says they're footing the entire bill.
Nobody was hurt, but 13WMAZ has learned it may have been a closer call than initially believed.
We asked Houston County Fire Chief and EMA Director Chris Stoner,."How close of a call was it to being a real catastrophe?"
"Five, 10 seconds maybe," he answered. "If it was another three or four cars back that derailed first, who knows what would've happened?"
Stoner says the train had toxic chemicals aboard.
"I believe it was some acids, some ammonia maybe," he said. "But it was significant enough hazmat that we would've had to evacuate a large area."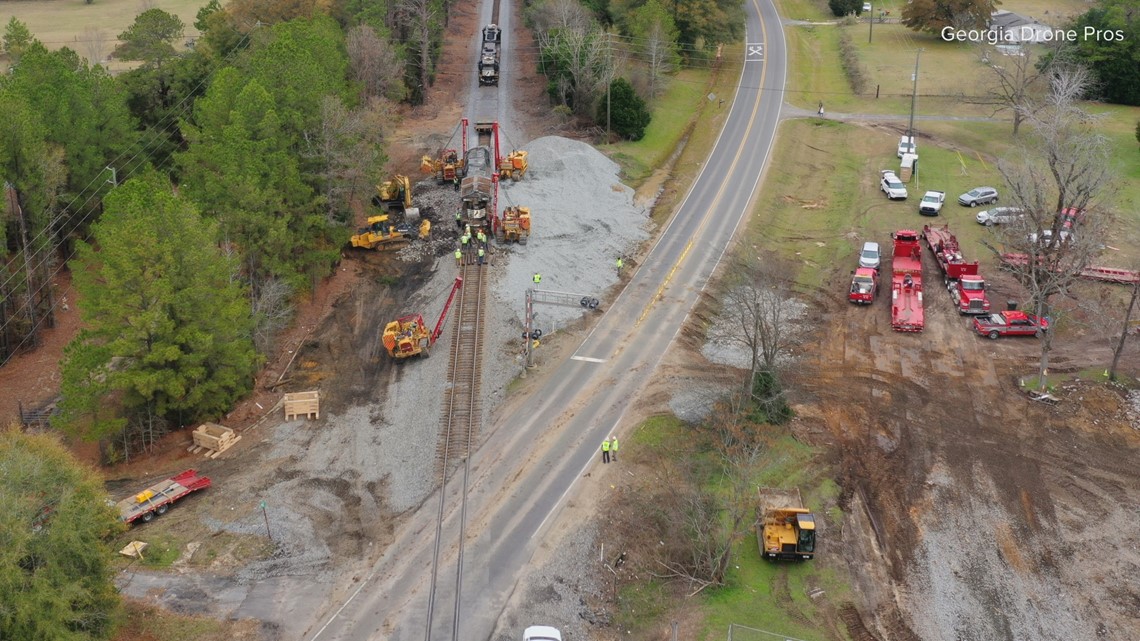 When we asked Norfolk Southern what, specifically, was on the trains, they declined to say. Instead, a spokeswoman said, "For safety and security reasons, Norfolk Southern does not release information regarding our train schedules and routes to the public."
Stoner says the cars containing those chemicals weren't among the 32 that derailed.
We definitely said a prayer and some thanks that afternoon," he said.
According to the chief, trains carrying hazardous material are common there.
"Day and night, day and night," he said. "There's tons and tons of hazardous materials that go down that rail."
PHOTOS: Norfolk Southern train wreckage
"The track goes through a heavily-populated area of Warner Robins in front of pretty much the heaviest-populated industrial area in the state at Robins Air Force Base," he added.
By email, a Norfolk Southern spokeswoman told WMAZ that:
More than 99 percent of hazmat cars reach their destination safely;
Train companies spend billions every year on hazmat precautions, cars are reinforced for safety, and trains have special operating practices for hazardous materials;
And rail companies work with local first responders to ensure emergency response plans are in place, just in case.
"Even if they had derailed, there's a pretty significant chance they wouldn't have ruptured unless it just hit a valve, or something would've had to happen just right for those chemicals to be released," he said.
Norfolk Southern stressed that their accident rate is low. Their spokeswoman said. industry-wide, "99.99 percent of hazardous materials shipments moved without a train-related incident."
Federal records also show the total number of rail accidents among all rail companies has declined since 2000.
However, those same records show that in the last 5 years on record, there have been at least 55 reported train accidents in Central Georgia, involving at least 6 different companies.
Almost three quarters were Norfolk Southern trains.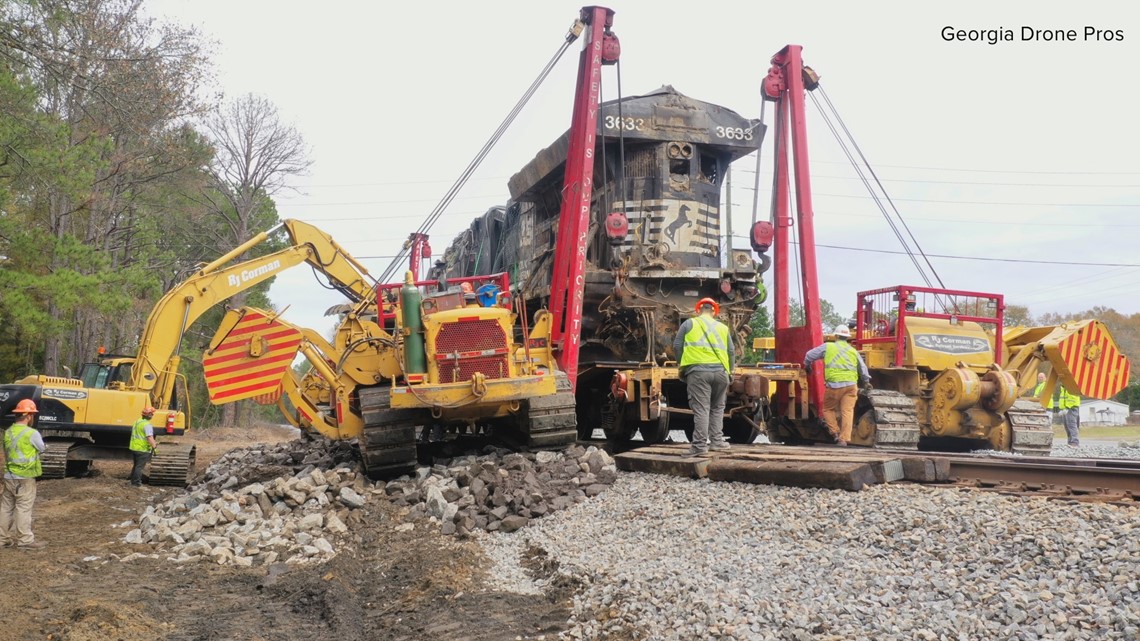 The amount of reported damage to track and train caused by those accidents varied widely, from just hundreds of dollars to millions.
However, it's a different kind of potential cost that may have been on Chief Stoner's mind that day in October, as he sat high up in a helicopter, looking down on destruction.
"Honestly, it was just, 'Wow,'" he said. "You sit there and look at something like that and it's amazing, in a bad way."
Norfolk Southern's response
:
We invited Norfolk Southern twice to speak on camera for this story, but they declined.
The company's spokesperson answered many of our questions but not all of them.
All of the questions we asked Norfolk Southern, as well as their answers, are below.
WMAZ's first round of written questions is below. Norfolk Southern's response are in bold.
The cause of the derailment is listed as human error, related to the assembly of the train (H504). Apparently, there was too much "slack" between cars in a way that would allow them to derail easily. Can you clarify this? Is my understanding correct? How does that occur? How did it occur in this incident? Why is it dangerous?

We do not have any additional details related to the cause of the incident beyond what is outlined in the official report.

Was Norfolk Southern fined or disciplined for this? Were any individuals/employees fired or disciplined for this?

Norfolk Southern does not comment on employee discipline.

The report indicates this derailment did more than $5 million in damages to train and track. It doesn't appear that figure includes the cost of clearing the wreck itself or environmental cleanup. Can you tell me how much it cost to clean up this wreck and any environmental damage it caused?

We are still gathering the total damage figures at this time. We don't release information about costs of derailment beyond damages to equipment and track that are listed in the report.

Did any public agencies (at the local, state, or federal level) foot the bill for these cleanups or did NS cover the costs?

Norfolk Southern covered the entirety of the cleanup costs.

We've reviewed FRA data that shows train derailments are not uncommon in Central Georgia. A railroad employee union spokesman told us these derailments are becoming more common nationwide, in part as a result of large railroad companies like NS reducing staff positions and increasing the average length of trains. Is that a fair assessment?

I would recommend checking with the AAR for information related to nationwide derailments. At Norfolk Southern, we report information about train accidents in our Corporate Social Responsibility report. I've attached what we have in our current report. You can access the full report online here.

What is NS doing to prevent train derailments in Central GA?

Norfolk Southern is committed to safe operations across our operating territory, regardless of the state. Operating safely is simply good business, and safety and service go hand-in-hand at Norfolk Southern.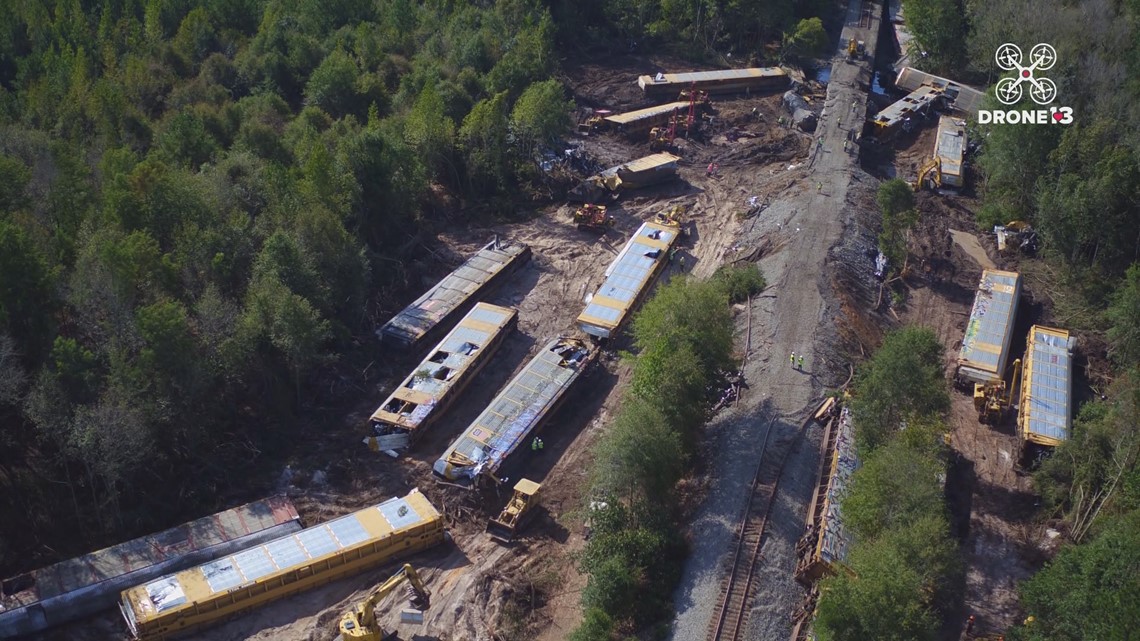 As our reporting continued, new questions came up. Below are the second round of questions we sent to Norfolk Southern:
The Houston County EMA director and fire chief told us the train that derailed was carrying hazardous materials. Can you tell us what, specifically, those materials were?
The Houston County EMA director and fire chief told us the cars carrying those hazardous material were within roughly ten cars of the portion of the train that derailed. Is that accurate?
What precautions does Norfolk Southern take to ensure hazardous materials are safely transported? Are the cars containing them reinforced? Could a derailment cause hazardous materials to escape their cars/containers?
The Houston County EMA director and fire chief told us hazardous materials are frequently transported across the tracks where that train derailed in October. Is this accurate? How much hazardous material is transported through Houston county on NS trains in a typical day (or week, or month—if daily figures are not available)? What types of hazardous materials are transported?
This is Norfolk Southern's full response:
There were three cars on the train carrying hazardous materials. These three cars, however, were not involved in the derailment.
"The transportation of hazardous materials by rail is subject to strict oversight by the Federal Railroad Administration (FRA), the Pipeline and Hazardous Materials Safety Administration (PHMSA), and the Department of Homeland Security (DHS). Railroads work in partnership with these and other local, state, and federal entities on train routing, security, tank car design, emergency response, etc., to ensure hazardous materials are transported safely and securely. In addition to following federal regulations, railroads apply their own special operating procedures for trains carrying hazardous materials. Visit the AAR website for additional information on hazmat transport by rail. You might find this AAR fact sheet useful as well.
The freight rail industry has an impressive safety record, with 99.99 percent of hazardous materials shipments moved without a train-related incident. These materials are found in many products that people use every day, such as bottled water, garden fertilizer, hand sanitizer, paint, batteries, and household cleaners.
Norfolk Southern provides information about the hazardous materials we transport to state agencies and first responders. We also offer training to first responders in communities near our rail lines to help ensure they are prepared to respond safely and protect the public in the unlikely emergency event involving hazmat transport. For safety and security reasons, Norfolk Southern does not release information regarding our train schedules and routes to the public."
STAY ALERT | Download our FREE app now to receive breaking news and weather alerts. You can find the app on the Apple Store and Google Play.
STAY UPDATED | Click here to subscribe to our Midday Minute newsletter and receive the latest headlines and information in your inbox every day.
Have a news tip? Email news@13wmaz.com, or visit our Facebook page.