"It wasn't World War III, but, doggone it, man, it was pretty bad," said Rodger Moore.
"(It looked like) a very bad train wreck," remembered Jerry Barton.
"When they hit, they just kind of, (fell) off the rail, off the rail, off the rail," remembered firefighter Jamie Lindsey.
It was a more than $5 million derailment--Georgia's most expensive train wreck on record, according to Federal Railroad Administration reports that begin in 1975.
The cost could be even higher, too. That figure represents only damage to the train and the track.
Neither the state Environmental Protection Division nor the Norfolk Southern railroad would say what the total cost will be, partly because the cleanup is still underway.
But the train company says they're footing the entire bill.
That Norfolk Southern train came off the tracks near Perry in October.
Nobody was hurt, but 13WMAZ has learned it may have been a closer call than initially believed.
We asked Houston County Fire Chief and EMA Director Chris Stoner,."How close of a call was it to being a real catastrophe?"
"Five, 10 seconds maybe," he answered. "If it was another three or four cars back that derailed first, who knows what would've happened?"
Stoner says the train had toxic chemicals aboard.
"I believe it was some acids, some ammonia maybe," he said. "But it was significant enough hazmat that we would've had to evacuate a large area."
Georgia Drone Pros
When we asked Norfolk Southern what, specifically, was on the trains, they declined to say. Instead, a spokeswoman said, "For safety and security reasons, Norfolk Southern does not release information regarding our train schedules and routes to the public."
Stoner says the cars containing those chemicals weren't among the 32 that derailed.
We definitely said a prayer and some thanks that afternoon," he said.
According to the chief, trains carrying hazardous material are common there.
"Day and night, day and night," he said. "There's tons and tons of hazardous materials that go down that rail."
PHOTOS: Norfolk Southern train wreckage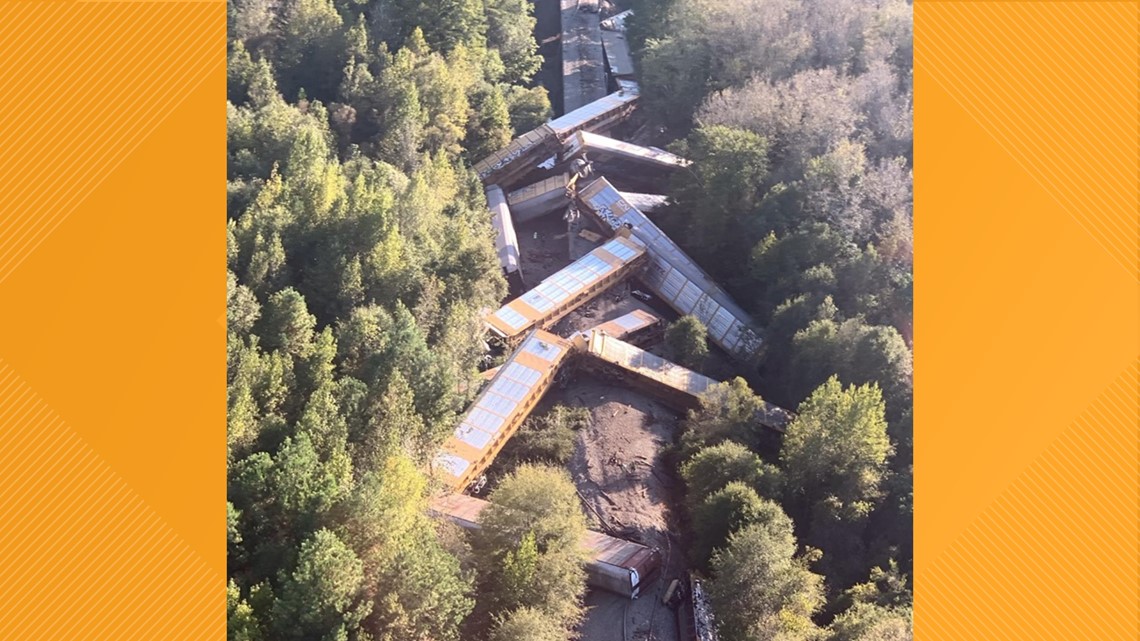 "The track goes through a heavily-populated area of Warner Robins in front of pretty much the heaviest-populated industrial area in the state at Robins Air Force Base," he added.
By email, a Norfolk Southern spokeswoman told WMAZ that:
More than 99 percent of hazmat cars reach their destination safely;
Train companies spend billions every year on hazmat precautions, cars are reinforced for safety, and trains have special operating practices for hazardous materials;
And rail companies work with local first responders to ensure emergency response plans are in place, just in case.
Stoner echoed that.
"Even if they had derailed, there's a pretty significant chance they wouldn't have ruptured unless it just hit a valve, or something would've had to happen just right for those chemicals to be released," he said.
Norfolk Southern stressed that their accident rate is low. Their spokeswoman said. industry-wide, "99.99 percent of hazardous materials shipments moved without a train-related incident."
Federal records also show the total number of rail accidents among all rail companies has declined since 2000.
However, those same records show that in the last 5 years on record, there have been at least 55 reported train accidents in Central Georgia, involving at least 6 different companies.
Almost three quarters were Norfolk Southern trains.
Georgia Drone Pros
The amount of reported damage to track and train caused by those accidents varied widely, from just hundreds of dollars to millions.
However, it's a different kind of potential cost that may have been on Chief Stoner's mind that day in October, as he sat high up in a helicopter, looking down on destruction.
"Honestly, it was just, 'Wow,'" he said. "You sit there and look at something like that and it's amazing, in a bad way."