Cochran's first Pride picnic happening in June
During the event they plan to have a prize raffle, a photobooth, music and, of course, they will be raising a rainbow flag.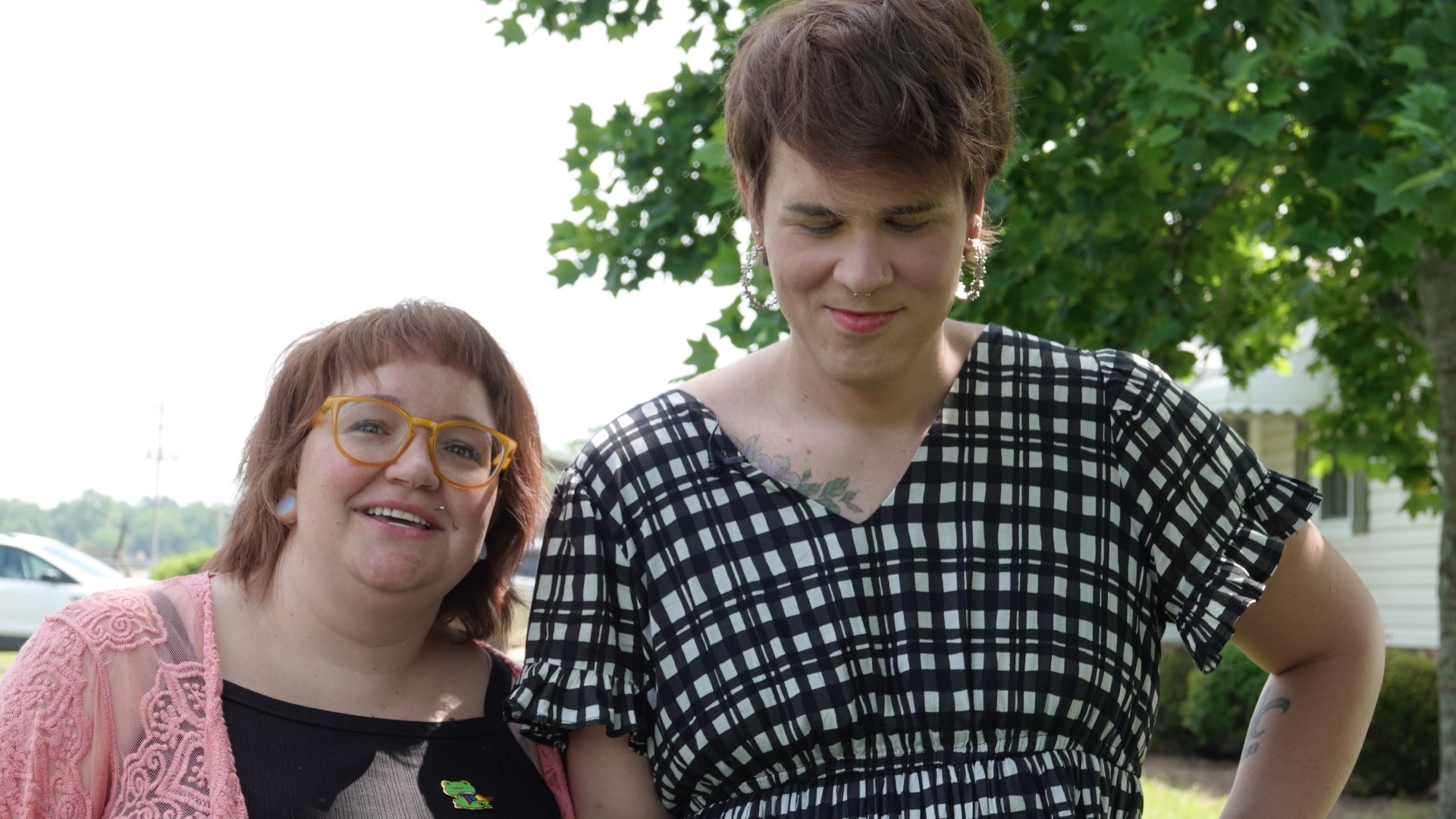 Cochran's First Pride Picnic
:
In Bleckley County, you'll find a home that waves a flag to show others they are not alone.
"My wife came out to me in October as transgender and I've always felt different in my own sexuality," Katie Weaver said.
Katie says she didn't see an LGBTQ+ community in Cochran for her and her wife Nikki so she created her own to share.
"It's a pride picnic. It is to celebrate it is to celebrate be a part of the LGBTQ and being who you are," she said.
It's happening on the lawn at the county courthouse. Nikki Weaver says there's a reason for that.
"We have a queer Cochran community member who had petitioned the county to not take down the Christian flag, but to be able to fly a Pride flag," she said.
They learned they could fly a rainbow flag outside the courthouse as long as there was an event to accompany it at the courthouse, and so the Cochran Pride Picnic was born.
They've been planning to have the event since December of last year.
"We're just going to have fun. I want it to feel like family. I want it to feel like you're seeing your long-lost cousin that you never got to get to meet, and I just want everybody to come and enjoy themselves," Katie said.
Nikki says allies give her and other the courage to be themselves.
"It definitely feels like we can walk with a little pep in our step because we don't have to hang our head in shame when we walk through the center of town or Walmart," Nikki said.
She says for some LGBTQ+ people who have left Cochran, the picnic gives them hope in the place they call home.
"The one thing that is very apparent to me is the amount of people who have graduated here in the past 20 years and have reached out to us and made us really feel like we are righting a wrong that they couldn't do in the '80s and '90s and early 2000s," Nikki said.
But not everyone in the Bleckley County community is happy about the picnic.
Threats to the Picnic
:
Katie says while many people have welcomed the picnic, the couple and their daughter have gotten threatening messages from students at Bleckley County Middle School and High School.
"And I just contacted the sheriff's office and said, 'Hey, I just want it on record," Katie said.
Katie and her family have gotten messages saying "they will be put in their place" and "let's turn this junk into a truck meet."
She says some students even went further.
"A sixth-grader who said something to her about us flying our flag and he was going to come burn it down," Katie said. "I feel like it was rightfully taken care of and we've had no other issues."
We reached out to the school district for comment and they have not responded.
The Bleckley County Sheriff's Office says it is aware of the picnic at the courthouse.
They sent 13WMAZ a statement saying, in part, "A security plan has been initiated... and the individuals who coordinated this event appropriately are able to carry out their event without any disturbance."
Katie says the rainbow flag is a representation of her and her wife's identity.
"It's a sense of joy that I get watching her be who she's always wanted to be," Katie said.
Nikki says her wife has been supportive of her and who she is.
"She's always been there as my best friend fighting for me," she said, and the couple wants to be there for others to know they have a safe space to come to in Bleckley County.
Making Their Own Family
:
Nikki and Katie started the Queer Cochran Facebook group to find and support other LGBTQ+ people like them.
"I think it's really been about having community, having a family, really just feeling that connection that you have people for you," Katie said.
It's not just filled with LGBTQ+ people from Cochran but people from surrounding cities and towns like Macon, Eastman, and Dublin.
Last Sunday, Nikki and Katie held a cookout at their home so they could meet their newfound family
Nikki says the house was packed and over 40 people stopped by.
"We talked, we laughed, we learned about each other, we got to meet other spouses, we got to meet just other people who are on this journey. We got to just be us," Katie said.
The couple has created a space for LGBTQ+ people in their community to find friends, and, in some cases, find a brand new family who will love and accept them for who they are.
Katie and Nikki say they are up to the task.
"I want it to be a family that, you know, we do life together. We celebrate birthdays, weddings, anniversaries," Nikki said.
For them, it's important for LGBTQ+ people throughout Central Georgia to feel like they have a community they can rely on.
"I mean, we don't have the money to move to Atlanta, we don't have the money to move to California. We love our small town and we love the people here. We just want to provide a space where people feel just amazing and be themselves," Nikki said.
Near the end of their interview, Nikki and Katie said they wanted to dedicate event to their daughter who they love and say is very brave.
Cochran's first Pride picnic is June 7 from 5:30 p.m. until 8 p.m. on the Bleckley County Courthouse lawn.
During the event they plan to have a prize raffle, a photobooth, music, and, of course, they will be raising a rainbow flag.