CONYERS, Ga. – After four months since a veteran's memorial was vandalized, the foundation who oversees the memorial is holding a fundraiser to restore the monument to its original glory.
In December 2017, two bronze statues, a bronze globe weighing 800 pounds, and a plaque were ripped from their concrete bases at the Walk of Heroes Veterans War Memorial in Black Shoals Park. The damage was estimated at $200,000.
The memorial honored all of those who have served in the military in the last 100 years.
"A little anger, and a little disappointment, to realize that there are people in this country who have no respect for the veterans--you see it every day," Norman Wheeler, a member of the board for the memorial told 11Alive back in December.
RELATED | Veterans memorial vandalized in Conyers, 'attack on what it stands for'
At the time, Rockdale County Sheriff Eric Levett believed the suspects stole the items to sell at a scrapyard.
"This was a sad and terrible crime that touched a lot of hearts," Levett told 11Alive.
In January 2018, Keisha Martin Black, Bryan Sears, Wendell Tolbert and a fourth suspect were arrested in connection to the vandalism.
PHOTOS | Walk of Heroes Veterans Memorial vandalized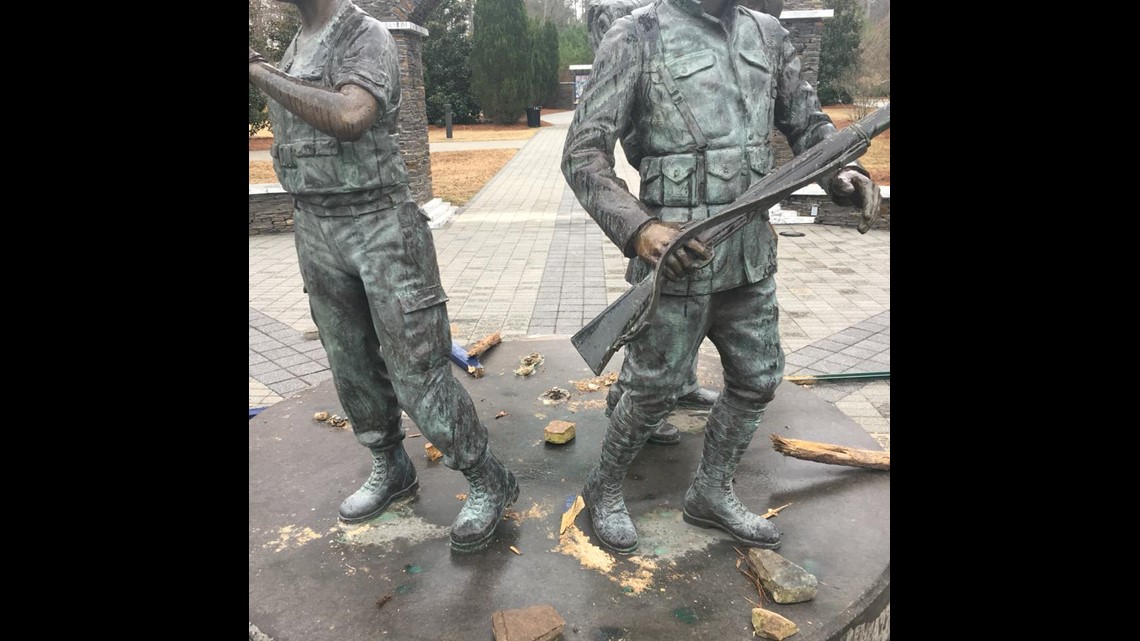 Now four months later, the foundation is picking up the pieces and raising money to repair the memorial.
The Ride 4 Walk of Heroes fundraiser is selling raffle tickets for two massive prizes. You can purchase five different raffle tickets options ranging from $10 to $100.
The second prize is a UGA "Collector's Series" Helmets while the grand prize is the winner's choice of a 2018 Chevrolet Camaro LT, 2018 Chevrolet Traverse LT or a 2018 Chevrolet Silverado LT Crew Cab.
MORE | Suspect vandalized war memorial for scrap metal and drug money, authorities say
All proceeds will go to rebuild and restore the statues, plaques and memorial grounds to honor the men and women who served in the military, according to the fundraiser.
To purchase raffle tickets and for additional information, you can visit the Ride 4 Walk of Heroes website. The raffle will continue until Veterans Day.
ADDITIONAL STORIES |