MUSELLA, Ga. — Dickey Farms has been a long standing staple in Central Georgia, and many families have gone there to get their peaches for decades.
They say he died on Wednesday morning from a sudden illness, at the age of 94.
His son, Robert Dickey, asks that the community keep the Dickey family and Bob's Wife, Jane, in their prayers. Bob and Jane were married for 74 years.
The post said Bob loved to interact with the folks that came to his farm, especially the kids. He had a caring and kind heart, and loved to talk to people.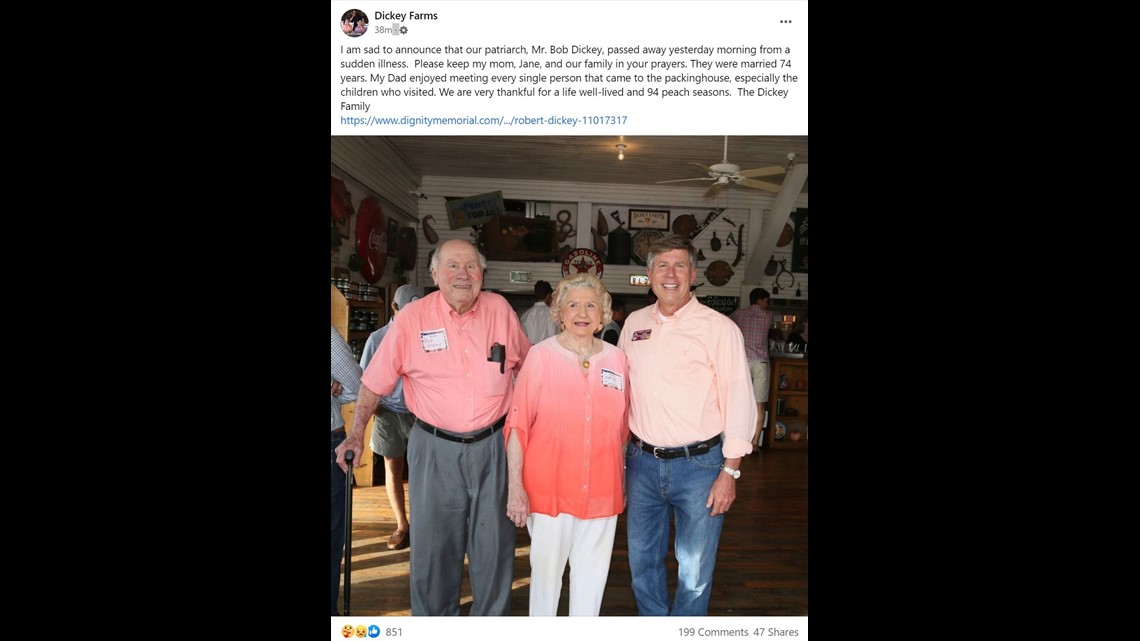 A visitation service will be held for Bob Dickey at Snow's Memorial Chapel, on 1419 Bass Road in Macon.The visitation will be held from 4 until 6 p.m. on Friday, November 18.
The funeral service will be at 11 a.m. on Saturday, November 19, with Rev. Joe McDaniel officiating at Musella Baptist Church.
In his obituary, it is stated Bob Dickey was born in Macon, Georgia, and was the son of the late Wilmer Moore Dickey and Gladys Neel Dickey. He attended Mercer University, and later married his wife Jane in 1948.
He later went on to run the Dickey Farm with his father, and harvesting peaches every year, and "was very proud of continuing Dickey Farms' tradition of growing the sweetest peaches in the south for 125 years."
The tribute said Dickey was a longtime member of the Georgia Peach Council and the National Peach Council, where he received the "Mr. Peach" award.
He was a member of the Georgia ACC for Peaches, was elected as a Crawford County Commissioner where served as Chairman, was a member of Macon Rotary Club, started Macon Bank and Trust, was a longtime member and past president of Idle Hour Country Club, was a board member and past president of the South Central Farm Credit, and much more.
Along with his achievements in the community, Dickey was a deacon and longtime member of Musella Baptist Church.
To view his full obituary and biography, you can visit it online here.
Dickey is survived by his wife Jane, daughter Marjie, his son Robert, his 2 grandchildren, and two great-granddaughters.
WHAT OTHER PEOPLE ARE READING: