The cows, goats and horses that usually visit the Georgia National Fairgrounds were joined by dinosaurs Friday.
Jurassic Quest: Out of Extinction is an interactive dinosaur exhibit featuring over 100 moving dinosaurs.
Kids will be able to create fossil molds, participate in fossil dig simulations and even ride some dinosaurs throughout the weekend at the fairgrounds.
Dustin Baker, show manager at Jurassic Quest, said it's a unique experience that travels all over the country.
"If you're a dinosaur lover, obviously this is the place to be," Baker said.
Baker said it takes a crew of about 40 people and a day and a half to put everything together.
"Every detail you see, someone had their hands on," Baker said. "So all the trees, the dinosaurs themselves, the rides, our crew puts together and does a really good job of putting in details to make sure it's the most unique experience our customers get."
When moving so many things, Baker said it is a lot of hard work.
"It is a lot of man hours, it's over 12-hour days, but it's a really great thing when we're all done and see the finished product," Baker said.
PHOTOS: Jurassic Quest gears up at GA National Fairgrounds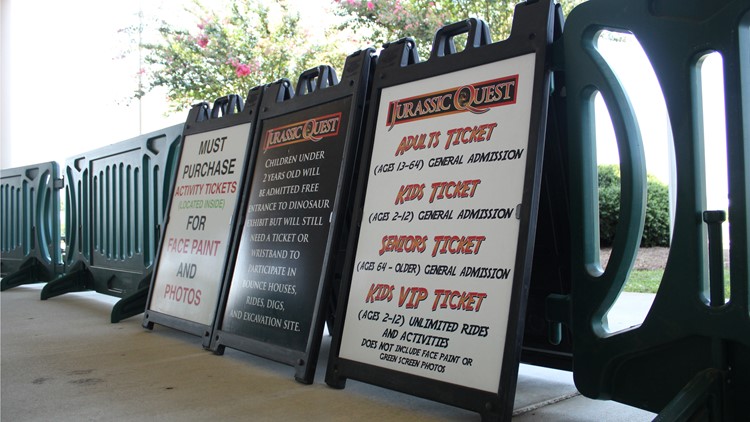 Baker said kids get especially excited when they see the baby dinosaurs.
"It's amazing. When kids walk in, they are extremely floored, you can see the 'wow factor' instantly when they come into our event," Baker said.
While there are other touring dinosaur shows, Baker said they're the largest in North America.
"So that's what makes us unique, and the fact that paleontologists inform our shows, so the things that you see have been put there on purpose just to be accurate and just to make sure people are getting not only a thrilling experience, but an educated experience about what dinosaurs were like," Baker said.
Jurassic Quest will be at the Miller-Murphy-Howard Building at the Georgia National Fairgrounds Friday, July 13 through Sunday, July 15.
There are some height and weight restrictions for the rides.