Family and friends filled the Peach County High School's auditorium Saturday to celebrate the life of Raekwon Elijah James Smith, the 18-year-old Fort Valley student who was killed in a car accident last Saturday night.
His Trojan football teammates went down the aisle hand-in-hand to view the body.
Erica Smith, Raekwon's mother, walked slowly up to the podium and said that over the past year, she had the opportunity to spend more time with Raekwon and be a full-time mother. She calls him her 'Chocolate Star.'
"Every single day that I had with Raekwon was a gift because God didn't have to pick me to be his mother," said Smith.
Before she closed the casket, she gave her son a kiss and said goodbye.
His grandmother, Eloise Smith, shared the last meal he cooked for her and what they enjoyed doing together the most.
"He left me; he told me, 'See you later,' but later never came," said Smith.
Others in the auditorium sent the family unwavering support.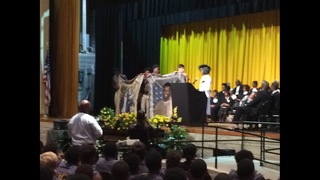 Fort Valley Mayor, Barbara Williams, spoke about Raekwon. She said he was the type of man who lit up any room and warmed the hearts of anyone he came in contact. She named August 27, 2016 Raekwon Elijah James Smith Day in the city of Fort Valley.