Georgia Adventures | How you can go on a guided, high-tech hog hunt
Hog S.W.A.T. specializes in guided, high-tech hog hunts using thermal optics, and you get to hold the AK-47.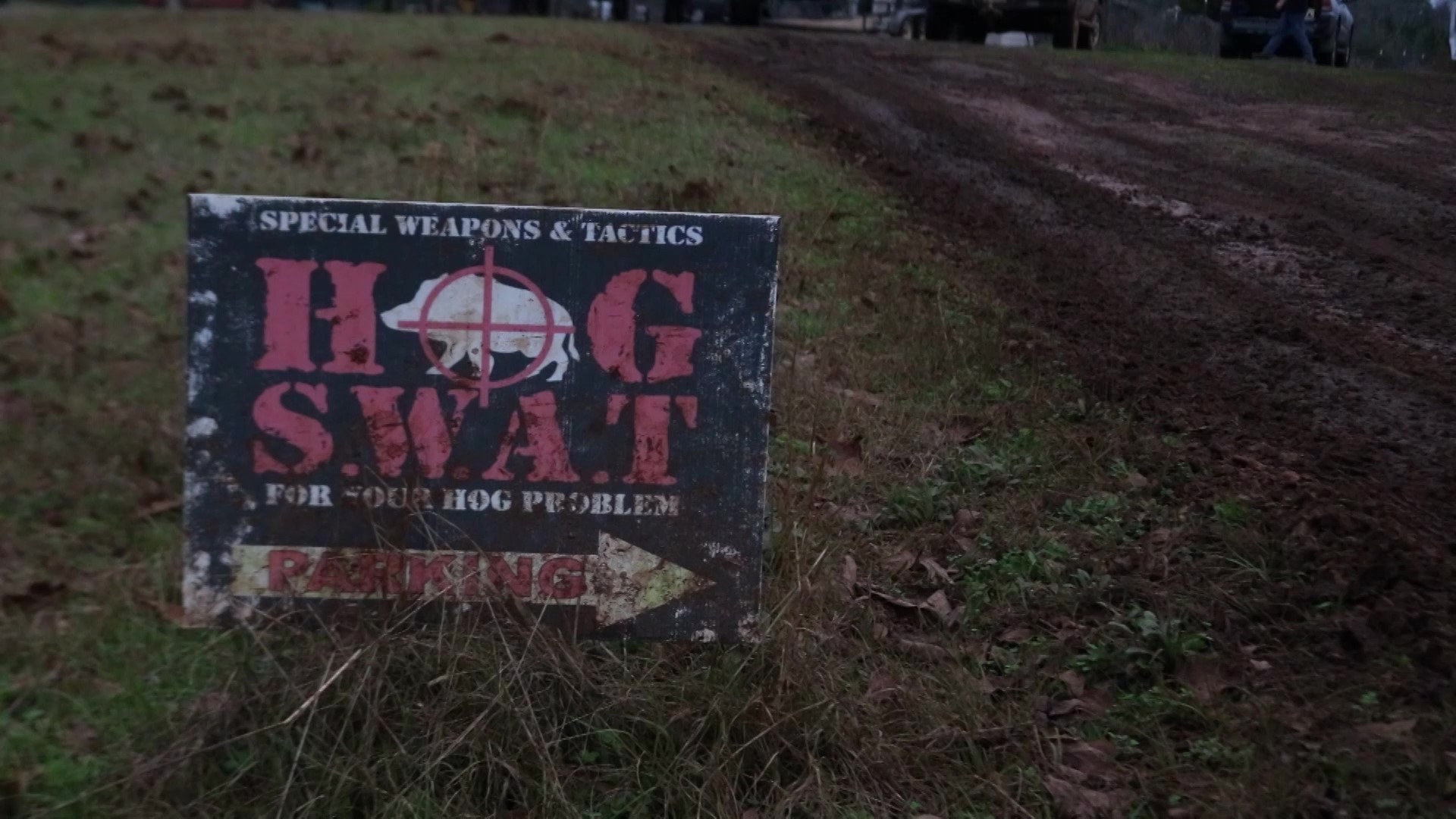 Chapter one
:
The Hunt
From the Atlantic Coast to the mountains, there's a lot to do and see in Georgia. On Fridays, Anchor and Reporter Suzanne Lawler is taking you into wild places around the state you've probably never been to in her four-part series "Georgia Adventures."
Hogs can be a nuisance for farmers in Georgia.
But an operation out of Smithville and Leesburg, between Albany and Americus, specializes in high-tech nighttime hog hunts. You'll use an AK-47, but they'll train you before you head out into the field.
"It costs $500 per night, per client. We supply them with a weapon, a suppressed weapon, thermal optics, and then it's fully guided," founder Hal Shouse said.
The four-wheel drive vans have a sensor on top that shoots thermal pictures onto a big screen TV. Clients get to watch while the Hog S.W.A.T. team looks for pigs in peanut fields.
"It's amazing what you can see and get excited about. People will see mice and just go over the top," Shouse said.
You can see those thermal pictures from Suzanne's hog hunt here:
He started the business in 2008. He says folks also get a kick out of firing the big boy guns.
"It's an AK-47 7.62x39," Shouse said.
"Yeah, kids come. It goes all the way from an experienced shooter to someone who's never shot a gun," he said.
Max Shifler is the guide for the evening.
"So I'm not shooting with customers, I'm constantly looking around the field and helping facilitate what's down range," Shifler said.
Pigs can get aggressive, and you don't want one sneaking up on you trying to defend her babies.
"This little field and this little field... look at how inundated they are with those trees and swampland," Shouse said.
Terry Richmond and Patricia Cales have hunted before, but never like this.
"When we booked this, I said hey I have to have a shirt that says 'hey guys, us girls can get 'er done,'" said Cales.
Before they get 'er done, Shifler spends about an hour going over safety. There is a lot to remember, and you get the time to fire off a few shots and get comfortable with a gun.
"The thing that we try to tell customers is it's hard. You've got a lot of factors that you don't have to deal with on a range. There's no adrenaline on a range. When you're stalking up on one big pig or 20 pigs, your heart is going crazy. You can hardly breathe," Shouse said.
It wasn't long before some hogs were spotted.
"It's like, 'oh yes, let me get at them right now, like right now, now. Don't wait, come on, let's go,'" Cales said.
What you can't put on camera, like Shouse says, is the adrenaline rush. When you get out of the van, it's pitch black, but the stars are amazing.
The pigs are in the field, and you walk in a single file line until you can set up tripods and guns.
When the guns do go off, Cales was able to get one on the first try.
Shifler takes pictures, and then he dresses the sows in the field. Successful shooters are rewarded with meat.
"We had a lot of fun; we killed several hogs," Richmond said.
Cales was able to shoot two hogs, and Richmond got one. Shifler says women usually outshoot the men.
"You don't really have to be in love with a gun in order to have this wonderful experience," Cales said.
The average first-time shooter gets about two to three pigs a night, Hog S.W.A.T. says. It's not a big number to make a dent in the population, but they hope the action will scare pigs away and farmers won't have to deal with them.
Join us next Friday, Feb. 7 on 13WMAZ Morning at 6 a.m., where Suzanne checks out the darkest county in the state, Taliaferro County.
Chapter two
:
How to get there
You'll meet up with the Hog S.W.A.T. team in Leesburg, Georgia. From there, they'll transport you to hunting grounds in the surrounding areas.
Leesburg is in Lee County and sits between Albany and Americus.
It's about an hour and a half from Macon.
STAY ALERT | Download our FREE app now to receive breaking news and weather alerts. You can find the app on the Apple Store and Google Play.
STAY UPDATED | Click here to subscribe to our Midday Minute newsletter and receive the latest headlines and information in your inbox every day.
Have a news tip? Email news@13wmaz.com, or visit our Facebook page.