Georgia Adventures | How Providence Canyon State Park came to be
Providence Canyon State Park in Lumpkin, Georgia offers beautiful views without having to go out west.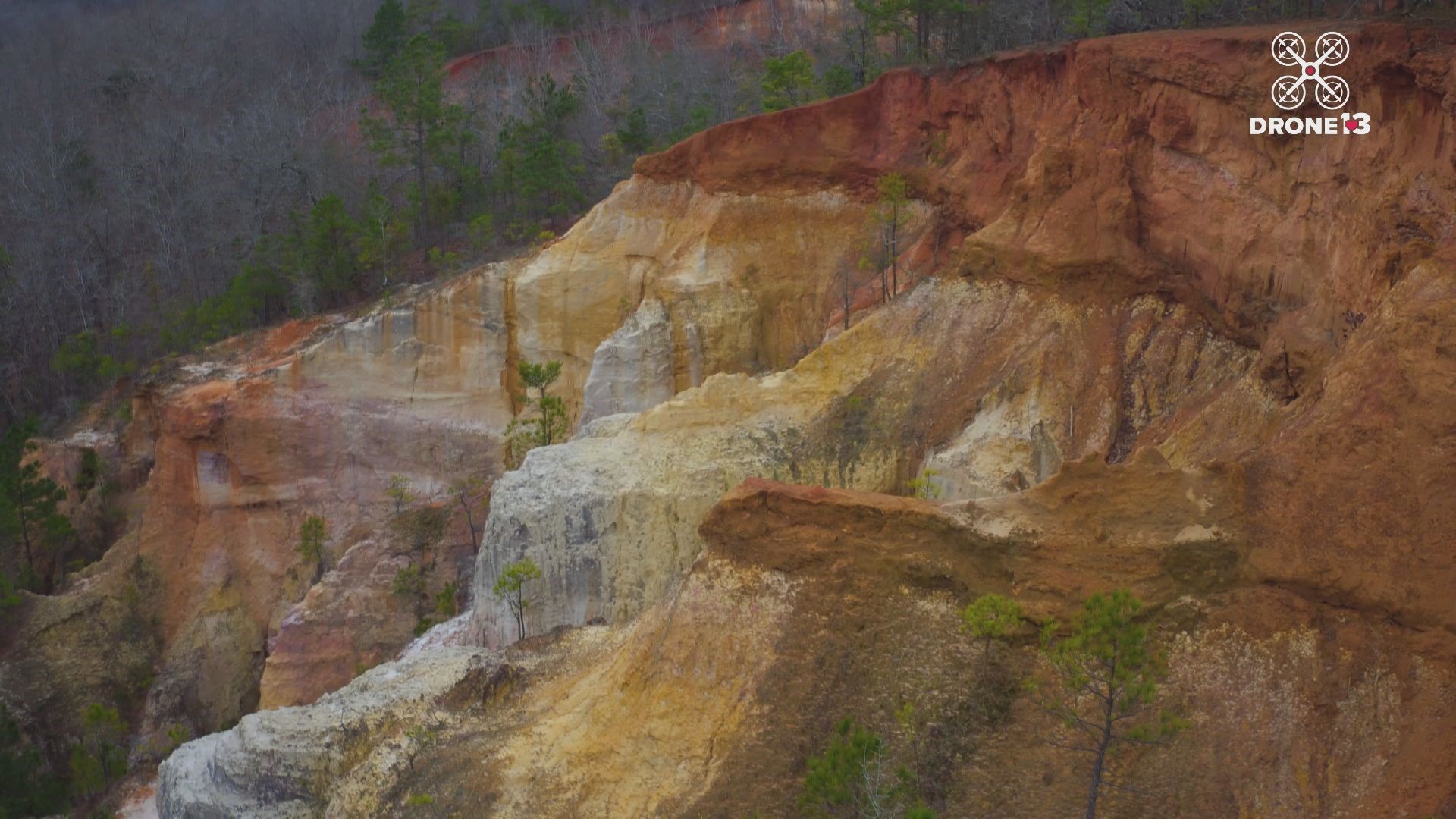 Chapter one
:
The 'Little Grand Canyon' of Georgia
From the Atlantic Coast to the mountains, there's a lot to do and see in Georgia. On Fridays, Anchor and Reporter Suzanne Lawler is taking you into wild places around the state you've probably never been to in her four-part series "Georgia Adventures."
If you want to go west, but don't feel like jumping on a plane, no worries, we've got you covered.
They call Providence Canyon State Park the 'Little Grand Canyon' of Georgia. It's right outside Columbus, in Lumpkin.
The canyon has shimmering sand and boulder-like structures that pop out of the soil.
"If you're like me and grew up in the South, this is something you've never experienced before," said Interpretive Ranger Reba Brumbeloe.
She never gets tired of the views.
"The canyon is 300 feet wide and 100 feet tall... it's not getting any deeper, because we've already hit the water table, but it is getting wider every year," Brumbeloe said.
"I was curious how it was put together, it's just sandy, and when you look at it, it's a hard rock, and you get up close, and it's granules of sand. It's crazy," said some hikers.
And they're right. The tiniest of particles make up these grand sand sculptures.
"There's actually 43 different colors of soil in the canyon. The manganese, which is the purple, we also have the iron, which is the red colors you'll see around the top, and the limonite, which is the yellow right here in the middle," said Brumbeloe.
It looks like mother nature came in with a carving stick, but actually this 'natural' wonder of Georgia is man made.
"When Providence Canyon was beginning to form in the 1800s, farmers clear cut all of this. They took all of the trees, and they took all the roots, so it was really just bare sand that was open. They had bad farming practices, they didn't do crop rotation or anything," Brumbeloe said.
Miners came in briefly and then left after a couple of years, which only enhanced the deepening gullies. That's when then-Governor Jimmy Carter stepped in and made it a state park in 1971.
"You couldn't farm it anymore, you couldn't mine it anymore, and there wasn't anything else you could do, but everyone thought it was really interesting," Brumbeloe said.
Photos: Providence Canyon State Park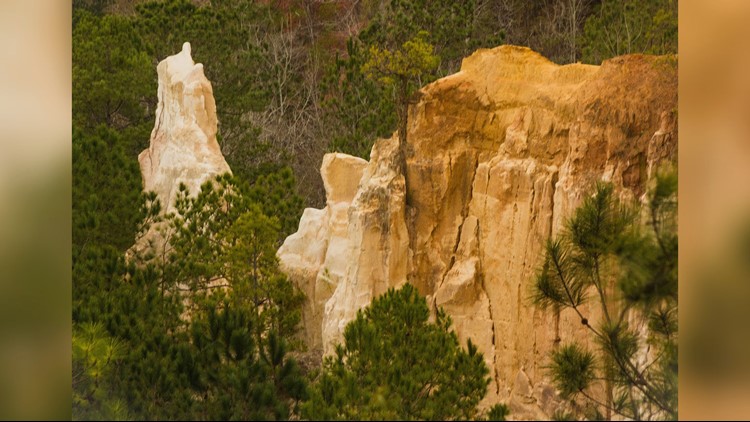 An insider tip--we came to Providence on a Tuesday, and there's not many people out during the week. Rangers say that changes come Saturday. It gets super crazy so much so it's even hard to find a parking space.
No matter what day of the week you come, there are a couple of precautions you need to take before you hit the trails.
"What you should pack is water. It is February right now, and it's still pretty warm down here in the canyon. We have a lot of visitors here that don't know where they're going, and sometimes they go off, and they can get lost, so we do have to do some rescue missions down here," Brumbeloe said.
Just be smart and enjoy the view.
There is a hike you can take around the rim of the canyon, and there you will find old cars just rotting in the ground.
If you'd like to stay in the area, they do have back-country camping, plus a lot of folks opt to stay at Florence Marina.
Join us next Friday, Feb. 21 on 13WMAZ Morning at 6 a.m., where Suzanne checks out Sprewell Bluff State Park in Thomaston.
Chapter two
:
How to get there
You can find Providence Canyon State Park in Lumpkin, Georgia, which is near Columbus.
It's just over two hours from Macon and Warner Robins, and about two hours and 40 minutes from Milledgeville and Dublin.
STAY ALERT | Download our FREE app now to receive breaking news and weather alerts. You can find the app on the Apple Store and Google Play.
STAY UPDATED | Click here to subscribe to our Midday Minute newsletter and receive the latest headlines and information in your inbox every day.
Have a news tip? Email news@13wmaz.com, or visit our Facebook page.