Fair Favorites
The time for family fun at the Georgia National Fair has arrived. Along with all the rides and shows comes the fair food!
This year, WMAZ is celebrating all your favorite fair foods. The sweet, fried and even somewhat healthy options you can't leave the fair without trying.
Reporter Avery Braxton made his way to the Georgia National Fairgrounds & Agricenter in Perry to find out what foods fairgoers say you should eat.
Whether it's a chocolate-dipped frozen banana, or a savory food like a turkey leg or steak sandwich, everyone has their favorite.
PHOTOS: Georgia National Fair 2018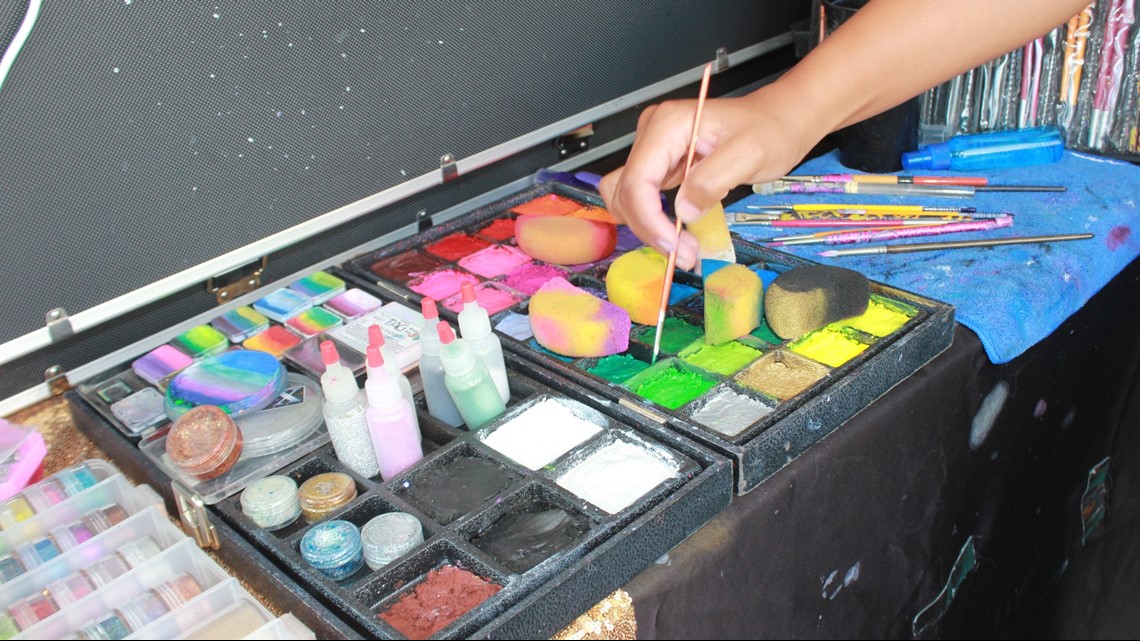 Don't Break the Bank
Food is an important part of the fair experience, but to enjoy all of your favorites, the cost can add up quickly.
Bert Wilson has been coming to the fair for 29 years and always enjoys multiple days.
"I am here every single day. I come all eleven days and I just love it," Wilson said. "There's so much to do, so much to see and so much to eat."
Food, like for many people, is Wilson's favorite part and she has a strategy for getting to all her favorites.
"I have a list of all my favorite fair foods and I come every year and I find them," Wilson said. "Then I plan my trips around which one I'm going to on what day so I'm not loading up on fried foods all in one day, not all ice cream and sweets on one day."
Wilson said to cut down on costs, she will split any of her favorites with her husband that way they don't spend too much on any one item separately and can save room in their stomachs for other foods.
She recommends looking for favorite booths and knowing which ones have combinations like chicken fingers and fries, as opposed to just single items.
For those who plan on coming multiple days or just get really thirsty, souvenir cups can be purchased and then utilized for cheaper drinks later on.
No matter what brings people to the fair, Wilson said the food is a must.
"It's just so good and it's food that you don't get everyday. These people come in and their making a living by providing such fun food and different food and things you'd never to think to do like fried Oreos," she said.
Do you have tips for other 13WMAZ viewers? Comment them on this story on Facebook!
How much does food does it take to feed the animals?
Mooove over! The Georgia National Fair is finally in town.
Marketing Director Keaton Walker says a big part of getting ready is prepping for the livestock shows.
"Some things that we do are clean the barns, bring in brand new fresh shavings to each of the barns so when the animals get here they have a brand new fresh bed, so there's a lot that goes on behind the scenes," she said.
Walker says each of the owners are responsible for making sure their animals are fed every day.
But how many animals are we talking?
Let's break it down. There will be 900 cattle, 650 horses, 1650 rabbits, 965 swine, 847 goats, and 405 sheep -- that's almost 5,500 animals!
For the 11 days the fair is in town, they'll eat over 125,000 pounds of feed. That's more than 60 tons.
To better visualize that number, imagine the food filling up an fairground arena two and a half times.
"Nutrition is a big part of showing livestock. These animals are on a very strict regime diet," Walker said.
But don't worry, just like humans, the animals get a cheat day every once in a while.
"For example, like the pigs, their owners will sneak them a marshmallow or two every once in a while or even a honey bun, and a lot of them use it as incentives. They want to make sure they are treated right and they really kinda spoil them while they have them," Walker said.
Walker says there are a lot of other animals to check out as well, like sea lions, a giraffe, and even sharks.
Centennial Farms to be honored at the fair
There's a lot of excitement during the opening weekend at the Georgia National Fair. With all of the food, rides, games and prizes, there's a lot to be excited about, but there's a small group of people celebrating something else and it's 100 years in the making.
"We'd ring the bell for the people on the farm to come to work," farm owner David Muse said.
Muse grew up on his family farm in Perry, which at one point grew to nearly 2,000 acres. He helped his father -- who had helped his grandfather -- harvest the land for the last 100 years.
"It's from daylight to dark most days and it's rewarding when you get the crop in," Muse said.
At only about 350 acres now, some parts of the farm are still standing while other buildings have changed quite a bit.
"Well the equipment shed up there, I built it with my father in the middle 60s. A tornado came down and took out the other shed," David said.
Pieces of equipment they just couldn't live without in the past don't work the way they used to.
"Here's your gauge. If you wanted one gallon to 10 gallons you'd pump it up," Muse said.
Still, the Muse family farm holds many treasures near and dear to David's heart.
"That windmill has my granddaddy's name stamped on it when they shipped it to him. I don't know exactly what date, but it had to be back in the early 1910s," he said.
Now, a century later, David worries the winds of change are going to carry away the farming lifestyle.
"In 100 years, you might never know that this had been farm country," he said.
But his son Pat, an accountant by day, hopes to prevent that after retirement.
"I hope I can have some pecan trees and tend to those," Pat said.
Regardless of the future, David and his family are celebrating their 100-year history now.
"It's wonderful to have this designation because there are not that many around," he said.
Each of the family farms recognized for their 100-year contribution to the Georgia Economy is self-nominated. They'll each go home with a certificate signed by Governor Nathan Deal.
More than 500 farms have been honored since the program began 25 years ago.
What's a Whoopsie Pie?!
Aside from the food vendors along the streets of the fair, there is also the Georgia Grown barn.
Farmers and local artisans from across the Peach State travel to the fair to give fairgoers a taste of something homegrown.
One Georgia baker is putting a twist on a treat to make it gluten-free while keeping it just as tasty as its inspiration.
"My grandmother's name was Alisa Mae and my dad during my time growing up would call me Lisa Mae and I hated it. Of course, the more I hated it, the more he called me that," said Lisa Shepley.
Shepley eventually embraced it and now the name of her bakery is Lisa Mae Cakes.
She and her small crew do your typical fare, but there is something interesting – the Whoopsie Pie.
"We call it that because it's sort of the ugly cousin of the Whoopie Pie. They're soft, little cake-like cookies with a filling, and ours are dense, chewy and crackly covered in powdered sugar," she said.
Philadelphia cream cheese adds a little tang, but gives the dessert its denseness. It's a decadent dessert, but the whole thing is gluten-free and is a nod to her family roots.
"My father-in-law was my inspiration for the whole gluten-free option for people. He had Celiac's and everything we bought tasted horrible. It took us 6-8 years to develop some of my products," said Shepley.
The original recipe still sits on the humble sheet of well-worn paper.
Her systems may look low-tech, but her creativity is off the charts when it comes to flavor.
"We have a pumpkin latte with the pumpkin cookie and the espresso buttercream. We have a cinnamon roll Whoopsie, which is a light cream cheese filling with a cinnamon coating. We have a chocolate mint one," she said.
Shepley churns out hundreds of Whoopsies a week and sells them for $5.99 a pop. One day she hopes her Whoopsies will take over the world.
Happy Wyatt with Georgia Grown says the Whoopsie Pie is the only gluten-free product they have at the fair this year.