ATLANTA — This ain't your grandma's gingerbread house.
Over the weekend, shoppers were greeted with a massive, jaw-dropping replica of a cruise ship - measuring a whopping 23 feet long!
The 1,500-pound reproduction was the brain child of Food Network star Karen Portaleo, who helped design the ship - a replica of its newest ship Mardi Gras - for Carnival Cruise Line.
The detailed gingerbread ship is nearly one story tall, and is an authentic reproduction of its namesake - complete with open decks, working lights, a water park and a replica of the first roller coaster at sea.
It took nearly 130 pounds of flour, 10 pounds of cinnamon, eight pounds of ginger, five pounds of cloves, five pounds of nutmeg to create the cookie construction material. It was later covered with nearly 50 (!) GALLONS of icing. Altogether, it took Portaleo and her team more than 250 hours to piece together.
Photos: Gingerbread replica of Mardi Gras cruise ship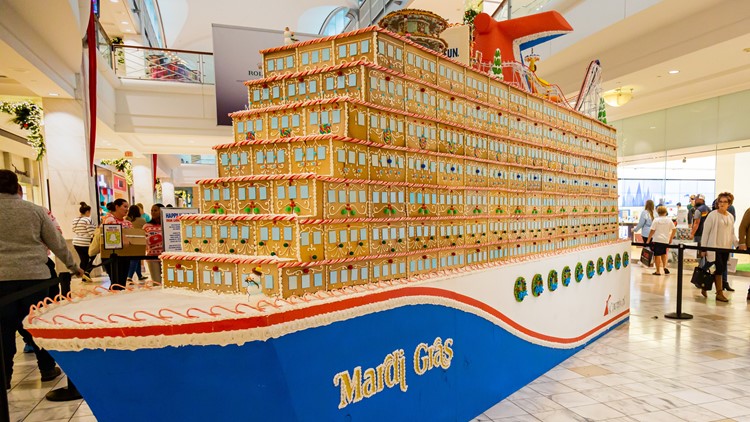 Portaleo was on hand over the last weekend to host a naming ceremony for the ship, Nov. 23.
Lenox Mall shoppers can find the giant cookie ship across from the Microsoft Store. The confection copy will be on display through Christmas Eve, Dec. 24.