This story originally aired on April 17th, 2016. Since then, Ann has continued dressing up in themes for her twice-monthly chemo treatments. She has lived with stage 4 metastatic breast cancer for 10 years now, long enough to experience the arrival of Arlo, her first grandchild. She has another grandchild on the way. Sadly, Ann's husband Mark died of his cancer in 2019. His son and daughter-in-law held their wedding at Methodist Hospital so he could attend, just a few days before he died.
ST. LOUIS PARK, Minn. – Facing stage four breast cancer and no cure, Ann Shaw coped the best way she knew. She threw a party.
"Every week that I'm here, that's a week I might not have had," Shaw says, "so we're celebrating that."
The past two years, Shaw has hosted 68 parties within the confines of a small treatment room at Methodist Hospital's Frauenshuh Cancer Center – each with a different movie theme.
Shaw's party themes have included The Wizard of Oz, Minions, School of Rock and Grumpy Old Men. Each features costumes, decorations, treats and party games.
"We always like to guess what she's bringing," says Rachel Jones, a Methodist Hospital medical receptionist.
A steady stream of doctors, nurses and other hospital staff members stop by Shaw's parties during her four-hour chemo visits.
"I've never met a patient who makes such a celebration of chemotherapy," says Mary Strand, one of Shaw's doctors.
Shaw first battled breast cancer at the age of 48. She remained cancer free for 14 years, until it returned aggressively.
While her chemo regiment has successfully kept her cancer from spreading, it's not expected to cure her. She considers every extra week alive a reason for a party.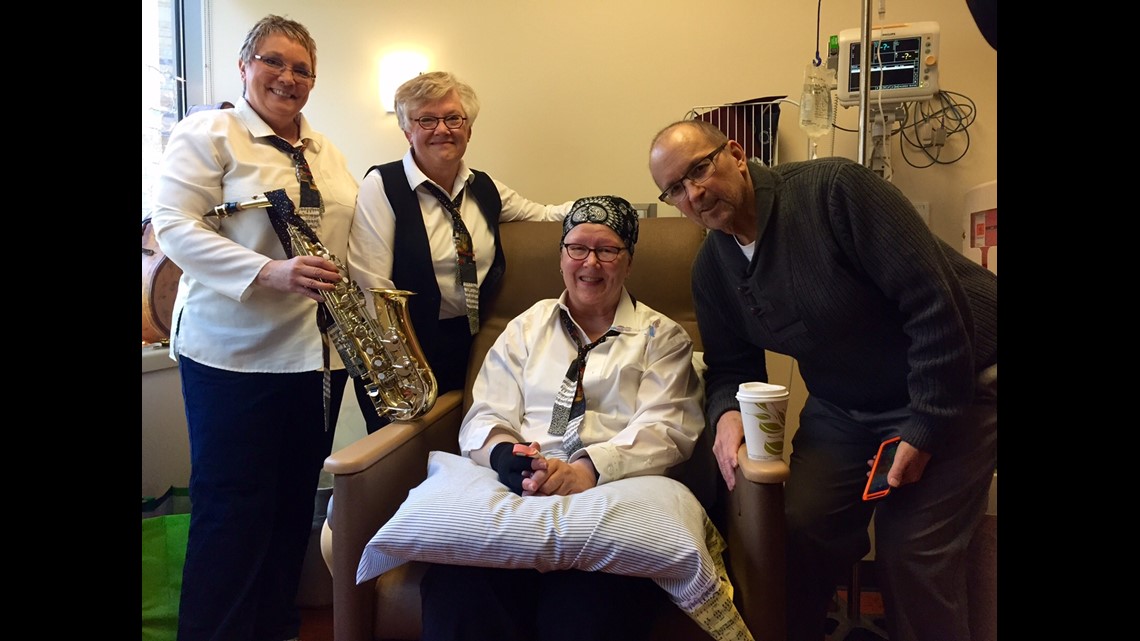 "So we spend the week getting ready doing this instead of worrying about coming for treatment, which is way better," Shaw says.
Last year, Shaw's husband Mark got his own movie-themed party when he was diagnosed with cancer himself. Mark Shaw was treated to a Batman party the day he received a stem cell transplant. He's now cancer free.
"It's just party on," he says. "You just have to have fun."
Ann Shaw doesn't discount the power of fun.
"It must be the celebrating that's keeping us going," she says.