MACON, Ga. — A Macon pastor jumped around several Central Georgia churches while he was on Georgia's sex offender registry.
Donald Williams was pled guilty and was convicted of raping a 14-year-old girl. A judge sentenced him to at least 20 years in prison Monday.
The Georgia Bureau of Investigation's Sex Offender Registry says Williams was added to the registry in August 2010. 13WMAZ obtained records of two cases where Williams is accused of sexually assaulting or attempting to abuse a minor.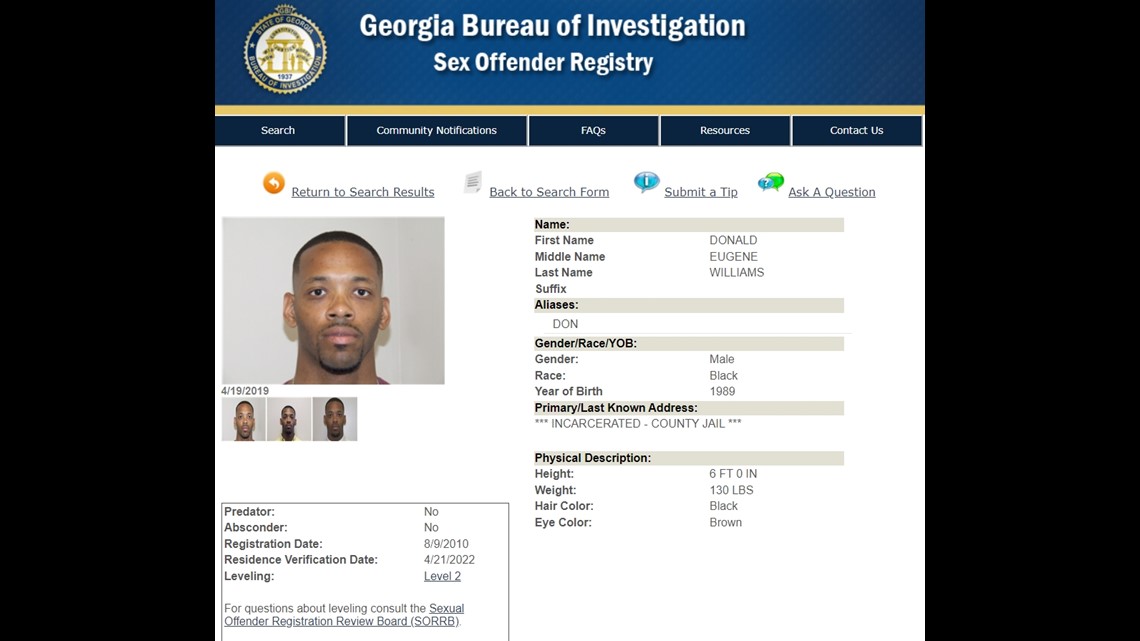 The most recent case happened in September 2021. According to a Bibb County incident report, the 14-year-old victim was walking home from school when Donald Williams pulled up and offered her a ride.
The girl told deputies Williams asked how old she was and started touching her. He drove her four miles away behind an elementary school on Woodfield Drive. Then the report says, he parked at the dead end and assaulted her.
Macon District Attorney Anita Howard says after he assaulted the girl, he drove to a balloon release in memory of a homicide victim.
While he preached and prayed there, he kept the girl in his car.
Later, he dropped the girl off near her home and gave her his business card with his picture.
Houston County Superior Court records say this isn't the first time he's been convicted of a sex offense.
In April 2010, he offered a ride to a 16-year-old multiple times while he exposed himself in quote plain view to the child. He pleaded guilty to attempting to commit child molestation and public indecency.
Shortly after, Williams was added to Georgia's Sex Offender Registry.
Under Georgia law, sex offenders can not work or volunteer at churches.
But it seems no one picked up on the red flags.
Between 2010 and 2021, Facebook posts and videos show he preached at several Central Georgia churches.
He was a pastor at First Baptist Church in Jeffersonville for at least two years starting in 2016.
Then, he preached at some Macon churches--either as a guest or staying for a short time.
One of those, Greater Little Rock Baptist Church on Felton Avenue in Macon. We spoke by phone to Lead Pastor Paul Kelley.
Kelley says he didn't know Williams was on the sex offender registry. He told 13WMAZ he wouldn't "judge" or "slander a friend" when asked if he could interview on camera.
Kelley called Williams a "dynamic young preacher and singer" whom he's known over the past 10 years.
In response to the case, District Attorney Anita Howard says pastors are in "an unusual position of high trust in our society. This has the potential to create an opportunity for them to take advantage of innocent people. That is exactly what happened in the case involving Donald Williams."
She says every organization, including churches, should do background checks on employees and volunteers who work with children whether the law requires it or not. She says it's an obligation to protect the children in our community.
Bibb County Chief Superior Judge Howard Simms gave Williams a 45 year sentence with at least the first 20 in prison.