Bad news for some Zebulon Road neighbors.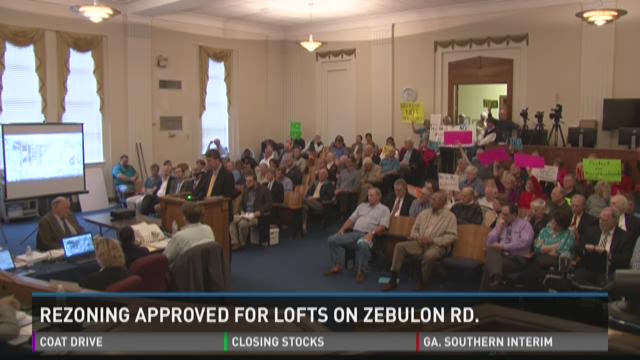 They lost a round in their fight to keep a development of apartments and businesses out of their neighborhood.
"We tried the best we could," said resident Gail Rohde.
She along with several people who live along the road, held signs in protest at Monday afternoon's Planning and Zoning meeting.
Board members voted unanimously to allow Sierra Development to proceed with their 25-acre mixed-use complex.
The buildings are expected to reach 50 feet, with 22,000 square feet of commercial space opposite the Zebulon-Ashford Park intersection.
Engineer for the project Chris Clark says they've listened closely to neighbors complaints and revisited their original designs.
Changes include pushing the lofts away from bordering homes and building buffers.
But neighbors say that won't eliminate the big problems, traffic, and noise.
"Well, we'll be forced to sell our houses at a lesser value," said neighbor Billy Lester.
Lester presented on behalf of the Zebulon Road community. He says they plan on taking legal action next to keep the new neighbors from moving in.
The project still needs further approval from the commission, such as a final site plan.
Developers expect to break ground next year, and expect that people will start moving in in 2017.