SAN DIEGO — Hector Munoz knew something was odd when the used car salesman wouldn't let him take the wheel during the test drive.
Munoz's excitement outweighed any of his concerns.
The white 2021 Toyota Supra was his dream car. He saved his money, working two jobs for well over a year, and even took out a loan from his credit union. He spent months trying to find one and finally spotted an ad online for a used one for $57,000 at a used car dealership in El Cajon.
"I went prepared," the 27-year-old Munoz told CBS 8. "I think the issue with me at the moment, was that I was so close to getting a car that I never thought I could ever afford. I got starstruck."
Munoz's elation remained through his time at the El Cajon dealership. It fogged his judgment as he sat in the passenger seat gripping the handle as the salesperson test-drove the car, punching the gas pedal on straightaways.
"He was going really fast," remembered Munoz. "He was accelerating and letting the muffler make little noises. It was cool, to be honest."
During the ride, Munoz said the salesperson spoke to him about being a first-generation citizen and working hard to overcome the adversities that go along with being new to the country.
"He was very friendly, and connected with me on an emotional level," said Munoz. "I related to him because I'm also first generation and my family doesn't have much. And we're here really working for something. So honestly, he seemed like a really familiar guy that I could trust."
The supposed bond that Munoz felt mixed with the excitement of buying the car of his dreams remained as he signed the paperwork and took the keys.
His happiness stayed even when he got in the car and saw the yellow check engine light next to the odometer.
Munoz went in but the salesperson said it was a minor glitch and was not a problem.
"I was destroyed. Mentally, I was a little freaked out but I thought he was being honest. I trusted that I could probably call him up. Tell him about it so he could fix it," Munoz said.
"I was just so excited. It basically was my dream growing up. It just kind of erased everything at the moment and made me think about the past and how much it took to get there. I didn't really see the red flags that were right in front of my face."
Those red flags grew larger a week or so later when Munoz took the car to the Toyota dealership.
It was there that the service crew told him that the car did not have a catalytic converter and had been in an accident and had numerous issues with the engine and the body.
The mechanic pulled up the CarFax and showed Munoz the accident history.
"It broke me. I was mentally destroyed and a bit depressed," said Munoz. "It hurt because you get yourself in a position where you can finally afford something that you always wanted and then it turns out that it has all of these problems."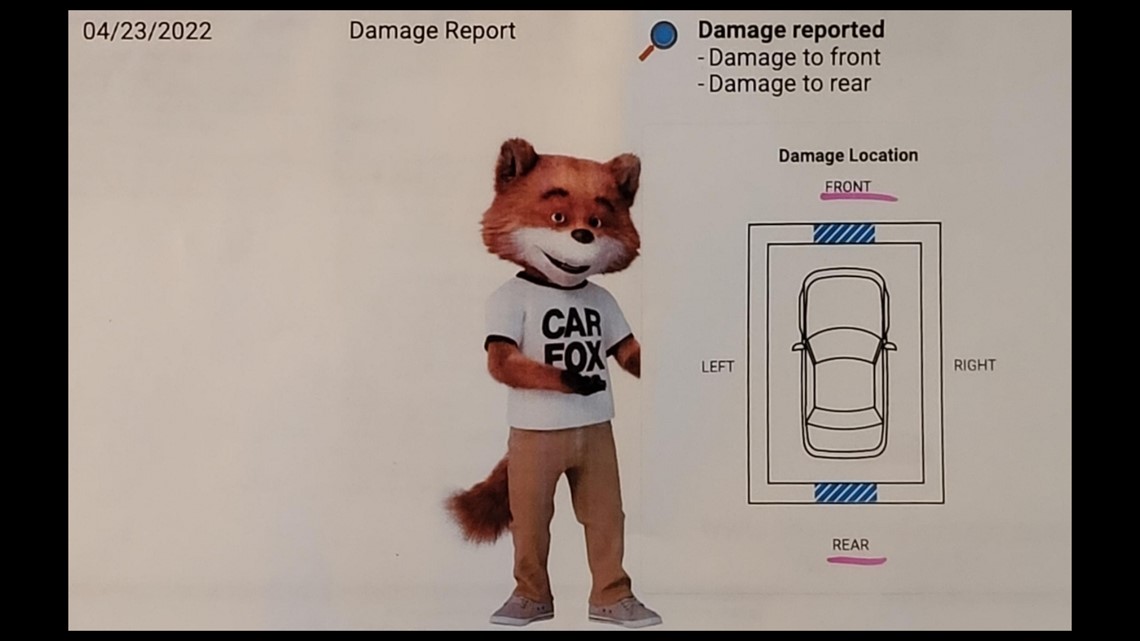 Munoz said the mechanic told him the that car would never pass state emission requirements and that it was against the law for the dealer to sell a car without a catalytic converter.
Knowing that he now owed $57,000 for a car that was not street-legal, Munoz immediately looked for an attorney for help.
Attorney Greg Babbitt from the Auto Fraud Legal Center has helped car buyers deal with dishonest car dealers for more than 21 years.
Babbitt says that while shocking, Munoz's case is not in the least bit surprising.
"Unfortunately, [Munoz's] story is pretty typical," said Babbitt. "I tell my clients, who are from all different walks of life, whether lower income people or very wealthy, that they are always susceptible to being cheated by car dealers because it's human nature to trust people. They don't want to believe that a person is going to blatantly lie to them just to get them to buy a car. Nothing surprises me after doing this for so long."
In June, Babbitt filed a civil lawsuit against the dealership for violating the Consumers Legal Remedies Act, intentionally misrepresenting the facts, among other complaints.
Babbitt said he wants the dealer to give Munoz his money back as well as the value of Munoz's old car that he traded in, as well as other damages.
"The bottom line is that this car was sold illegally," said Babbitt. "The used car dealer needs to make it as if this transaction never occurred; they take the car back, [Munoz] gets his money back, and we both go our separate ways."
And while Munoz knows he made mistakes, he tells CBS 8 that he has learned the hard way on what not to do when buying a new or used car.
"First, do your research," said Munoz. "Don't go in full of emotions. I was really excited and that blinded me Just go in with a straight face and know what you're doing. Also, get the CarFax report and read through it. Don't just take their word for it, or for anything."
The attorney has a number of tips for consumers to consider when buying a car.
Babbitt provided these tips, separating the car buying experience into three sections: Before the sale, finalizing the sale, and after the sale.
Before the Sale
Ask questions about the vehicle and the vehicle's history.
Has it been in an accident?
Was it used as a rental?
Where did the dealer get the vehicle?
If it was purchased at an auction, what was disclosed at the auction about the condition of the vehicle?
Ask to see a vehicle history report from CarFax, AutoCheck, or EpicVin and look for accidents and any other red flags.
Ask to see copies of any reports or repair orders performed to the vehicle by the dealer.
Test drive the vehicle. Don't purchase a vehicle without test driving it.
Have a mechanic that you trust inspect the vehicle for you. You'll have to pay for this, but it could save you from being stuck with a car you don't want.
If the dealer resists these requests, walk away. You have many car buying options.
Finalizing the Sale
Read the documents before signing. Understand the key terms – price, interest rate, term of the loan, payment amount, payment schedule, and any disclosures about the vehicle. Dealers often disclose information about the condition of the vehicle when you are finishing the paperwork.
Say no to dealership extras that you don't want.
Insist that the dealership puts any agreements in writing, including future repairs.
After the Sale
Watch out for the "Yo-Yo" sale. If the dealership calls you and tells you that you need to sign a new contract because they could not secure your financing, you have the right to return the car and get a full refund. If the new terms are not favorable, return the vehicle and get your money back. You are not required to sign a new contract.
Know and exercise your rights. California has favorable consumer protection laws, and there may be an attorney who can help you at no cost to you.