ATLANTA — Efrem Ayers drives a truck in metro Atlanta and said Memorial Day weekend is one of the calendar's most lane-clogging holidays.
"I love holidays, but it's the traffic," Ayers said at a QT truck stop in Doraville Thursday.
Its traffic is driven largely by nonprofessionals seeking leisure destinations. Georgia's Department of Transportation uses traffic counts from previous holiday weekends to predict what this one will be like.
Lighter travel is predicted for I-85 at the South Carolina and Alabama state lines, and I-20 into Alabama – plus the interstates leading into Florida. I-20 at Augusta will have moderate traffic.
In metro Atlanta, GDOT expects congestion Thursday, with rush hour starting around noon Friday. There will also be congestion much of Saturday, with lighter traffic Sunday and Monday.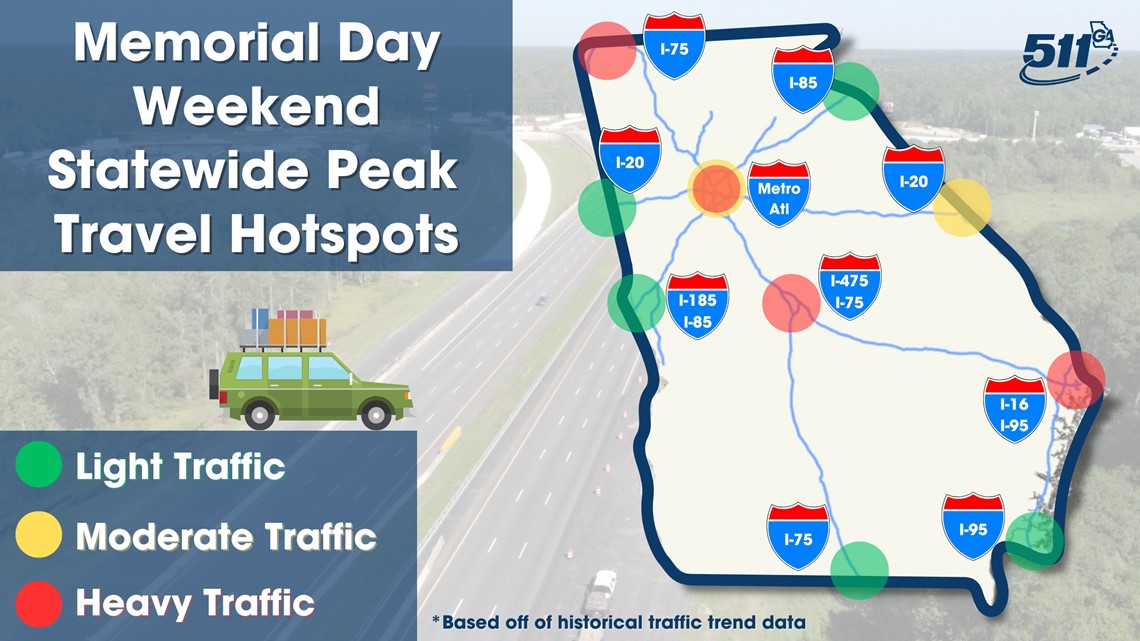 GDOT aims to ease traffic as much as it can by calling a temporary halt to some road repair projects.
"For the most part, we ask our contractors to pull any sort of impediment to the traffic this weekend so people can get to where they're going throughout the weekend," said Natalie Dale, a spokeswoman for GDOT.
GDOT said the days following Memorial Day will mark the start of a lot of new road repair projects around the state, continuing into the summer and perhaps beyond.
Dale added fatalities typically increase during holiday weekends like this one, including more distracted and impaired driving crashes.