MILLEDGEVILLE, Ga. — A Washington County family is trying to get disabled children like their own a fighting chance.
The bill, called "Gracie's Law," could prevent discrimination against the disabled for organ transplants.
On Monday, David and Erin Nobles, Gracie's parents, were at Georgia College and State University, educating nursing students on the issue.
The Nobles say they're the voice for their child, fighting to pass this law and bring awareness.
"To be where we were last year, and to come full circle, and to lobby for such an incredible group of people who so rightfully deserve this compared to any normal person, they have so much to offer," David said.

Gracie Joy Nobles was born last spring with Down syndrome. Before she was born, Erin's doctor told her that Gracie had an AV Canal defect, "Which is a hole in the center of her heart," Erin said.
When she was born, they found the hole in her heart was larger than they thought.
"She started rapidly showing signs of congested heart failure and began to deteriorate," Erin said.
Gracie Joy's Journey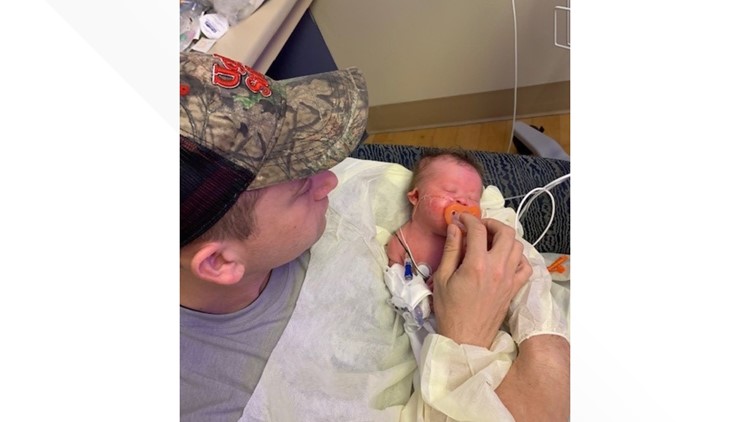 After months of heart problems, doctors operated to repair the hole. She's made a full recovery. However, after the surgery, her mother realized something.
"If she would have needed a heart transplant, what would we have done? We possibly would have had to move out of the state," Erin said speaking to a nursing class.
Georgia law does not prohibit discrimination in organ transplants.
"A lot of local and community physicians are hesitant to send a child or an adult with a disability for consideration," Erin said.
In August, the Nobles began talking to their state representative, Rick Williams, to put in place a law. Now, the Gracie's Law bill has been introduced in the House of Representatives.
"We're fighting to raise the bar and put everybody on the same playing field," Erin said.
While her family is pushing for this law, Baby Gracie is meeting her milestones.
"She's learning her first words. She's cutting a tooth," David said.
As for her heart, the doctor said her heart would never hold her back.
In the coming weeks, the Nobles will travel back to Atlanta and testify in front of subcommittees to try to pass Gracie's law through the General Assembly.
The proposed Gracie's Law, House Bill 842, is currently awaiting action in the House.
To keep up with Gracie and the families journey, you can go to their Facebook Page, Gracie's Law.
STAY ALERT | Download our FREE app now to receive breaking news and weather alerts. You can find the app on the Apple Store and Google Play.
STAY UPDATED | Click here to subscribe to our Midday Minute newsletter and receive the latest headlines and information in your inbox every day.
Have a news tip? Email news@13wmaz.com, or visit our Facebook page.