Peach County High School is offering prayers and support for the Pike County community.
A Pike County High School football player died Sunday night after receiving a severe head injury in a game against Peach County Friday night.
Play suddenly stopped in the 3rd quarter after Linebacker Dylan Thomas, #32, collapsed.
A video from the game captured the moment when all players on the field stopped to pray for Thomas.
Thomas underwent surgery but was left in a coma. He passed away Sunday around 8 p.m., according to school officials.
QUESTIONS STILL SURROUND INJURIES
Pike County Coach Brad Webber said they still don't know how or when Thomas suffered the head injury. He said the junior was alert and talking, before becoming unresponsive.
Webber said they're reviewing footage, but right now they can't identify a specific hit that caused the injury.
'ONE OF THE MOST CARING INDIVIDUALS'
Pike County held a news conference today, where Webber said Thomas was like a son to him.
"He was one of the finest young men I've ever had in my life. I mean, he's one of my son's best friends on the football team. One of the most caring individuals," Webber said.
Webber recalled taking Thomas on family trips, as well as Thomas' father taking his son fishing.
Webber also spoke about Peach County and the outpouring of support the Pirates have felt from around the state. He said the football community is a 'brotherhood.'
"I mean, they're struggling as well. Any time we ask these kids to do what they do and come out and, you know, really put their body on the line, people kind of forget when you watch it on T.V., and that it's a violent sport," Webber said.
Webber added that it would be difficult for the team to go on with the rest of the season. Pike County is scheduled to play Rutland Friday night at the Ed Defore Sports Complex.
Webber said funeral arrangements for Thomas had not been set.
It was not too long ago that Peach County battled with a tragedy of their own.
The school lost football player Raekwon Smith in a car accident in 2016, so they want to make sure they can help Pike County in any way they can.
On Monday, Peach County showed their respect to Thomas by having a moment of silence.
Principal Ken Hartley said each day they always have a moment of silence before school starts for a few seconds, but this morning they had one for 32 seconds, Thomas' jersey number.
The school will also create a poster for the entire student body to sign and send to the school.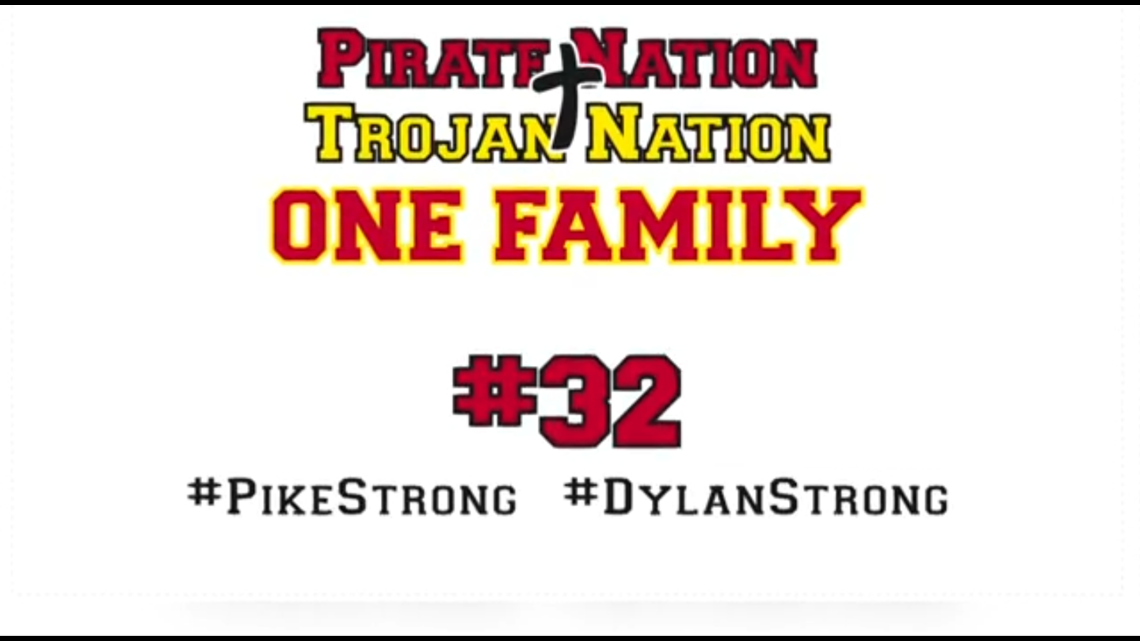 Hartley said they are devastated about the news but will stand with Pike County through all of this.
"Totally heartbroken as a parent, you know, as a former coach, you know, just totally heartbroken what's going on with Pike County," Hartley said. "Our thoughts and prayers are with Dylan Thomas' parents, his coaches, his teammates, his classmates, anybody in the Pike County community -- our prayers are for them."
Hartley said Peach County is also taking donations, which can be dropped off at the school.