Summer Safety Guide | Ways to keep your kids safe and healthy this summer
Learn ways to keep your kids (and pets) safe and healthy while they enjoy the summer fun.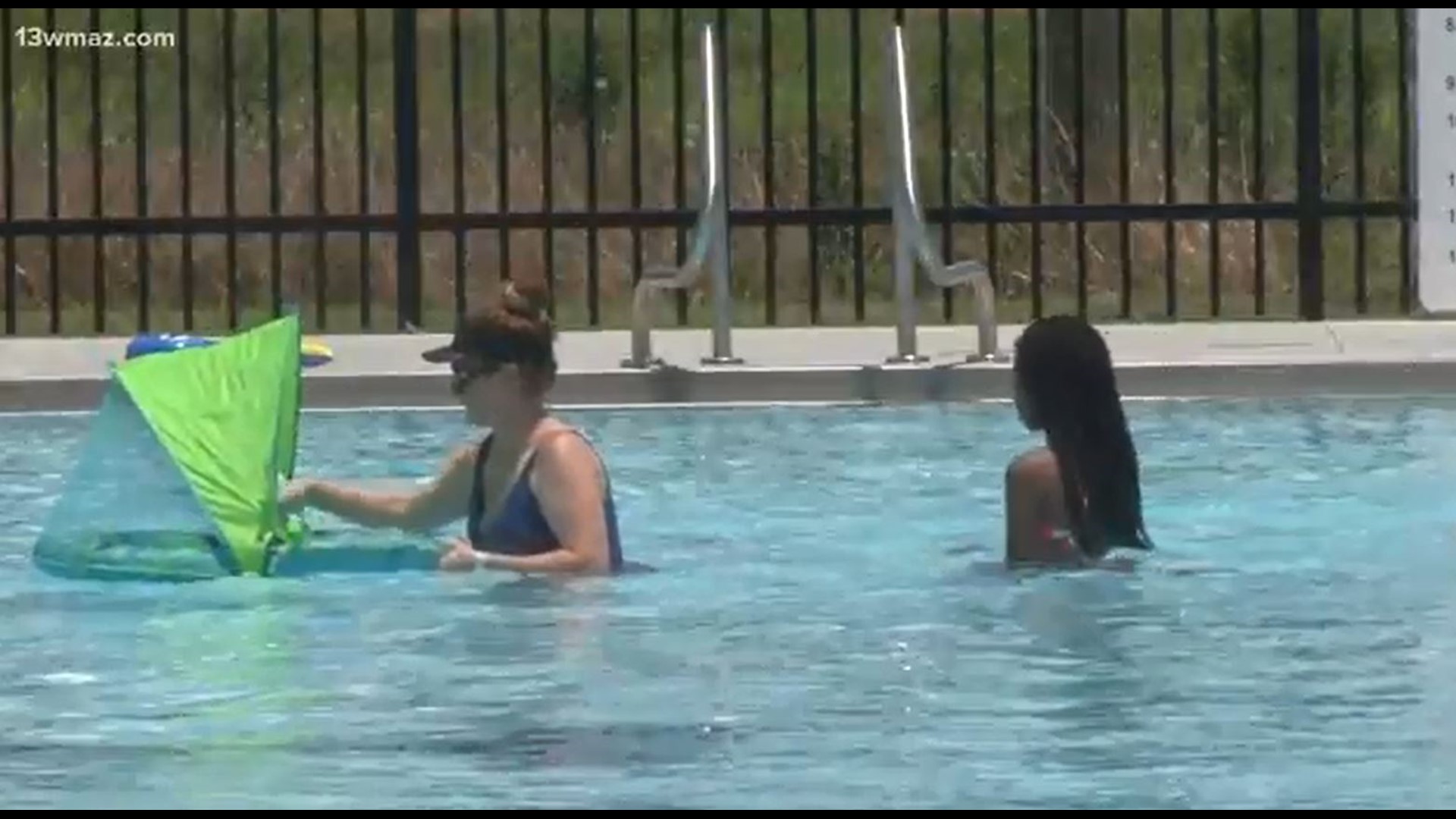 Summer is here, and kids all around Central Georgia will be enjoying different indoor and outdoor activities. 13WMAZ has put together some information that can help your kids (and pets, too) stay safe and healthy while they enjoy the summer fun.
Ways to keep your children safe in swimming pools
: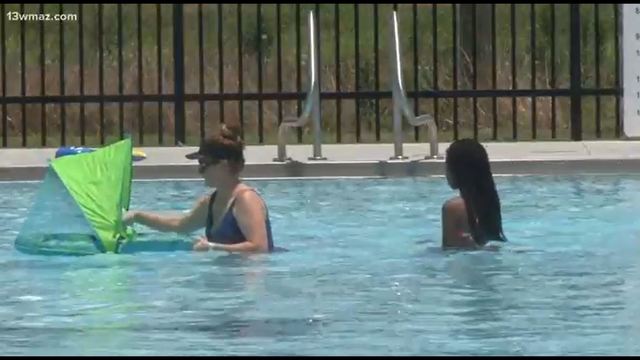 Hopping in the pool is the perfect way to beat the summer heat, but sometimes it can be a parent's worst nightmare.
"If a child gets into the water, unintentionally, it can be a life-altering scenario," Victoria Campbell, owner of Middle Georgia Little Swimmers said.
For nearly 20 years, she's been teaching people as young as 8 months old how to swim. She says getting kids comfortable in water as young as possible is key to prevent drownings.
"Drownings don't just happen to parents that are negligent," Campbell said. Sometimes it is the case, but it happens a lot of time to well-intentioned parents and caregivers where there's a momentary distraction."
She says there are a few things you can do to help keep your child alive.
Have effective supervision, making sure you're not just present, but your eyes are on your child every moment.
Have a pool fence to prevent children from getting in without your knowledge.
Add alarms to doors and gates that access your pool.
Get your children swim lessons as soon as possible.
Learn CPR just in case your child does drown because every second counts.
Campbell says the biggest tip for parent's is don't let your children learn to swim with flotation devices.
"You're teaching them to be comfortable that they are not skilled in, so it's very important to teach safety and skills first before you try to make them love the water, because they can actually love the water to death," Campbell said.
She says it's up to parents to make sure their child is ready for any possible situation. Campbell says if your child is swimming, you should know how to swim, too. She says several places offer adult swim lessons.
Gates, alarms can help keep children safe poolside
:
This summer's heat isn't the only thing posing some risks.
Just this week, a child drowned in a Byron pool, and another died while swimming in Warner Robins earlier this summer.
We wanted to take a closer look at how you can protect your child around your pool or other pools near your home.
It's hard to keep a close eye on children all the time.
You may have a pool in your backyard, but there a few things you can do to worry less and enjoy more fun this summer.
It's summer time, which means more time at the pool.
To Holly Stickler, having fun swimming is important, but to protect her children and children who live nearby, she always locks the gate.
"We do keep the gates locked when we're not out here, so we keep both gates locked. When we are out here, somebody always has to be out here with the children. We do not allow them to swim when no one is out here at all," said Stickler.
That includes friends and neighbors children, year round.
According to poolsafety.gov, parents should install multiple safety devices around pool areas.
They recommend you have safety rafts near by, gate alarms, and pressure-sensitive alarms around the pool.
"They know to not horseplay around here or all privileges will be completely revoked," Stickler said.
Holly says with recent drownings, she wants to do more to keep the area safe. "It makes me want to be a little more proactive with different safety things, things I didn't think about even though they've had swim lessons since they were 2."
In addition to all of the safety measures around the Sticklers' pool, they also say that close supervision is key.
According to the CDC, barriers such as pool fencing are key in preventing young children from drowning.
A 4-sided fence around a pool can cut down the risk by 83 percent.
Germs can spread in pools, at water parks
:
Before you dive into a pool this summer, there could be something in the water that may ruin your fun.
13WMAZ visited a public pool Thursday to see if you should be worried about water diseases possibly sending you or your children to the doctor.
The Jones family loves to spend the day at the South Bibb Recreation Center pool.
Donald and China Jones say that they keep coming back because they trust it's clean enough for their daughters.
The pool's head lifeguard Joana Cohen makes sure it stays that way.
"So we will put some more chlorine in the pool and the pH is perfect," said Cohen.
She says she checks the pool's levels every two hours because when the pool gets crowded, they have to keep up.
"As the day goes on, you see the pool gets a little bit cloudier. That's because you have more users in it, more sunscreen, more people peeing in the pool," Cohen said.
The CDC says recreational water diseases like ear infections, rashes, and even diarrhea can spread in public places with water, but chlorine can kill a lot of the germs.
"No messy diapers in the pool -- that's normally where the problem stems from," said pediatrician Edward Clark.
Clark says if a pool is contaminated, it can cause an outbreak, like E. coli. "Usually those outbreaks and bad symptoms, they are going to start presenting with bloody stools and diarrhea and stuff like that."
So if you're heading to the pool this summer for a little fun in the sun, look at the water before getting in, and then make sure to watch if you have young kids.
In order to prevent the spread of viruses or diseases, The Georgia Department of Public Health recommends showering before getting into a pool, not swallowing the water, avoiding a pool if a drain cover is missing, keeping children close by, and reporting possible hazards to your local health department.
VERIFY: Can you swim right after eating?
:
As you spend time at the pool this summer, should you wait a half hour to dive in after you eat?
13 WMAZ set out to verify.
The sources were Warner Robins pediatrician Robert Ford and the Centers for Disease Control.
It's the rule everyone has heard, wait 30 minutes after eating before you go swimming.
"They didn't really tell me why, honestly, there was no backup story, it was just like a wives tale, or like a superstition. So, it was never really confirmed but growing up you know whatever your parents told you that's just what you abided by," said mom Michele Decker.
Decker said she heard it all the time growing up and she'll probably pass it on to her active kids.
Doctor Robert Ford says the theory sinks.
"I would say not true," Ford said.
Ford has been practicing medicine in Warner Robins for ten years and says parents don't have a reason to worry.
"A light meal, or a snack, followed by low to moderate activity, which is your average child's play in the pool is perfectly safe to do even immediately following eating," Ford explained.
The Centers for Disease Control do not list eating as a reason not to go swimming on their steps of healthy swimming.
The CDC also does not list eating as an influencing factor in drownings.
A Duke University Health blog also says the rule holds no water.
So 13 WMAZ verified that if you're diving in, it's okay if you've had a bite to eat.
"That is fair to debunk it, you know again, knowing that most people are not going to try to have a five-course meal in the middle of the day, so with the exception of overeating, absolutely fair to swim right after eating," Ford said.
This summer you can tell mom you're going from the table to the pool with a splash.
Ford added that while eating is okay, it is important to stay hydrated when swimming so you can avoid cramps.
Dr. Robert Ford - Warner Robins pediatrician
Centers for Disease Control
Tips for parents who want to teach their children pool safety
:
After seven drowning deaths in Central Georgia in roughly a month, WMAZ is taking a closer look at how you can teach your child about water safety.
Two of the seven drowning deaths involved young children in swimming pools.
While not everyone can find time or money for swimming lessons, there are a few simple things to teach your kids that could end up being life-saving.
For Sarah Fripp and her children, summer time means more time spent in the water.
"We visit my mom a lot and she lives on a lake. I want them to be able to go outside and enjoy nature and not be afraid of going by the water and me not be afraid that they're going to go in the water and drown," said Fripp.
Water that – to young, seemingly invincible minds – doesn't appear to hold a hazard.
"They both tell me all the time they know how to swim because they can kick their feet," said Fripp. "But they're learning right now that it's a little more difficult."
Jason Swaim, the head coach at Swim Macon, says there are some simple skills you can teach kids before they jump in, and it starts at the bottom.
"Teaching them breath control [and] how to do bobs off the bottom. If they fall in, they can go down to the bottom and push off and take a breath," said Swaim.
It can help them bounce over to shallower water or to the edge of the pool, which leads to the next skill.
"Exiting the pool," said Swaim. "Putting both hands on the side of the pool and pressing up. We try to keep the elbows up [and] get kids out of the water."
Fripp says as a mother, her children learning the basics are important.
"Learning how to kick and learning how to put their face underwater and not panic," said Fripp.
However, Swaim says all these skills *must* be paired with a set of eyes.
"Even if you have a lifeguard, you should always have eyes on your child. I know it's nice to go to the pool and not have to worry about it, but you always need to keep a second pair of eyes on your child," said Swaim.
He says floaties for your child's arms and pool noodles are NOT effective in keeping children afloat.
If you want to use a flotation device, look for one that says it's Coast Guard approved on the tag.
Things to remember before getting in lakes or rivers
:
Seven drowning deaths have been reported in Central Georgia since May. Five of them happened in lakes or rivers.
Before going out on the water, the Department of Natural Resources says the most important thing to take with you is a life jacket.
Ethan Franklin, a game warden for DNR, says, "Life jackets are one of the things we stress on or having safety equipment on a vessel or on a boat."
He says even the best swimmers need life jackets, "Just because you're a good swimmer doesn't mean an accident can't happen. Not saying that you may get in something and actually get away because you are a good swimmer, but it's better to be safe than sorry to have a life jacket accessible to you, to have it on if you need it."
By state law, children under the age of 12 must wear a life jacket at all times, but adults aren't required.
The Centers of Disease and Control says adult males and young children are the most likely to drown. Franklin says it's important to pay attention to hazardous areas especially after heavy rainfall or bad weather.
"What's a life jacket going to do? It's in the name -- it's meant to save your life and keep you above water and from drowning," says Franklin.
The Hall family visits Lake Tobesofkee and always makes sure that everyone has a life jacket on, regardless of age.
"We have a boat and if we're ever on the boat, the rule is as soon as you're on the boat dock, the rule is 'put your life jacket on,'" says Virginia Hall.
Virginia Hall says Lake Tobesofkee has a life jacket loan program where you can borrow life jackets, so there is no excuse to not have one.
"There are life jackets hanging so if you bringing a friend, it's on an honor system so you can borrow and bring back."
Officials also say it's important to create a safety plan with your family or friends in case of an emergency.
The DNR has guidelines to creating safety plans, and more tips on safety in the water with their new
Know the signs of drowning
:
With so many taking to the water this summer, experts are warning people to know the signs of drowning, because it may not look like what you think.
Instead of thrashing or yelling, you might see:
- Person's head low in the water with their mouth at water level
- Head tilted back with mouth open
- Eyes glassy and unable to focus
- Hair flopped over the person's face or eyes
- Hyperventilating or gasping for air
- They might look like they're trying to swim in one direction but not going anywhere
The Department of Public Health says most drownings are preventable.
How to 'self rescue' if your kayak flips
:
Around this time of year, kayaking and canoeing are popular summertime activities.
But if you fall out of your boat, it can be quite dangerous if you don't know how to get back in.
Kayaks are lightweight, about 60-70 pounds. They're made to sit on top of the water so it can flow easily along with the current, but because of this, it's easy to flip if you're not experienced.
There are a number of ways your kayak can flip, but most times, it's from people sticking their head over the side, which causes uneven weight distribution.
You can get your paddle caught up underneath the boat or you can get caught on a rock and the current can tip it over.
Kayak expert Kathleen O'Neal from Ocmulgee Expeditions demonstrated how to 'self rescue' if your kayak flips over.
"Hold onto your paddle, get back near your boat and flip it back over so it's upright. Then climb back in. Use a scissor kick to throw yourself up onto the boat. Then once you're on to the boat, roll over so that you're sitting upright, grab your paddle and go," she said.
Neal also instructed that when you get into a kayak, always remember to go bum first then swing your legs forward. That way, your bottom anchors your weight so you have more control when you bring your legs inside.
Always remember before you go kayaking to wear the proper river shoes and always wear a life jacket.
Temperatures on playground equipment can be dangerous in the heat
:
Amerson River Park is a hot commodity now that summer is in session, but with temperatures forecast to stay in the 90s for the next several days, parents and grandparents at the park are paying extra attention.
"You know, we don't want to put him on a slide or a swing set that's too hot," grandparent Ladon Kozee said.
Slides and swing sets can suffer under the sun in summer. Kozee says her grandson knows better by now.
"When we got here, he said, 'Let's touch it to see if it's really hot.'"
To figure out just how hot some of the playground equipment can get, we took an infrared thermometer to measure temperatures.
The lowest temperature was obviously found in the shade -- around 90 degrees. However, seats of swings rang in around 110 degrees, and slides were over 120 degrees.
The hottest temperature recorded was on a rocking bench made of plastic. The temperature was 153.
These are dangerously hot temperatures that could burn skin.
Pediatrician Christy Peterson says treatment is simple if your child does get a burn while out to play.
"Cold water at first. If it still continues to hurt, then still cold water," said Peterson.
Peterson also added, "Don't ever pop a blister. If it does pop, then you need to put some antibiotic oil or cream on it."
Other tips Peterson mentioned are going before the day gets a chance to really heat up, or to have parents touch the playground equipment before letting their kids go on it.
How can I protect my children from the sun?
:
Just a few serious sunburns can increase your child's risk of skin cancer later in life. Kids don't have to be at the pool, beach, or on vacation to get too much sun. Their skin needs protection from the sun's harmful ultraviolet (UV) rays whenever they're outdoors.
Seek shade. UV rays are strongest and most harmful during midday, so it's best to plan indoor activities then. If this is not possible, seek shade under a tree, an umbrella, or a pop-up tent. Use these options to prevent sunburn, not to seek relief after it's happened.
Cover up. When possible, long-sleeved shirts and long pants and skirts can provide protection from UV rays. Clothes made from tightly woven fabric offer the best protection. A wet T-shirt offers much less UV protection than a dry one, and darker colors may offer more protection than lighter colors. Some clothing certified under international standards comes with information on its ultraviolet protection factor.
Get a hat. Hats that shade the face, scalp, ears, and neck are easy to use and give great protection. Baseball caps are popular among kids, but they don't protect their ears and neck. If your child chooses a cap, be sure to protect exposed areas with sunscreen.
Wear sunglasses. They protect your child's eyes from UV rays, which can lead to cataracts later in life. Look for sunglasses that wrap around and block as close to 100% of both UVA and UVB rays as possible.
Apply sunscreen. Use sunscreen with at least SPF 15 and UVA and UVB (broad spectrum) protection every time your child goes outside. For the best protection, apply sunscreen generously 30 minutes before going outdoors. Don't forget to protect ears, noses, lips, and the tops of feet.
Take sunscreen with you to reapply during the day, especially after your child swims or exercises. This applies to waterproof and water-resistant products as well.
Follow the directions on the package for using a sunscreen product on babies less than 6 months old. All products do not have the same ingredients; if your or your child's skin reacts badly to one product, try another one or call a doctor. Your baby's best defense against sunburn is avoiding the sun or staying in the shade.
Keep in mind, sunscreen is not meant to allow kids to spend more time in the sun than they would otherwise. Try combining sunscreen with other options to prevent UV damage.
Four-gulp rule keeps kids hydrated, safe during summer
:
(WXIA) - The four-gulp rule can help children stay hydrated and safe during the hot summer months.
"For every 15 minutes of outdoor activity, kids should drink about 4 ounces of water, which is approximately 4 gulps," said Laura Synder, MS, RDN, LD and regional director of health strategies for UnitedHealthcare. "That equals about 16 ounces of water per hour, or more, depending on activity level."
Snyder said hot weather can be more dangerous for children because their cooling systems aren't fully developed yet.
"The surface area of a child is smaller and sweat glands aren't fully developed, which makes it much harder for the body to cool itself," she added.
Here are common signs of dehydration:
A dry or sticky mouth
Few or no tears when crying
Eyes that look sunken
In babies, the soft spot (fontanelle) on top of the head looks sunken
Urinating less or fewer wet diapers than usual
Dry, cool skin
Irritability
Drowsiness or dizziness
Not sweating – seek emergency care immediately
In addition to the four-gulp rule, Snyder suggested other ways to avoid dehydration:
Skip the Soda and Sports Drinks: Avoid soda and sugary name-brand sports drinks which were developed with an adult's body in mind. Carbonated water mixed with fruit juice is a great alternative to soda. Use frozen fruit as ice-cubes in water or seltzer waters, too.
Pretzels, Fruit and Cheese, Please: Every 30 – 45 minutes give the child a small snack with salt and potassium to help protect against electrolyte loss and promote hydration. Pretzels or goldfish or a cheese stick with some oranges, banana, or strawberries are good options.
Smoothies are a Smart Choice. As an alternative to ice cream, children should drink half of their fluids from water and the other half from milk, 100% fruit juice or smoothies.
Increase Hydration with Popsicles, Gelato, Smoothies, Yogurt: Fun ways to increase hydration in children is to make home-made popsicles and gelato with real fruit, providing a fresh fruit smoothie made with coconut water, milk or milk substitute, or yogurt after some time outside is another great choice!
Be alert to medications. Some prescription medications can be dangerous with excessive exposure to sunlight or may speed up dehydration. Make sure you research any medications your child is taking to see if additional precautions should be taken in excessive heat.
Hang a pee chart in the bathroom. Make a color-coded chart from clear to light yellow to dark yellow to teach children what a healthy level of hydration looks like, and when they need to drink more water. Many of these can be found online and printed off at home.
How day care centers keep kids safe in the heat
:
We had record breaking temperatures on Wednesday, and there's a good chance we'll do it again this weekend. In those temperatures, it doesn't take long for a child left in a car to overheat.
Most parents know about the dangers, but dozens of times a year, children are left behind in a hot car.
You park the car, you turn it off, and you're about to get out and lock up, but did you check the back seat for your kids?
"With the heat the way it is, they could bake very quickly," says Tattnall Wee Center Director Angela Stitt.
She says they keep up with a lot of kids, so to make sure no kiddo is left behind, they do something simple -- they count.
"You have to make sure that you constantly count. I mean, as they get off the bus, as they get on the bus, whether it be a car or a van -- it doesn't matter, just constantly keep a head count," Stitt says.
The counting doesn't stop after travel. It keeps going after they come back to the classrooms.
"Every 30 minutes, I think, we are calling them to make sure we know how many they have and the teachers know."
In fact, in this blazing heat, Tattnall Wee Center keeps track of the temperatures with a handy-dandy chart. If it's too hot, they don't even go outside.
"If it's yellow, it's kind of iffy. It's up to me and the co-director if they can go, but if it's in the red, it's a no," says Stitt.
Stitt says there's no such thing as excessive counting. "To me, it's very important to make sure that no child is left, ever. I don't want that on my conscience, and I don't want it on the teachers'."
Whether it's coming back from a drive or playtime outside, the goal is to make sure the number on the roster stays consistent.
Tips on how to protect your pet as the temperature continues to rise
:
Hot weather is something many four-legged friends don't like, and as temperatures and the humidity rise, it's important to look out for pets.
If you are wanting to walk your dog, Critter Fixers Veterinary Hospital owner Dr. Vernard Hodges says go early on in the day or late in the afternoon.
This helps protect your pet's paws from getting burned. He also suggests putting on booties or even bringing a spray bottle to help cool your pooch down.
Hodges says hydration is important and suggests you give your dog 1 ounce of water per pound it weighs.
He says since your pet can't tell you it's in pain, here are some signs to watch for.
"The first signs you really see is they start to obviously pant very heavily, then they start to drool. Drooling is one of the big things. Then they will start to get disoriented, wobbling side to side, and they will sometimes vomit and they'll also have some diarrhea, and you'll know then that they are starting to get in trouble when these things happen, and you'll want to get them to your veterinarian," Hodges says.
Hodges says if you have have a hard time getting your dog to drink, he says a great trick is to feed them ice, and if that doesn't work, freeze a bouillon cube.
'Veterinarians warn hot surfaces could be harmful for your pets
:
The hot weather we're expecting this holiday weekend isn't just a problem for people -- it can put your pets at risk, too.
Niki Morrison says with the heat climbing, she's getting concerned about her dog, Baxter.
"During my lunch breaks, I only take him right outside to the grass and back," said Morrison.
Being a dog in the heat can be hard. When the temperature heats up, the surfaces dogs walk on heat up, too.
"In the mornings and evenings, and I try to take him on longer walks when it's not as hot and we can go further without him overheating," said Morrison.
Veterinarian Angela Shurling says your dog's paw pads can get too hot on a lot of the surfaces we walk on, like concrete walkways or asphalt.
At 140 degrees, they can burn badly enough to require treatment at an animal hospital.
A good rule to use is if you can't leave your hand of pavement for 10 seconds without it feeling too hot, it's not safe for your pets.
"Try to stick to the grass -- it'll be cooler if you're going to be walking in the middle of the day. You can get lots of burns to the paw pads when it gets hot," said Shurling.
Another recommendation -- dog booties, but not all dogs like them.
Morrison, a first-time dog mom, says she'll try out the hot new accessory, but she's not sure Baxter will go for them.
Shurling says it's a common misconception that you need to give your dog a haircut during the summer months to keep them cool. A dog's coat insulates their body, keeping them cool, and if their hair is too short, some breeds can get sunburned.
VERIFY: Best ways to prevent and remove ticks this summer?
:
As the kids get ready for summer and the days keep getting hotter, the potential for tick bites will only increase.
We set out to Verify the correct ways to prevent tick bites and how to remove them if they bite.
To Verify the proper way to deal with ticks we spoke to Michael Hokanson with the Department of Public Health and Jones County Agricultural Extension Agent Michael Abney.
"They can sometimes carry bacteria that can cause diseases in people," Hokanson says.
Hokanson works for the North Central Health District and says the ticks can pass along Rocky Mountain Spotted Fever and Lyme disease, among many others.
In fact, the Central District accounted for 20 percent of the state's confirmed Spotted Fever cases in the 2016-2017 season.
That's why experts say if you're bitten, it's best to act quickly.
"The best tool for the job is a sharply pointed pair of tweezers. When you use the tweezers, you want to get down to the head of the tick, as close to the skin as possible, and move up in a single motion," Hokanson says.
Jones County Agriculture Extension Agent Michael Abney agrees.
"Just get as close to the point of where they're connected to as possible and just do a steady pull to have them release," Abney said in his office.
And what about those home remedies we've all heard of before like Vaseline, gasoline, or even burning them off? Well the experts say it may do more harm than good.
"You're going to get them angry and they're going to secrete any saliva that they had in their system into the point where they've already bitten into you and that saliva is going to hold the things like parasites and potential diseases. In a lot of ways you may get them to release, but you're going to do more harm than if you just quickly grabbed them," Abney says.
To prevent ticks the experts say use bug sprays with DEET, avoid tall grass and other dense vegetation, and if you're going to hike or be outdoors to put your pant legs into your socks.
Hokanson added to check your dogs when you return from woods or other outdoor areas where ticks might be present. He says you don't want them coming into your home and getting into the carpet or onto people. It also helps prevent your dog from getting sick.
Hokanson and Abney say the tweezer-pull method is the best method for dogs as well.
Michael Hokanson - North Central Health District
Michael Abney - Jones County Agriculture Extension Agent
Tips for preventing mosquito-borne illnesses as infections rise
:
The CDC has released the latest numbers on illnesses from mosquitoes, fleas and ticks, and they show a large jump in infections.
As the weather and humidity continue to climb, do you know how to protect yourself from getting a nasty infection?
The CDC says illnesses have tripled in the last 13 years, with more than 640,000 cases reported.
North Central Health District public information officer Michael Hokanson says after last year's Zika outbreak, they're getting ahead of the game in 2018.
"We learned from that experience and [are] even more knowledgeable. We'll be doing surveillance earlier [and] we'll start testing these mosquitoes earlier to see if there's any sign of Zika in the mosquito population," said Hokanson.
Zika and West Nile virus are two illnesses with some common symptoms that can be prevented by taking proper precautions.
"Wear long clothing if you can, if it's not too hot. If you can't wear long clothing, use the EPA regulated repellent on any exposed skin," said Hokanson.
With the recent rain we've seen, it takes roughly a bottle cap full of standing water for mosquitoes to breed.
"Any toys or anything like that that you have around your home that rainwater can get into, make sure those are emptied," said Hokanson. "It only takes 10-14 days for them to go from egg to biting you."
He says an easy thing to remember is to 'tip and toss' when it comes to getting rid of standing water around your home.
How to keep the mosquitoes from 'bugging' you
:
Summer is just around the corner, and warm temperatures may not be the only thing keeping you outside!
Mosquitoes are just one of many flying pests that thrive in the heat. There are ways you can prevent the bloodsucking insect from lingering outside your home.
We spoke with home owner Bobby Schorr, who has had enough of the mosquitoes in and around his home. He has Mosquito Squad, a pest control company, come out to prevent the pests.
"It's just more enjoyable when we can be out here and not getting attacked all the time. On top of that, mosquitoes can carry lots of different diseases, and we don't want that in our house or in our life at all either," Bobby said.
Mosquito Squad comes out to Bobby's home once every three weeks. General Manager Tommy Berg says "they are a source of food for some aquatic animals, but other than that, they are just pests we need to get rid of."
Berg says that you can plant rosemary and mint to dissuade the bugs. You can also plant citronella, aka the mosquito plant, to keep them away as well.
Nevertheless, a nice, clean-cut yard is the best way to give the mosquitoes fewer places to breed.
Although if that doesn't work, you can call your local pest control. Mosquito Squad comes out and their substances first kill the mosquitoes flying around, and also puts down a residual. That way, if a mosquito lands on their product, they die.
Tommy says that one female mosquito can lay about 100 eggs two to three times a week. They can hatch within two days, causing an infestation. Mosquitoes love to hatch out of gutters, toys in the yard, and overwatered plants.
According to the CDC, one way to keep the mosquitoes away is a long-sleeved shirt, and don't forget to cover the gaps in your clothes.
Summer Safety: What to know about Georgia's 47 snake species
:
Georgia is blessed -- or maybe cursed -- to be home to 47 species of snakes. Chances are if you're outside during the summer, there's a snake or two nearby.
How can we tell which ones to watch out for?
First, we learned some snake basics from the Museum of Arts and Sciences' Curator of Wildlife Sciences Jerrica Madden-Baker.
She says snakes won't eat anything that's bigger than their girth, including small children.
"Even venomous ones are not going to chase you," Madden-Baker said.
Basically, they're antisocial, and they can't even regulate their own body temperature.
"They're going to depend on the sun to warm up, so if they get too hot, they might crawl under a big brush pile or wood piles because that's going to cool them down," she said.
Raptor Program Director Pete Griffin has some sssssimple advice.
When you see a snake, "Kind of just point it out, take a picture, and walk off," Griffin said. "Main thing is, don't pick them up."
Some snakes will tolerate being held. Junior Journalist Will Rodgers was the first to volunteer.
"Probably not going to get up close with one in my yard," Will said.
Griffin says pine snakes are often mistaken for rattlesnakes. It's important to know the venomous snakes.
"You got the Eastern Coral Snake, Cottonmouth, Copperhead. Then you got the Eastern Diamondback Rattlesnake, Dusky Pygmy Rattlesnake and then Canebrake or Seminole Rattlesnake," listed Griffin.
Ultimately, he says, "There's no such thing as a good snake or a bad snake -- they're all good snakes."
How can you tell if they are venomous? Here's what you need to know about the slithering reptiles.
Georgia Department of Natural Resources (DNR) Senior Wildlife Biologist Daniel Sollenberger said seldomly the snake you encounter is venomous. According to the Georgia DNR, only six of the 46 species native to Georgia are venomous, and only one – the copperhead -- flourishes in suburban areas.
Venomous snakes in Georgia
Copperhead
Pigmy Rattlesnake
Timber Rattlesnake
Cottonmouth
Eastern Diamondback Rattlesnake
Eastern Coral Snake
"While at least one of the state's six species of venomous snakes could be found in each county in the state, seldom are they the most common species encountered," Sollenberger said.
If you encounter a snake, Georgia DNR said you can try to identify it from a safe distance by using its venomous snakes of Georgia list. Georgia DNR said do not attempt to handle the snake and give it plenty of space.
Also, the DNR said to remember that snakes are predators that feed on small mammals, amphibians, insects or even other serpents.
According to Georgia DNR, "there is no need to fear non-venomous snakes." The DNR added that Georgia's native non-venomous species are protected by state law; another one, the eastern indigo is federally protected.
If the snake is clearly identified as venomous, the DNR said it's a danger to people and pets. You can also consult Georgia DNR for a private wildlife removal specialist.
Nonvenomous snakes in Georgia
Eastern Green Watersnake
Brown Watersnake
Plain-bellied Watersnake
Banded Watersnake
Northern Watersnake
Queen Snake
Striped Crayfish Snake
Glossy Crayfish Snake
Black Swamp Snake
Brown Snake
Florida Brown Snake
Red-bellied Snake
Eastern Ribbon Snake
Common Garter Snake
Smooth Earth Snake
Rough Earth Snake
Eastern Hognose Snake
Southern Hognose Snake
Ringneck Snake
Eastern Worm Snake
Pine Woods Snake
Mud Snake
Rainbow Snake
Black Racer
Coachwhip
Rough Green Snake
Corn Snake
Eastern Rat Snake
Gray Rat Snake
Pine Snake
Common Kingsnake
Black Kingsnake
Mole Kingsnake
Scarlet Kingsnake
Eastern Milk Snake
Scarlet Snake
Southeastern Crowned Snake
Florida Crowned Snake
Eastern Indigo Snake
Brahminy Blind Snake (non-native)
Rip currents the leading weather-related cause of death along northern Gulf coast
:
Most of us love it, a warm sunny day along a coastline, laying in the sand and playing in the surf, but even on those sunny days, the water can be dangerous.
The local forecast office that covers the coast line from Dauphin Island, Alabama to Destin, Florida. This area of the Gulf coast experiences rip currents at a higher frequency because of the persistent on-shore winds and the shallow shelf below the water's surface.
"If people aren't aware of their surroundings and what rip currents are, it sadly has resulted in many fatalities in our area," Beaman said.
So just what exactly is a rip current? It is a fast moving channel of water away from the coast, one that can pull swimmers away from the shoreline.
They can sometimes be seen with sand and debris kicked up in the water, but more often than not, they are not as obvious. Luckily, there are steps you can take to stay out of this situation. First, check the forecast.
Beaman says, "If you just go to Weather.gov/beach and click on the umbrella for that location, it will tell you what the forecast is for those days."
And if you forget, green, yellow, and red flags along guarded beaches are there to remind you.
"They are taking into account our forecast, but they are also eyes on the water. What are the local conditions?" said Beaman.
Now, if you do get stuck in a rip current the number one thing is to stay calm and don't fight the current, you won't win.
Relax and float to conserve energy.
Don't try to swim directly to the shore, instead swim along the shoreline until you can escape the current.
Then, swim along an angle away from the current toward the shore.
"We don't want to scare anyone away from the beach," Beaman said. "Our beach is a wonderful place to visit anytime of the year. There are just certain days you don't want to get into the water."
Summer Safety: The signs of heat illnesses and how to prevent them when exercising
:
On most summer days in Central Georgia, the heat and humidity will be high.
That doesn't stop some people from exercising outside.
F.M. Barron is the president of the Macon Tracks Running Club, and he's outside in the summer three to four days a week. For him, avoiding heat illnesses is all about timing.
"I usually try to go very early in the morning or late in the evening. Early in the morning is cooler, but the humidity is higher, so there's a tradeoff," Barron said.
That's why Walk with a Doc at Amerson River Park starts their exercise at 8 a.m.
Dr. Harry Strothers is the "doc," and he agrees with Barron.
"Plan your exercise in parts of the day where it's not going to be as hot or as humid, so earlier in the morning late in the evening," said Strothers.
Staying hydrated is also important in preventing heat illnesses.
Watch for these signs of heat exhaustion and heat stroke in yourself and others:
During exhaustion, you may feel faint or dizzy.
You may sweat excessively and your skin becomes cool, pale, and clammy.
Your pulse will be rapid and weak while your muscles start to cramp.
Once you've graduated to heat stroke, a throbbing headache will set in.
The body is so dehydrated that you will not sweat.
Your skin will be red, hot, and dry as your pulse becomes abnormally strong.
Then, you may lose consciousness.
Both heat exhaustion and heat stroke can induce nausea and vomiting.
If either of those happens, Strothers says, "The best thing to do is stop. Stop the person from exercising, even they don't realize they're starting to have those problems. Get them into some shade. Get liquids into them. Actually wet them down because that'll help cool them down."
After you've tried those remedies and there is no improvement, "If they're not getting better in 20 minutes, they need to go see an emergency room," said Strothers.
This summer, make sure to eat and drink well, starting the night before.
"Drink before you're thirsty because by the time you're thirsty, it's too late," Barron said.
Exercise caution when on Georgia's lakes and rivers this summer
:
Already this year, we've seen a drowning on the Ocmulgee River at Amerson Park.
As we get closer to summer, it's important to keep safety first as you get out and enjoy Central Georgia's lakes and rivers. It all starts with a plan.
In the summer, a local river is a family favorite.
Madison Green with Ocmulgee Outdoor Expeditions has an adventure every day.
"Right now, we are in Juliette Park, so this is kind of north on the Ocmulgee, but we offer trips all the way down to Amerson Park as well," Green said.
The first thing to do is to check the weather.
"Rainfall, weather, they can change the depth of the river. Also, they can increase the speed of the river," stated Green.
Natural Resources Officer Jaron Hollinshead patrols lakes and rivers across Central Georgia.
"You never know what's under the river either. You can't see hazards. That's what makes the river so incredibly dangerous," Hollinshead said, which is why planning is so important.
"If someone goes overboard, the best thing to do is, first, not panic. Don't fight the current. Flip over, and, eventually, the current will lead you to the side. Grab hold to something," he explained.
Also, Hollinshead says, don't play hero. "If you have anything that you can throw out and they can grab on to, but the last thing you want to do is get in the water with them. When someone's in a panic, they are danger towards you, and it can cause you to drown as well"
"Just always have your lifejacket. Always know the weather. Know how high the river is. Those are the things that can keep you safe."
One of the best ways to stay safe at a river is by always wearing a lifejacket. Just undo the latches, put both arms in, and relatch. Not only can lifejackets save your life, but they are also stylish, so don't go out on the water without one.