MACON, Ga. — Hundreds of people have shared a Facebook post saying a man was kidnapped at a Macon CVS, taken to a motel, and robbed.
13WMAZ set out to VERIFY whether that happened.
We contacted the woman who made the post, spoke to the Bibb County Sheriff's Office, and checked sheriff's office records.
Here's what we found out:
A post made on Facebook said the man was robbed Tuesday at the CVS on Forest Hill Road and Northside Drive.
The post alleges the victim came out of the store to get in his truck when two other men held him at gunpoint.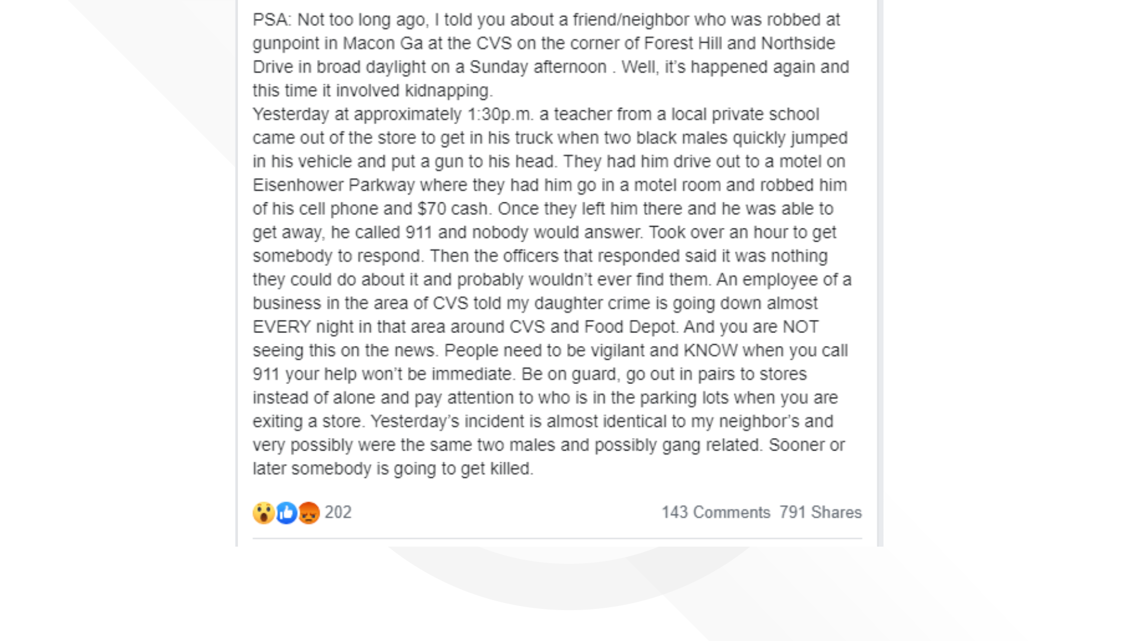 Then they allegedly drove him to a motel on Eisenhower Parkway.
It says the two men stole the his phone and about $70 dollars cash, but he got away.
The Facebook user identified the man to 13WMAZ as Chris Keys and told us she got that information from her daughter, who heard the story from him.
Now, Sgt. Linda Howard with the Bibb County Sheriff's Office says nobody was robbed or carjacked at that CVS.
Howard said Keys went to the Regency Inn motel on Eisenhower Parkway to solicit prostitution, and that's how he was robbed.
According to the incident report from the sheriff's office, a deputy met with Keys at the motel.
Keys told the deputy he was at the motel when he heard a knock at the door. He said he opened the door and allowed the masked man to come into the room.
Keys said the man told him to get on the bed. The alleged robber then held a gun to his head
As the masked man left the room to get the victim's wallet from his truck, a second hooded man entered the room.
According to the incident report, Keys told the deputy he liked to play around and was married to a woman, but he put/answered a Craigslist ad to meet a man at the motel room.
The victim's phone was recovered in the parking lot of a nearby Walmart.
The report says the victim told the deputy that he was going to tell his family he was kidnapped and brought to the motel.
Then, on Thursday evening, the Bibb County Sheriff's Office said Keys had been arrested and charged with solicitation of sodomy.
According to the Tattnall Square Academy website, Keys is a teacher at the school.
WHAT OTHER PEOPLE ARE READING
FACTS NOT FEAR | At 13WMAZ, we're focusing our news coverage on the facts and not the fear around the coronavirus. To see our full coverage, visit our site section here: www.13wmaz.com/Coronavirus.
STAY UPDATED | Click here to subscribe to our Midday Minute newsletter and receive the latest headlines and information in your inbox every day.
Have a news tip? Email news@13wmaz.com, or visit our Facebook page.