WARNER ROBINS, Ga. — January is Human Trafficking Awareness Month, and one woman in Warner Robins wants to help victims like herself by making sure the city is doing their part.
April Scarborough said she was drugged and auctioned off in Clayton County when she was 19 years old.
"I have a mental illness. I am bipolar, so I was in a manic state when I was offered a waitressing job and I should have seen the signs, but I didn't," said Scarborough.
Now, she is working with the City of Warner Robins to make sure no one else has to go through what she went through.
Scarborough said she has worked closely with Retired Lieutenant Lance Watson with the Warner Robins Police Department to make sure they know the signs of human trafficking and making sure businesses have a certain notice in place.
"The signs that she talks about, the things that I missed, and once I met April, I went back and we got to looking and I think there was probably four or five instances where we helped victims get back with their families," said Watson. "You don't have to go out and investigate, you just need to be aware."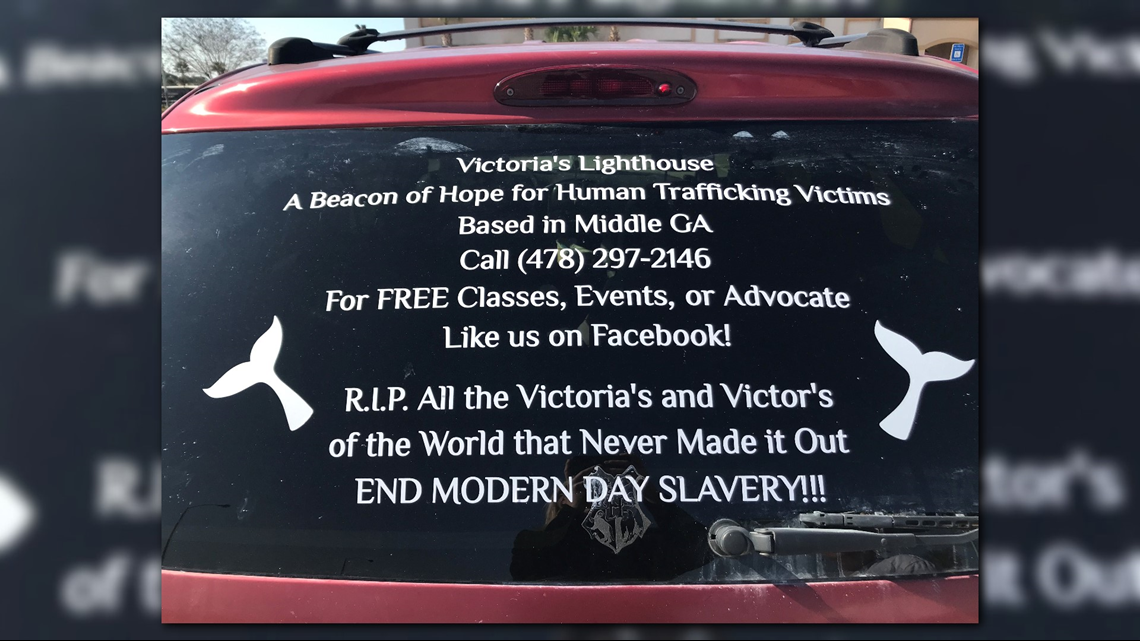 She said their goal now is to make businesses aware that this law exists.
"If I had known there was this number out there 12 years ago, then maybe I could have gotten help."
The number is the National Human Trafficking Resource Center, which is, according to Georgia Law 16-5-47, supposed to be posted in certain businesses in cities across the state. In December of 2018, Warner Robins passed an ordinance that broadened to scope of business that are required to display it.
The Georgia law says these businesses are required to comply:
- Adult entertainment establishments
- Passenger rail or light rail stations
- Emergency rooms within general acute care hospitals
- Farm labor contractors and day haulers
- Privately operated job recruitment centers
- Safety rest areas located along interstate highways in this state
- Businesses and establishments that offer massage or bodywork services by a person who is not a massage therapist
Warner Robins' 2018 ordinance added government buildings and "food service establishment," meaning any place that sells at least gum or bottled water.
Warner Robins Police Chief John Wagner said it's time to let people know they are supposed to have this number and information placed in areas where victims can access it. He said the penalty for breaking the law starts with $500 and can go up from there.
He did go on to say that there will be some leniency for businesses that did not know they had to comply, or that the law even existed.
Warner Robins Mayor Randy Toms said it's the city's job to make sure the notices are posted everywhere they're supposed to be.
"We in Warner Robins want to do our part to bring an end to human trafficking," said Toms. "If it helps one person get out of the awful, awful tragedy of human trafficking, then she has been used very well by God."
Scarborough said her organization, Victoria's Lighthouse, will look out for businesses that aren't complying because she knows it can save a life.
"I'm actually one of the 1% that survived human trafficking and that number drastically needs to change."
You can find that notice on the Georgia Bureau of Investigation and the City of Warner Robins' websites.
STAY ALERT | Download our FREE app now to receive breaking news and weather alerts. You can find the app on the Apple Store and Google Play.
STAY UPDATED | Click here to subscribe to our Midday Minute newsletter and receive the latest headlines and information in your inbox every day.
Have a news tip? Email news@13wmaz.com, or visit our Facebook page.