Biden, 79, is fully vaccinated and has received two booster shots, the last of which he received March 30. His last test prior was Tuesday, when he tested negative, she said.
In a tweet, Biden said he was "doing great" and thanked supporters for their concern. He apologized for missing an event in Pennsylvania planned for Thursday.
This is believed to be the first time Biden has tested positive for COVID since the pandemic began.
White House COVID-19 Response Coordinator Ashish Jha said he spoke with the president who "sounded great."
Jha added it's unclear which variant Biden has contracted. But the dominant virus variant in the U.S. is the omicron mutant BA.5, which is also prominent worldwide. He said the White House expects sequencing results in less than a week.
Dr. Kevin O'Connor explained that the positive test occurred during the routine screening program for the president and the antigen test result was later confirmed via PCR testing.
White House policy dictates that anybody who tests positive for COVID should isolate themselves until they test negative.
The White House confirmed the president had been in contact with staff members by phone and will participate in meetings via phone and zoom from the White House's residential areas.
Once the president tests negative, he will return to in-person work.
Jean-Pierre said there would be daily updates about Biden's status until he recovers.
The president's COVID-19 diagnosis comes one day after he visited Massachusetts for a speech on the effects of climate change. During his remarks, Biden seemingly indicated that he has cancer, but the White House quickly clarified the president was referring to a previous diagnosis before his presidency.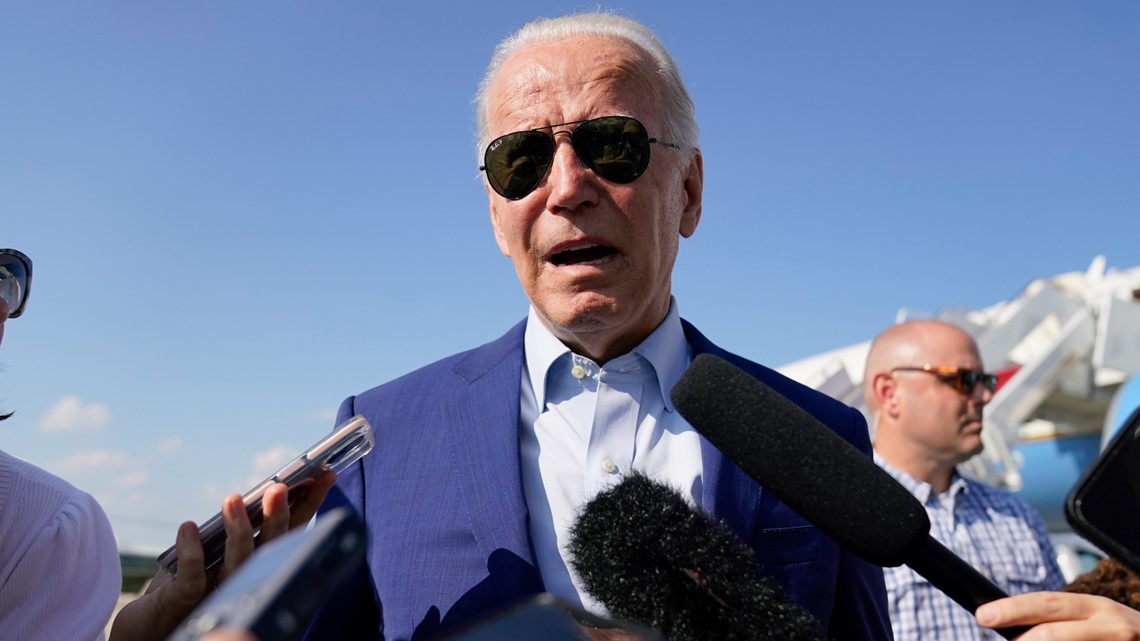 He was taken to the Walter Reed National Military Medical Center, where he spent several days receiving treatment.
Up to this point, Biden's ability to avoid the virus seemed to defy the odds, even with the testing procedures in place for those expected to be in close contact with him. Prior waves of the virus swept through Washington's political class, infecting Vice President Kamala Harris, Cabinet members, White House staffers and lawmakers. Biden has increasingly stepped up his travel schedule and resumed holding large indoor events where not everyone is tested.
Top White House officials in recent months have been matter-of-fact about the likelihood of the president getting COVID, a measure of how engrained the virus has become in society — and of its diminished threat for those who are up to date on their vaccinations and with access to treatments.
White House statement on President Biden's COVID-19 diagnosis:
This morning, President Biden tested positive for COVID-19. He is fully vaccinated and twice boosted and experiencing very mild symptoms. He has begun taking Paxlovid. Consistent with CDC guidelines, he will isolate at the White House and will continue to carry out all of his duties fully during that time. He has been in contact with members of the White House staff by phone this morning, and will participate in his planned meetings at the White House this morning via phone and Zoom from the residence.

Consistent with White House protocol for positive COVID cases, which goes above and beyond CDC guidance, he will continue to work in isolation until he tests negative. Once he tests negative, he will return to in-person work.

Out of an abundance of transparency, the White House will provide a daily update on the President's status as he continues to carry out the full duties of the office while in isolation.

Per standard protocol for any positive case at the White House, the White House Medical Unit will inform all close contacts of the President during the day today, including any Members of Congress and any members of the press who interacted with the President during yesterday's travel. The President's last previous test for COVID was Tuesday, when he had a negative test result.