HANCOCK COUNTY, Ga. — Next weekend, people will be taking it easy, celebrating Memorial Day. While people enjoy the pool, the lake, or some barbecue, one Hancock County veteran doesn't want people to forget why they're celebrating. To do that, he has a tradition to honor other vets that's spanned two decades.
Over 50 years ago, Willie Moore served his country in Vietnam. After retiring from the military in 1969, he served another 11 years in the National Guard.
"My duty was one of those duties most people don't want to have," Moore said. "I was an infantryman."
In 1999, he decided something needed to be done to honor those like himself, but especially the ones who didn't come home.
"My tradition is to recognize our fallen veterans before us and our vets that are fighting for us right now," Moore said.
For the past two decades, he has picked a different Hancock County cemetery and placed American flags at the headstones of veterans of past wars. After sticking a flag in the ground, he holds a salute.
"It's not hard to find one, because this county has a history of a lot of veterans from WWI, WWII, Korea, Iraq, Afghanistan," Moore said.
It's not his only contribution to Hancock County. He said he sparked the idea to place a war memorial in Sparta's town square. Surrounding a monument remembering Sparta's confederate veterans, stand three more that memorialize vets from the World Wars, Vietnam, and Korea.
Allen Haywood used to own the Sparta Ishmaelite and was the first to chronicle Moore's efforts in 2000.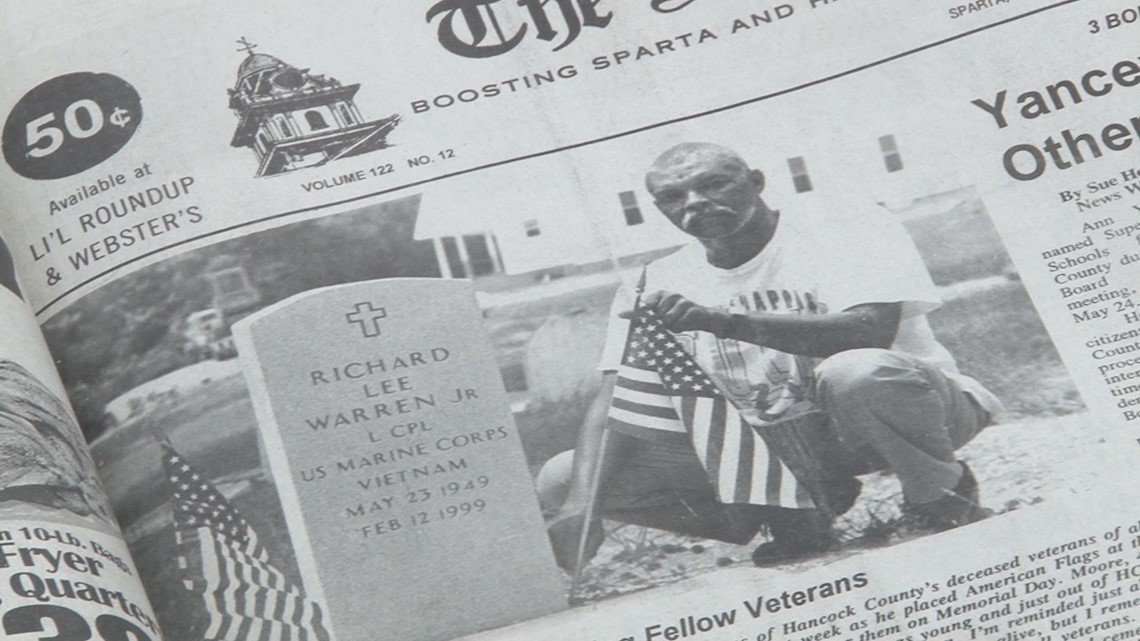 "Next year we did the same thing, and we took pictures until I sold the paper in 2005," Haywood said. "Then the editors behind me picked it up and did the same thing."
Some years, like this one, can be more special than others. Moore placed flags for vets who meant something to him, like his high school teacher, William 'Peaches' McMullen. He says he'll hold his salute until he can't anymore and hopes someone takes up his mantle.
"I'll be doing this until my time passes on, and I hope someone will step up to the plate and continue this from now on until time exists for no one," Moore said.