How political bettors will make money off Georgia's November elections
Over 1.9 million shares have been traded on who will win Georgia's U.S. Senate race--Senator Raphael Warnock or Herschel Walker.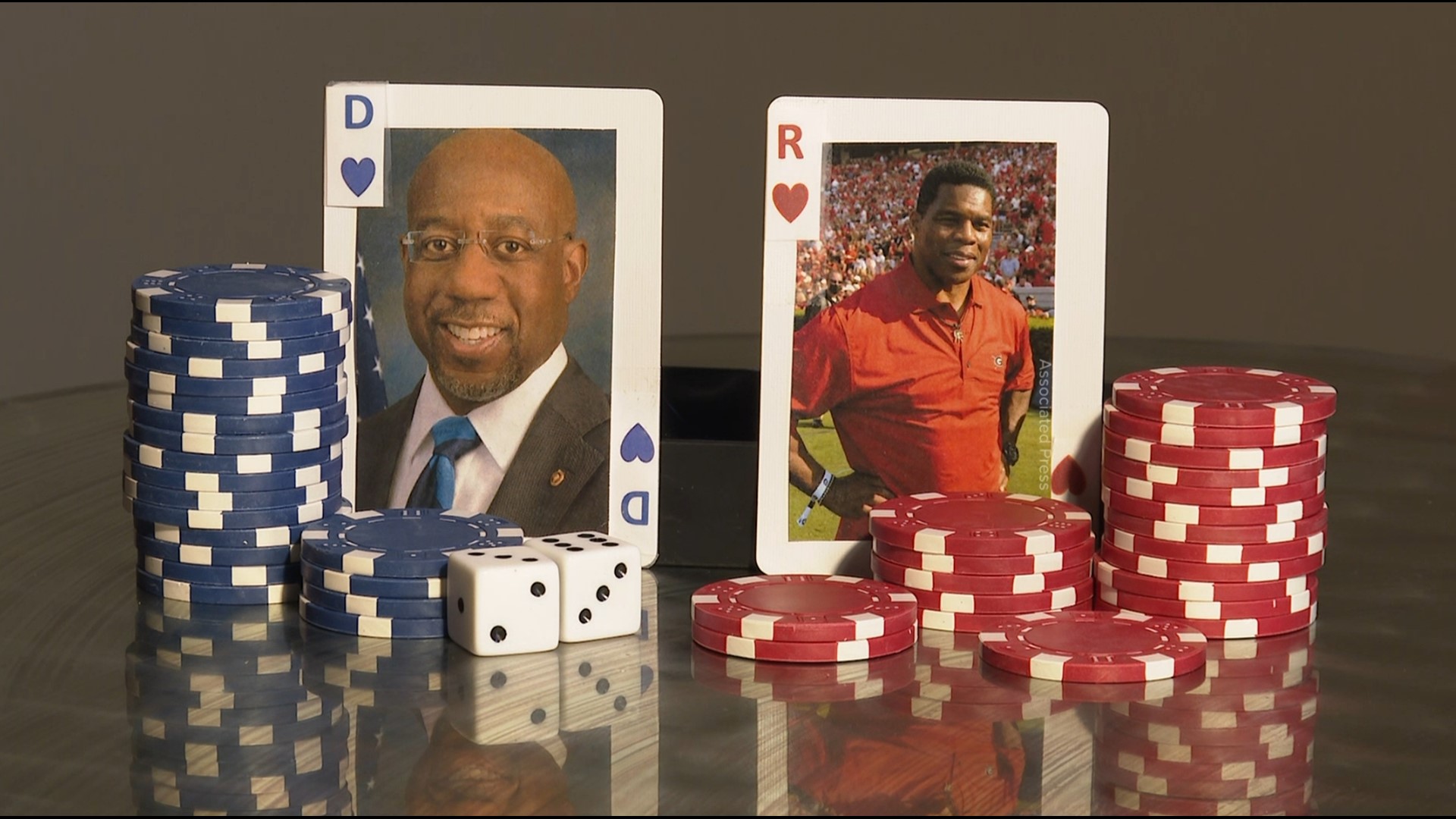 'It's a market that takes in people's perceptions of the races and comes out with a price'
:
Tens of thousands of Americans are putting money where their mouths are by betting thousands of dollars on who will win elections.
Jason Pipkin is one of those bettors. He says overall, he's deposited about $5,000, but from betting on the ballot, he's turned that $5,000 deposit into a $450,000 profit.
"It's the kind of thing where if you're into this stuff, and you're willing to follow the news and you have a decent head for numbers, you can get good at it," Pipkin said.
Most political bettors do this as a side gig, but Pipkin says he's gambling full-time after leaving his job in neuroscience research.
He says he's making bets in Georgia.
Betting on Georgia
"So right now, I'm betting on Walker, but you know, last week I was on Warnock," Pipkin said.
He uses one of the most popular sites to trade on here in the U.S., PredictIt.
"It's grown enormously in popularity," said Ethan Rosen, assistant director of PredictIt.
Rosen says folks are betting heavily on Georgia's races like the governor's race where over 500,000 shares have been traded with Governor Brian Kemp holding a hefty lead over Democrat Stacey Abrams.
Even more are betting it all on Georgia's U.S. Senate race.
Over 1.9 million shares traded on who will win -- Democrat Incumbent Senator Raphael Warnock or Republican Herschel Walker.
"These are two of the more interesting races that I've seen, in part because PredictIt traders think that there's going to be a high amount of ticket splitting, meaning people who vote for both Kemp and Warnock," Rosen said.
But how does it work? Here's the deal.
Political betting runs on a prediction market. The cost of a single share changes constantly with the market by how folks are betting.
"It's a market that takes in people's perceptions of the races and comes out with a price that corresponds to probability," Rosen said.
For example, when Pipkin and I talked, more were betting on Senator Warnock winning with a single share in his favor costing 64 cents.
"So if you want to bet on him to win, you would pay 64 cents per share, so if you come in with 64 cents, you get one share. If you win, that share is worth $1. If you lose, it's worth nothing, and in between now and that happening, winning or losing, you can sell that trade for a small profit or a small loss," Pipkin said.
But especially in races like this, Pipkin and Rosen say bettors have to play their cards right--by doing the research and reacting quickly to headlines.
For instance, the market for Georgia's U.S. Senate race changed within hours after the report that Herschel Walker allegedly paid for his then-girlfriend's abortion.
"PredictIt moved 10 cents that night," Rosen said.
"And then when his son Christian started tweeting about it... It really moved, so it went all the way to 65-35," Pipkin said.
"Because as the information was coming in, people were making predictions on how it would impact the race in the future," Rosen said.
"When people have skin in the game, they tend to do more research and to make more reasoned opinions," Rosen said.
"When you have money on the line, it really sobers you up and forces you to assess the situation as rational and as purely as you can," Pipkin said.
Is it legal to bet on the ballot?
Online political betting has been outlawed in the U.S. However, it's not illegal for folks to use PredictIt. The site secured a no-action letter from the Division of Market Oversight of the Commodity Futures Trading Commission in 2014.
This midterm election could be American political bettors' last hurrah. The CFTC revoked the letter in August because the federal agency alleged the site wasn't complying with the terms it had agreed to abide by. Now, PredictIt could be forced to shut down by February 2023.