13Investigates: Former Macon gang member talks how gangs operate and how he got out
Lataurus Oliver says he was in a gang for more than 17 years. He says his final arrest was his wake-up call.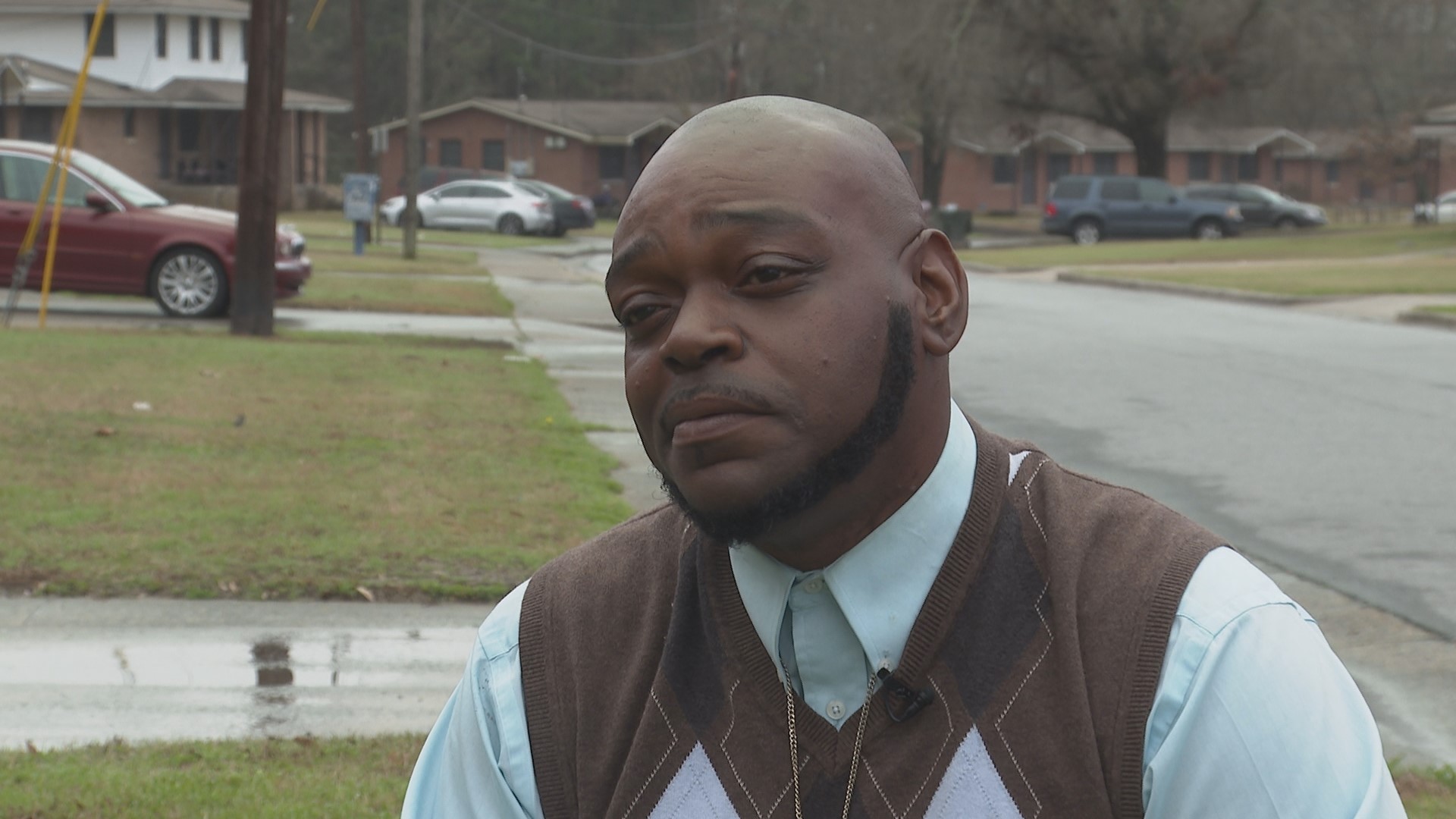 'It was a business'
:
Lataurus Oliver walks the road he grew up on, bringing up memories of how he went from a 15-year-old kid to a superior in one of Macon's gangs, the Gangster Disciples.
Oliver says he would move unit to unit in one of Macon's Housing Authority communities, Anthony Homes on Eisenhower Parkway.
"You had about 10 Gangster Disciples on the street alone. Five on this side of the road. Five on that side," Oliver says, pointing to units in the neighborhood.
Oliver says he was 15 when he started talking to gang members. He says the man that recruited him was about 10 years older.
"I saw all the popularity that these guys were getting, and all the girls and the money, cars that they were getting… by just being in the gang," he said.
Oliver says the gang talked about all the benefits of joining but never the number of times Oliver would be in and out of jail and caught up in violence on the streets.
He says by age 17, the gang was his life. He had dropped out of school. He began recruiting other gang members as young as 11-year-olds.
Oliver says he was dealing drugs through the gang to get "fast money" while he worked at a fast-food chain.
He says he was expected to meet with the gang daily and wear their colors-- black and white.
"So every day, get up, put on your colors, go meet your superiors. And then you meet up and see what activity for the day is. Whether we were going to do a drive-by... or what head drug dealer we going to go see today... to get the best deal to sell drugs," Oliver said.
"It was a business?" 13WMAZ's Ashlyn Webb asked.
"It was a business or organization, if you want to say that," Oliver confirmed.
'I got friends in the grave'
:
Oliver says gangs then and now claim territory over Macon street by street. It's a war over money, drugs, women and power.
"We never knew when our enemy was going to cross over territory. So we had to have guns, we had to have knives, all kinds of weapons and be ready to kill," Oliver said.
Oliver says he lost over a dozen friends to this kind of violence.
"I got friends in the grave. I got friends in prison for the rest of their lives," Oliver said.
The trend is only getting worse, particularly with teens in gangs.
In 2022, The families of 15 Macon teens buried their child last year after losing them to gun violence. It was twice the number in 2021.
A third of last year's teen victims were affiliated with a gang, according to the Bibb County Sheriff's Office.
Lt. Jason Batchelor is part of Bibb County's Gang Task Force. As young gang members die, Batchelor says younger children join the groups.
"And that younger element has a greater propensity to use violence to gain stature within that criminal street gang," Batchelor said. "It's startling, you know, when you hear these 12,13,14 years olds that are involved in drive-by shootings."
Oliver says he got tired of that witnessing that kind of violence. He was in and out of jail over his 17 years in a gang. But his final arrest was his wake-up call.
Oliver says he faced up to 15 years for a drug charge, among other offenses in Clayton County.
"I'm shackled to another guy. We're shackled by twos going to the courtroom, shackled by feet and by hand. So we got to take the steps. I'm just praying to God… Lord, get me out of this situation. I know I don't belong here. I know you have something better on this earth than what I'm doing now," Oliver said. "God, I guess he heard my cry."
'I just simply turned my life over to Christ"
:
Nearly 10 years later, Oliver stands in front of the congregation at Smith Street Baptist.
He preaches every couple of Sundays. He's now part of their prison outreach, where he often tells inmates his story.
"Your story is so remarkable to me because you were able to get out of the gang. How do you get out of a gang?" Webb asked.
"I just simply turned my life over to Christ," Oliver said. He says he got out of jail determined to turn his life around.
He says other gang members he knew weren't as "blessed."
"Unsuccessful, (they) got beat up, just got destroyed. Some to the point they lost their lives. Some tried to go to other gangs," Oliver said.
He says those that joined other gangs would do it for protection.
"Thinking they would have escaped the consequences of leaving your gang. It costs them their lives," Oliver said.
Oliver says he wants young men and boys to hear his story, so they don't make the mistakes that he did. We asked if he was scared of retaliation for sharing his story.
"No, no. I'm under the divine protection of God. And I know the things I went through... I didn't go through it for nothing," Oliver said.