Former president Donald Trump has been indicted and charged with 34 felony counts of falsifying business records. When news of the impending indictment first hit social media, crime in New York City — where District Attorney Alvin Bragg is overseeing Trump's case — was put under a microscope.
Trump's allies have repeatedly claimed that Bragg is focusing on Trump when he should be focusing on violent crime in New York City.
THE QUESTION
Is violent crime skyrocketing in New York City?
THE SOURCES
THE ANSWER
Claims that violent crime in New York City is skyrocketing need context. While the city's crime rate has risen in the past couple of years, it's far below historical highs and is lower than that of many other large American cities.
WHAT WE FOUND
Violent crime, as well as crime in general, did rise in New York City in 2021 and 2022. However, this rise is not a record for the city. New York City's violent crime rate is also lower than that of most large U.S. cities.
Crime is typically measured by law enforcement through seven "index crimes." Violent crime refers to murder, rape, robbery and assault, while total crime typically includes those four crimes plus burglary, theft and vehicle theft. Some crimes, like white collar crimes, are not included in these measures.
The New York Police Department keeps a record of those index crimes, but only when they're felony offenses. Most other law enforcement organizations, including the New York State Department of Criminal Justice Services, Major Cities Chiefs Association and the FBI, track a broader set of the seven index crimes that includes some misdemeanors, which are considered less serious than felonies. VERIFY analyzed both NYPD data and data from the three other organizations.
According to the NYPD, violent felony offense complaints rose from 35,964 in 2020 to 38,645 in 2021 and then to 45,529 in 2022. Total felony offenses, including both violent and non-violent major felonies, rose from 95,593 in 2020 to 102,741 in 2021 to 126,589 in 2022.
Although felony offenses rose from 2020 to 2022, the NYPD recently reported there were fewer felony offenses, including fewer violent felony offenses, during the first two months of 2023 than there were in the first two months of 2022.
Data compiled by the New York State Department of Criminal Justice Services, which uses slightly different data, also shows a rise in offenses in the past few years. New York City's violent crime rate rose from 5.778 incidents per 1,000 persons in 2020 to 6.296 in 2021, the state's data says, and the city's total crime rate rose from 21.363 in 2020 to 22.005 in 2021. The department doesn't yet have data for 2022.
Historically, New York City has had years with far more felonies annually than it has recently experienced.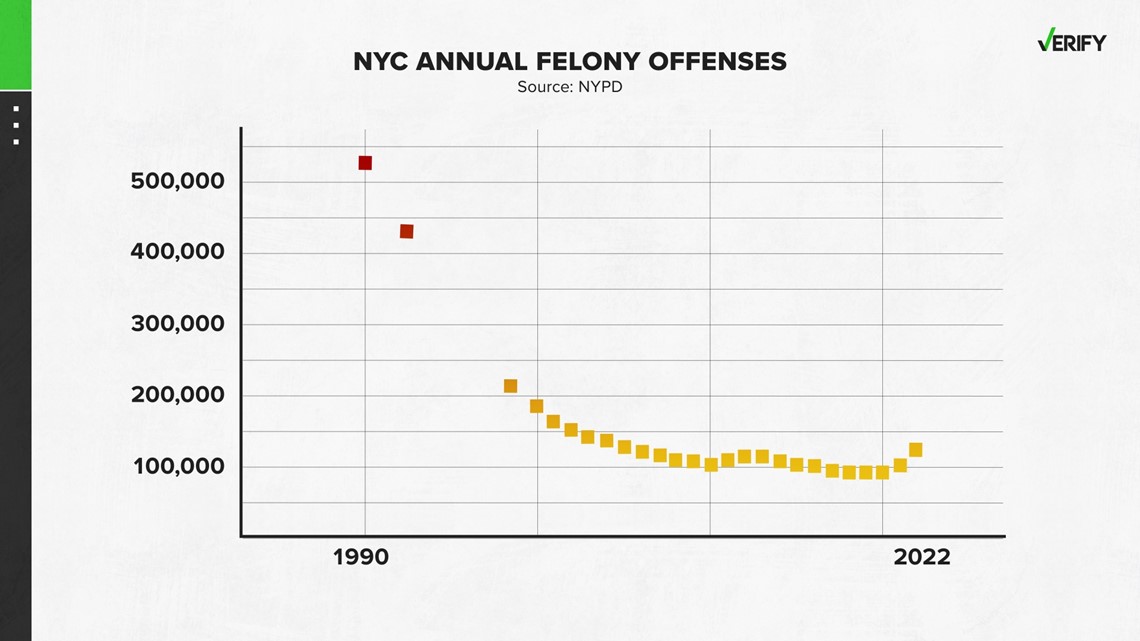 Felony offenses in New York City peaked around 1990 before gradually declining over the next few decades. There were 527,257 major felony offenses in 1990 and there were 162,064 major felony offenses in 2001, according to the NYPD.
The reduction in New York City's crime is often credited to Mayor Rudy Giuliani's controversial "tough on crime" approach to policing. The National Bureau of Economic Research notes that factors such as an economic boom during the 90s, a growing police force and a higher arrest rate all likely contributed to the city's drop in crime.
Back in 1990, New York City had about 7.3 million people. By 2020, the Big Apple's population ballooned to 8.8 million people, according to the Census Bureau.
The Census Bureau estimates New York City's population dropped to 8.4 million in 2021, likely as a result of people leaving the city during the height of the COVID-19 pandemic. The Census Bureau doesn't yet have a population estimate for 2022.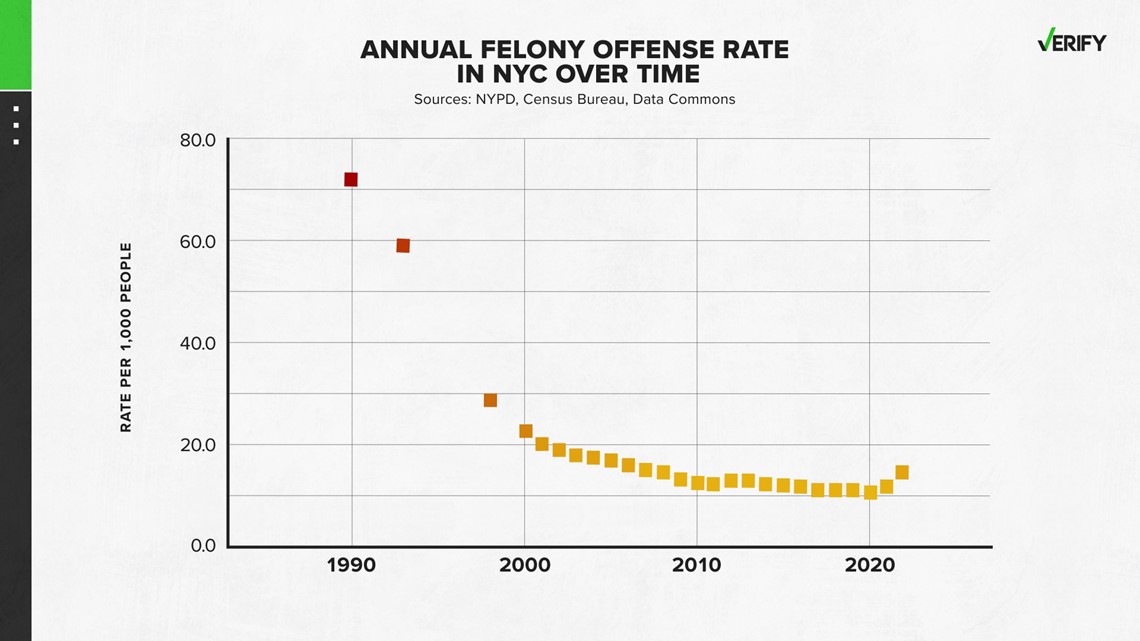 Violent crime in New York City is currently lower than most major cities in the United States.
The Major Cities Chiefs Association published records of violent crime across the U.S. in 2022. The data, reported to the Major Cities Chiefs Association by police departments of major cities and metropolitan counties, does not include non-violent crime. There currently aren't any directly comparable records of total crime in major cities across the U.S. from 2022, so this list only compares violent crime.
The violent crime rate in New York City for 2022, based on the Census Bureau's most recent population estimate from 2021, was 7.227 incidents per 1,000 people. That gives New York City the third lowest rate of violent crime out of the 10 largest U.S. cities.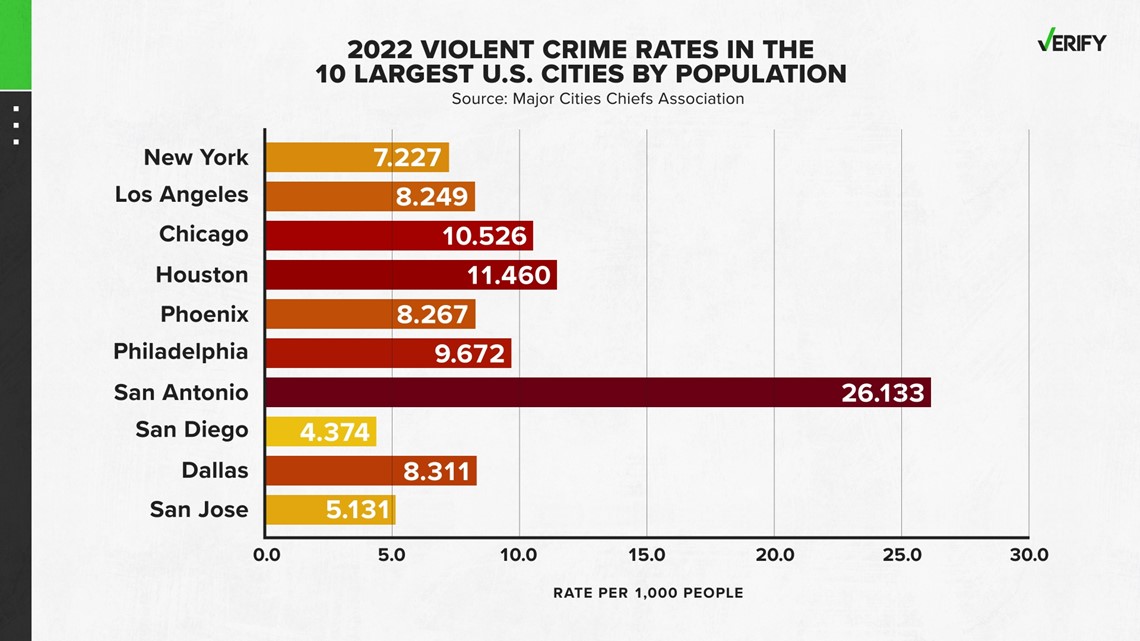 Nationwide, both violent crime and total crime has been dropping since the turn of the century. FBI data shows that, in 2000, the nationwide violent crime rate was 5.065 per 1,000 people and the total crime rate was 41.248 per 1,000 people. In 2019, the nationwide violent crime rate was 3.667 and the total crime rate was 24.766.