ATLANTA — A 16-year-old from Clayton County and Atlanta Forbes 30 Under 30 teen is continuing to carve a space out for her name online and has recently taken her talents to live streaming.
Khamyra Skyes, better known as Queen Khamyra, started creating content when she was around 11 or 12 years old. Khamyra's entire brand is built around being a positive teenager for others to look up to, with her interests being in sports, fashion, and now gaming.
"Girl gamers aren't just players, we are true gamers," Khamyra said. "We should have the freedom to play what we want and with who we want - period."
Khamyra got her start in social media by creating relatable sketch comedy videos in 2018. Her videos and collaborations with other kid creators were doing well across social media, especially YouTube, which caught the attention of executives in the creator community.
At 15, Khamyra made the 2022 Forbes 30 Under 30 National List for her work with a former content creator collective. Now at 16 years old, the teen is looking to broaden her reach and hone in on her community with the recent launch of her Twitch TV Channel.
"The social media part was always there, I started out in modeling, got into YouTube, TikTok," Khamyra said. "Then I saw that gaming's really blowing up. Maybe I can actually, like, show my talents and actually be, like, an advocate for girl gamers because it's not many of us out there."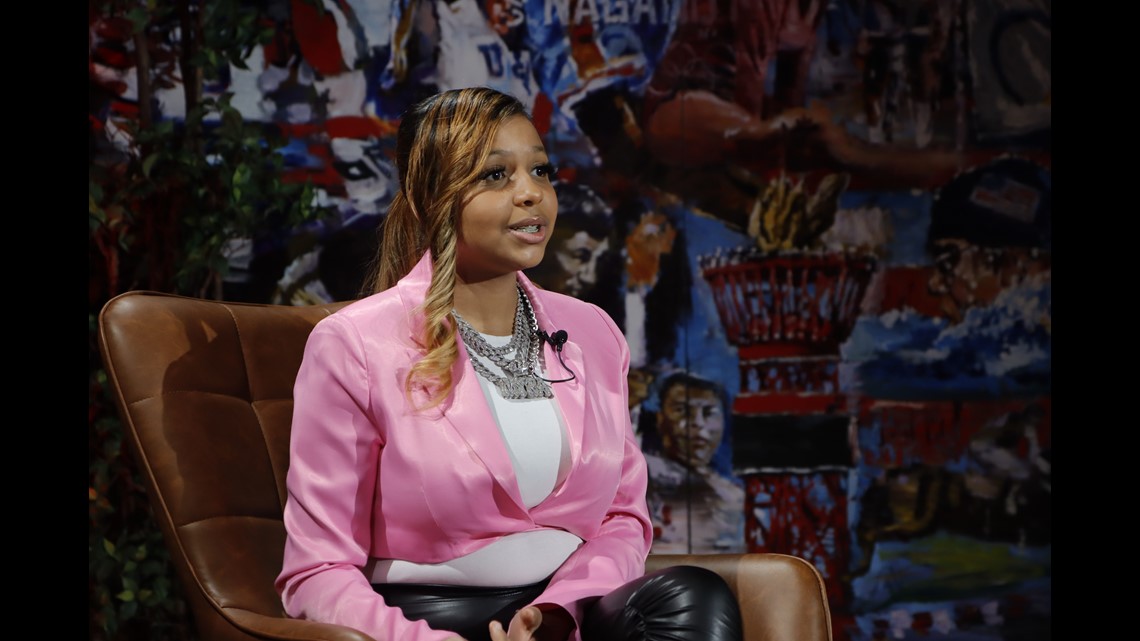 Dealing with online trolls
When it comes to dealing with people being anything but nice in the chat, Khamyra said she's seen and dealt with racism and sexism.
"Anytime they hear a Black person on the game, they start the racist stuff," Khamyra said adding later, "Talking about women, degrading women, talking about how you should be in the kitchen, making sandwiches, taking care of the kids."
And because this type of rhetoric is directed largely at women and BIPOC streamers, Khamyra said when she's playing live, she tries to stick to playing alone, with her friends or fans.
"I don't want somebody to come in there and say a whole bunch of curse words and it's like, Twitch wants to give me a ban for it," she said.
So when trolls do enter the stream, Khamyra just mutes them to keep the peace in the chat room and to keep Twitch from taking the stream down.
She's looking to start an all-girls Discord soon.
"I'm creating just like a Queen Squad, all girls. Well, I'm trying to make it all girls," Khamyra said. "So we can all hop on together."
Balancing family life
Given her busy schedule growing up, Khamyra has been homeschooled since middle school, and she's set to graduate high school this year at the age of 17 years old.
Her biggest supporter early on was her mother, but she made sure Khamyra stayed safe online.
"You just give me the content, and I'll post it," Khamyra remembered her mother told her, "Because I'm a child, there are weird people out there."
But that time has passed, and Khamyra now creates content 24/7. The 16-year-old said other than that, she loves to spend time with her mother and two brothers and is also trying to get her dog into IG modeling.
What's next after high school graduation?
Well, there's mom's plan and the Queen's plan.
Khamyra's mother would like her to go on and complete her undergraduate degree in a business-related field like finance.
"I mean I would want to do college, like for the college experience, maybe become a doctor, get a degree, something like that," Khamyra said.
But her dreams of furthering her streaming and content-creating career are strong. Khamyra hopes that she can continue her ambitions and later move to Los Angeles for acting.
For a more in-depth view of Queen Khamyra's world and more about her love of sports, check out her latest interview with 11Alive Reggie Chatman.