While they beat the Phillies in Philadelphia, Braves fans celebrated right at home. Fans who live in Atlanta, and others from out of town, were celebrating Wednesday night's big win from The Battery.
Michael Jones, who is originally from Wyoming, was streaming the game from his phone last night.
"I thought it was great," he said. "Being in Philadelphia, it was payback for last year for knocking us out. They just had a great season so I couldn't think of a better way than to have it there in Philly."
For Jones, being brave - and a Braves fan runs in his blood. Jones was on his way to be stationed at Moody Air Force base, but took a pit stop at the Braves Clubhouse Store for some new swag.
"I'm getting ready to go to Korea, so I'll be watching from over there," he said. "It's been a family tradition. They've got me through a lot of times -- deployed, at home. It's just something that connects me to my family in Tennessee, so it's been great."
Marshall Witzel was also visiting from Arizona.
"My dad was a huge Braves fan," he said. "That's why it trickled down a bit. I do love the Braves. I like the dynasties -- I like to see that consistency. I'd rather have it with the Braves than when the Yankees were having theirs."
For James Taylor, being a Braves fan comes with pride.
"I'm feeling that excitement of the championship win all over again and I think we're going to get that," he said. "I don't watch every game but I'm going to be glued from here on out. So I'm very excited."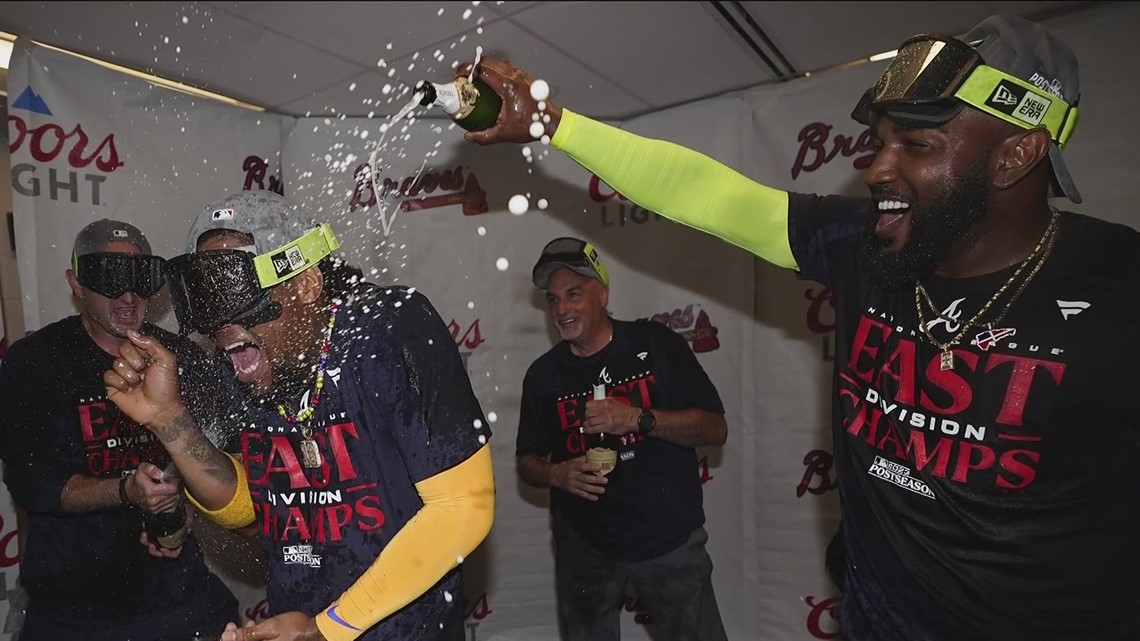 Eight-year-old Grady Hyde and his classmates, whose favorite player is Ronald Acuña Jr., thinks another World Series win may not be too far away.
"I hope they're going to win the World Series," he said.
His friend, Sebastian, added, "I think it was brilliant. They played really well."
Grady's father, Josh, loves watching baseball with his son.
"Seeing Matt Olson going and hitting 51 home run and tying the franchise home run record with Andruw Jones, that was really great," he said.
In what has been a six-year run of division dominance, Atlanta's 2023 regular season campaign is on pace to surpass the success of the previous five years. It marked the 96th win for Atlanta this year, which is just five shy of their win total from a season ago when they stormed back to defeat the Mets in historic fashion to capture the division crown.
It's Atlanta's 18th NL East title, which is the most in the division's history and seven more than the Phillies' 11 division championships. Overall, it's the Braves' 23rd division championship which is the most in Major League Baseball history, which is quite impressive since they moved to Atlanta in 1969. They have three more than the Los Angeles Dodgers (20) and the New York Yankees (19), a franchise that has been around since 1903.