HOUSTON — An 18-wheeler driver hauling a load of beer was killed when he crashed on I-45 North early Wednesday morning, sheriff's deputies said.
The crash was reported shortly before 4 a.m. in the southbound lanes near FM 1960. The crash shut down the frontage road and most of the mainlanes. As of 6:45 a.m. only two lanes were getting by and the frontage road remained closed.
A sergeant with the Harris County Sheriff's Office tells KHOU 11 it appeared the truck driver left the road and crashed into a sign. The driver was apparently not wearing a seatbelt and was ejected from the wreckage. He died at the scene.
The victim was later identified as Dominique Crutchfield.
The sheriff tweeted the public should avoid the area, if possible, as the freeway may not fully reopen for several hours because of the investigation and cleanup.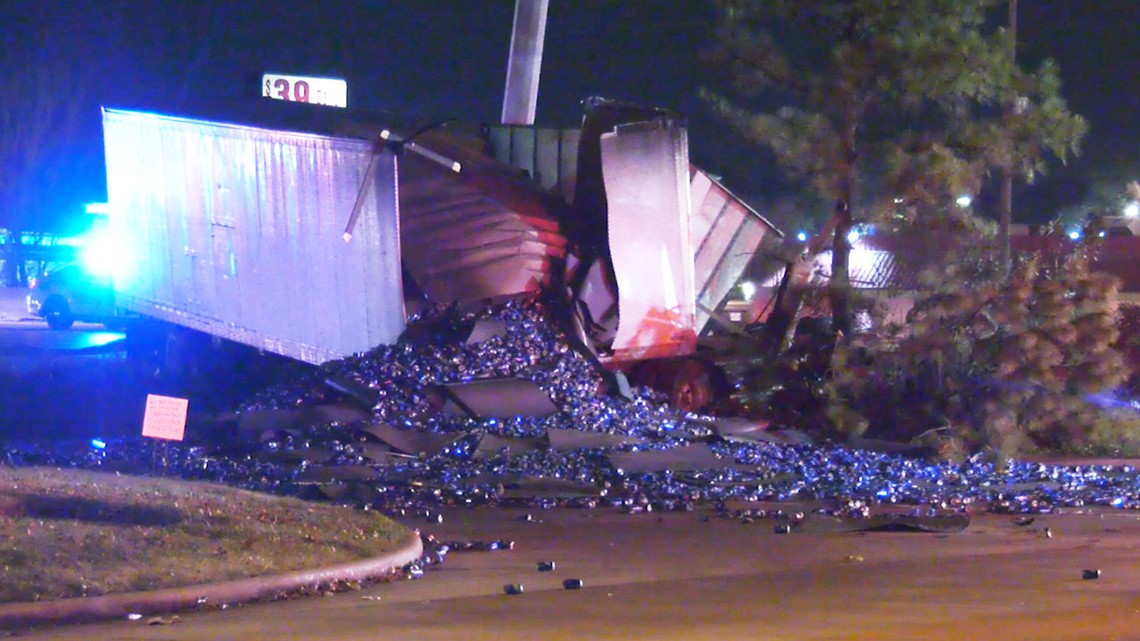 "Expect delays and seek alternate routes," Sheriff Gonzalez tweeted before 6 a.m. "Scene investigation by @HCSOTexas will require about 1.5 hours and then cleanup will require several trucks. Hazmat has been requested for possible diesel spill. Two inside s/b lanes have been open."
A KHOU 11 photographer at the scene reported that beer cans from the truck's cargo area spilled all over the frontage road.
Drivers will want to use Highway 249, the Hardy Toll Road or the Eastex Freeway as a detour.
Despite earlier reports that there were two vehicles involved, it appears only the big rig was involved in the crash.