ATLANTA — Tuesday was the last day Georgia drivers can take advantage of the state's gas tax suspension.
Gov. Brian Kemp extended the suspension through Wednesday, Jan. 11, which eliminated the additional 29 cents per gallon on unleaded gas purchases over the last 10 months. The gas tax has since increased to 31 cents in the state.
When the suspension of the fuel tax first went into effect, gas was around $4.26 a gallon -- including the 29 cents from the tax. Though the gas tax was meant to help relieve customers at the pump, it cannot be confirmed if gas station companies or owners passed on the full savings.
It's an expensive fill-up after a long day working construction for Kevin Lazo.
"Right now, we're doing some townhomes here along Tara Boulevard," Lazo said.
Lazo drives from Forsyth County to Clayton County six days a week for a long-term project.
"It really is tough in the construction industry because we go so far to other areas. Sometimes gas prices are $100 a trip," Lazo said.
He shells out at least $300 a week in gas.
"It's mandatory," Lazo said. "If I have to go to a job site, I can't say, 'I'm not going to go.' I guess I just have to take the hit, and I'll probably just go out less."
Lazo will be taking more of a hit with those gas prices, along with Andre Joseph, who owns Wrap-A-Lot Fresh Express in Jonesboro and has about a 40-minute roundtrip commute.
"I want to keep the prices down, but I know it's going to end up having prices to go up because everything else is going to go up. It's kind of like a ripple effect," Joseph said. "I'm definitely going to look at ways to save money, save gas, and not really try to go around a lot like that."
Lazo expects an unwanted hit to his wallet as he keeps trucking forward with his hours-long commute each day.
"It does get very expensive with trucks with maintenance and everything, so I hope gas prices keep lower down at a price that I feel comfortable traveling," Lazo said.
11Alive decided to see if the gas tax suspension, as the governor intended, helped Georgians save.
The average gas tank size is 14 gallons and the average vehicle gets around 24.2 miles per gallon, as determined by the U.S. Department of Energy. This rounds out to be about 339 miles per tank. By this estimate, a tank should last an average of 13 days or nearly two weeks.
Kemp suspended the fuel tax on March 18, 2022. From the first day the fuel tax was rolled back through Jan. 11 is 300 days. This amounts to filling up an average of about 23 times during the suspension period.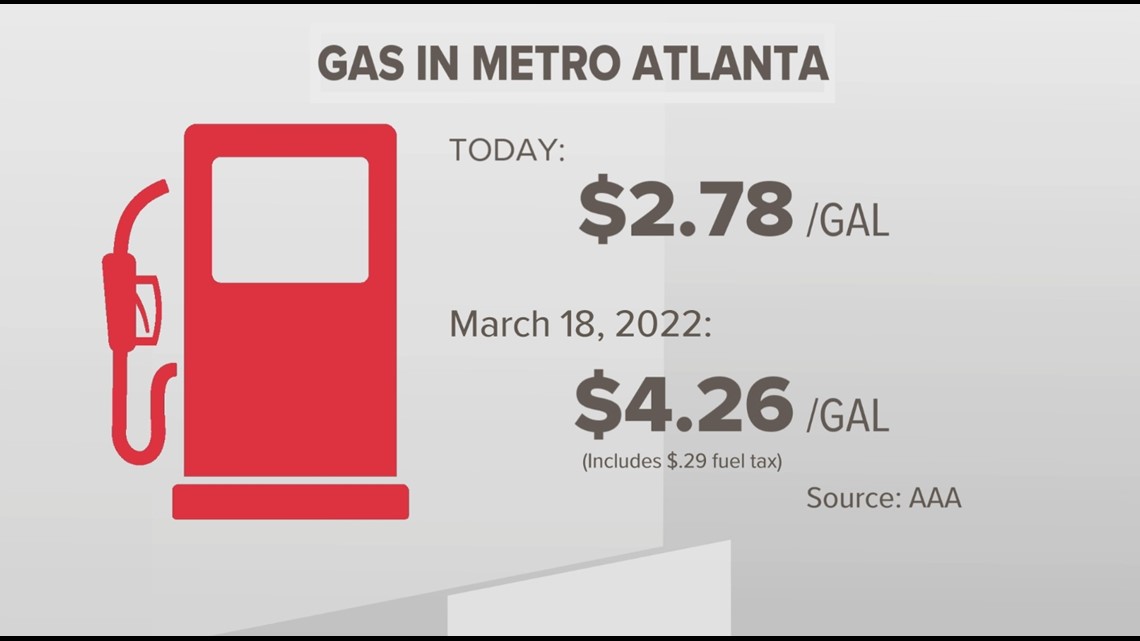 Taking into account the average price for regular unleaded gas in Atlanta, per GasBuddy's data, and adding 29 cents to create what would have been the gas tax pricing shows that yes, Georgians likely saved.
How much varies by car, driving habits and gas prices in one's area.
Using the information outlined above, savings amount to about $4.06 per tank or $97.44 over the course of the suspension period for the average driver, driving the average car and using regular unleaded gas.
As drivers enjoy one more day with the gas tax, prices today hover around $2.78 in the state, according to AAA.
The last time Kemp extended the gas tax suspension was on Dec. 8. He said the efforts were to help return more money to Georgians through a second tax fund equal to the size of the one issued in 2022.
Georgia's General Assembly returned to session on Jan. 9. Even if they take the issue up quickly, Georgians likely won't see any money until mid-winter or spring 2023 at the earliest.