ATLANTA — From up in Blue Ridge down to the city of Atlanta itself, north Georgia was blanketed by snow today.
As much as six inches fell on Blue Ridge in Fannin County, and there was an inch of accumulation in parts of Cobb and Gwinnett Counties in north metro Atlanta.
A number of counties will continue to be under winter storm warning and winter weather advisory conditions into the late afternoon and Saturday evening.
WHERE ATLANTA SPEAKS: Text us your snow pics and video at 404-873-9114!
Snow coming down in Atlanta and north Georgia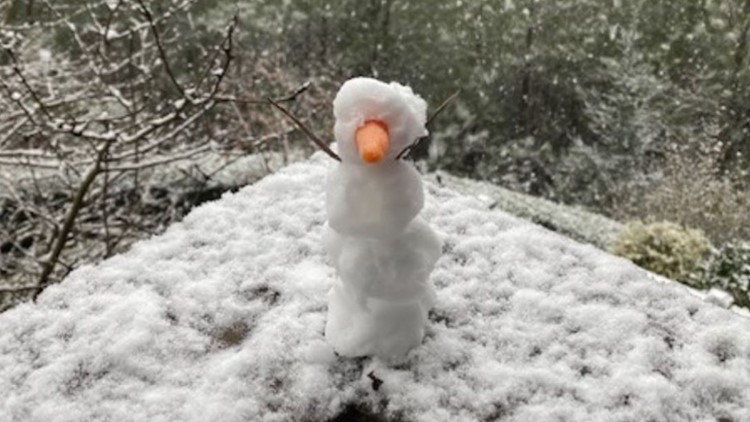 1:35 p.m.: 11Alive meteorologist Wes Peery has helpfully put together some awesome timelapse videos of the snow today in Cobb and Gwinnett Counties and up in Blue Ridge.
1:15 p.m.: Some early snowfall totals from today:
12:50 p.m.: Wes reporting the snow has just about fully gone through the Atlanta metro.
12:45 p.m.: The snow is over in areas farther north now as well, 11Alive meteorologist Wes Peery reports:
12:40 p.m.: The FAA confirms to us a plane disappeared off radar over north Georgia this morning amidst the snowing.
12:02 p.m.: 11Alive meteorologist Wes Peery says the snowfall is coming to an end in the northwest suburbs and along Interstate 75.
11:55 a.m.: Gilmer County Public Safety officials are reporting up to 50 cars stranded on a hilly stretch of Georgia Hwy 515 near Georgia 382 Connector in Ellijay.
11:50 a.m.: Georgia 372 at Conns Creek - roads are snow-covered, according to the sheriff's office.
11:47 a.m.: Johns Creek PD is advising everyone to remain off the roads.
11:45 a.m.: Kristy Sue Hurst in Roswell sent us this great little snow design!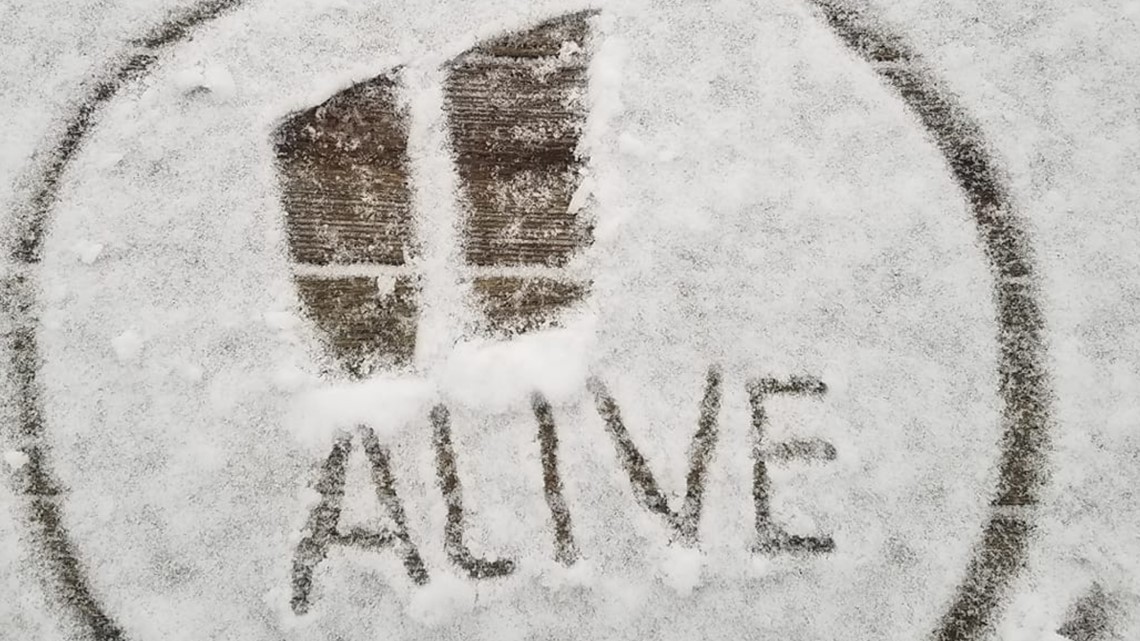 11:34 a.m.: According to GDOT, icy roads are reported in Gilmer and Whitfield counties. In addition, snow-covered roads are being reported in Walker County.
11:30 a.m.: Kristy Sue Hearst sends us this great shot of her snowman in Roswell!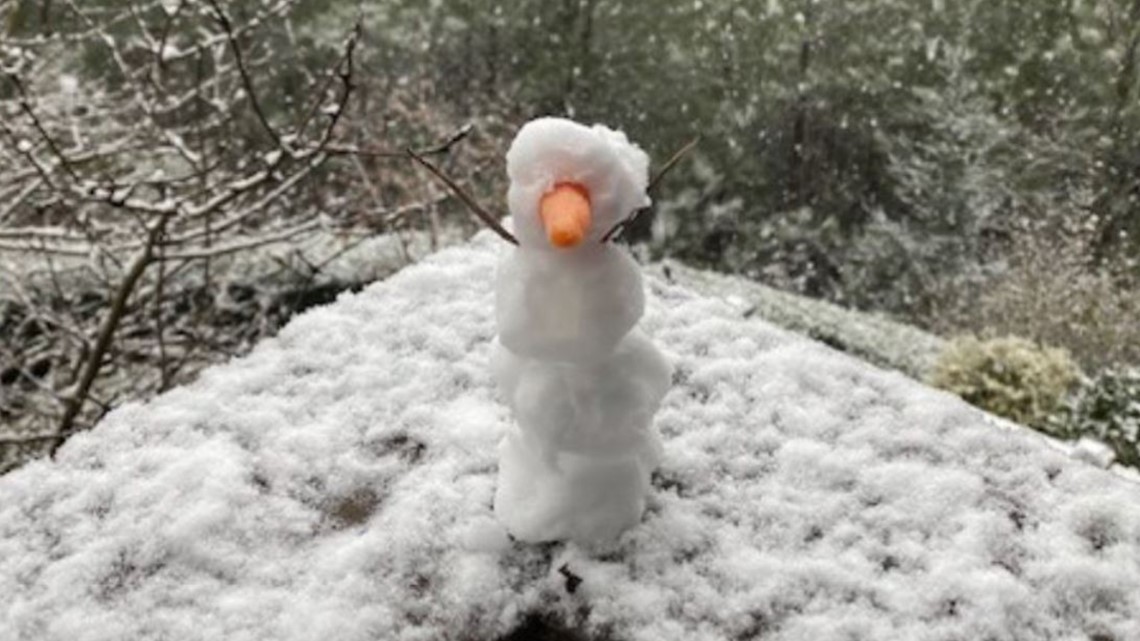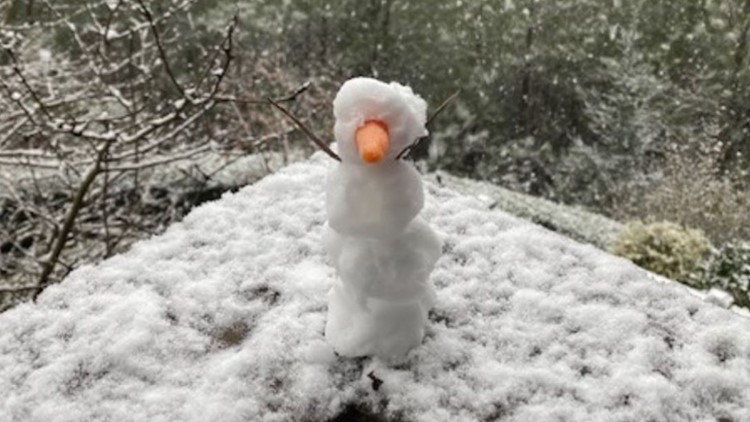 11:28 a.m.: Only in the South: According to the weather service, when it snows, what do you do? You make hash browns outside on the flat-top!
11:25 a.m.: 11Alive meteorologist Chris Holcomb is already starting to look ahead to tonight and the potential concern for black ice on the roads - he says there could be patches, but that it shouldn't be too widespread.
11:21 a.m.: Georgia Tech's crew team headed out for practice on the Chattahoochee River in the snow this morning.
11:20 a.m.: We're getting reports of people abandoning their cars on the roadways in far north Georgia, where as much as 4 inches of snow has been reported. Stay safe up there!
11:15 a.m.: Alpharetta Police says the roads there are very slick this morning. They are advising motorists to stay at home if possible. For those who must venture out, "be extra cautious."
11:15 a.m.: Georgia 140 at Georgia 108 in Waleska was closed for a short time, according to the Cherokee County Sheriff's Office. They are describing conditions as "very bad."
11:15 a.m.: We've seen the snow moving east across the metro into DeKalb County and now it's coming down pretty good on I-85 and I-285.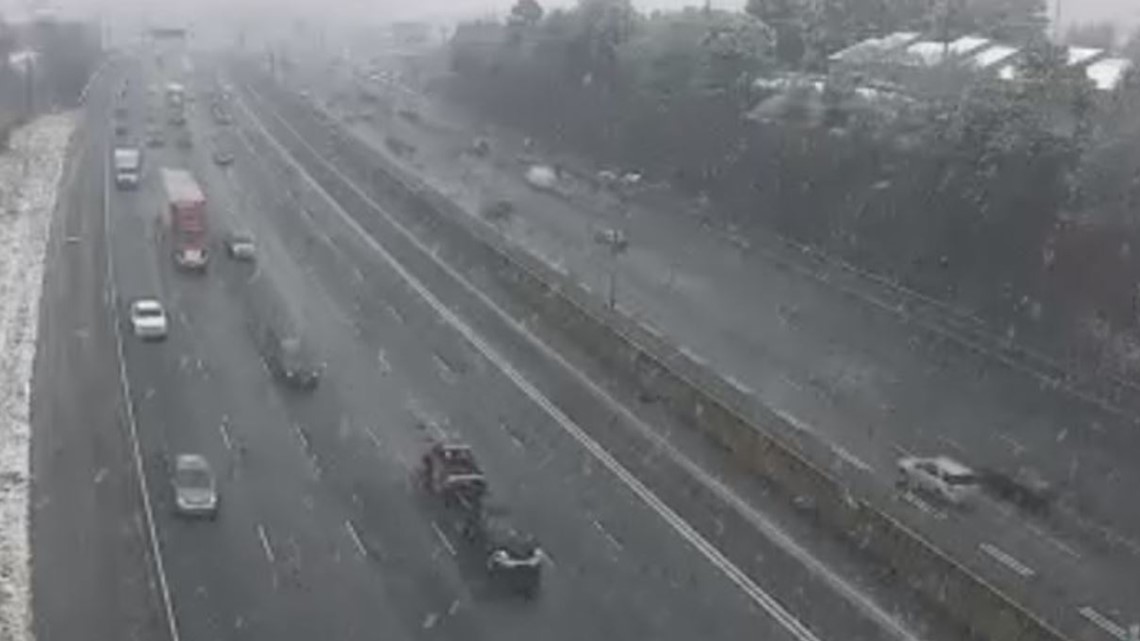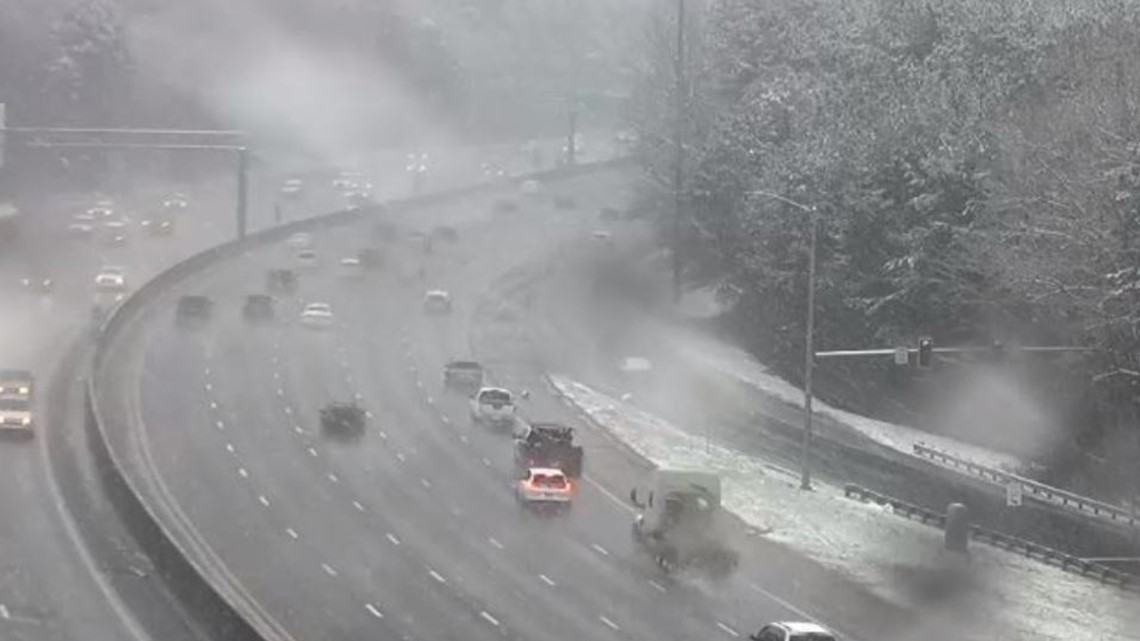 11:10 a.m.: If you haven't been out there to enjoy this snowy Saturday, you've only got a little more time!
11:05 a.m.: The National Weather Service reports an inch in Roswell and four inches in farther areas north like Double Knob Mountain near Elijay.
10:57 a.m.: We have received reports of large flakes coming down in the Danielsville and Athens areas.
10:52 a.m.: We're receiving reports of snow falling in Social Circle, Ga.!
10:48 a.m.: 11Alive photojournalist Tyson Paul stuck a tape measure into the snow in Canton -- it shows 2 inches of snow ... so far. It's still snowing, he says.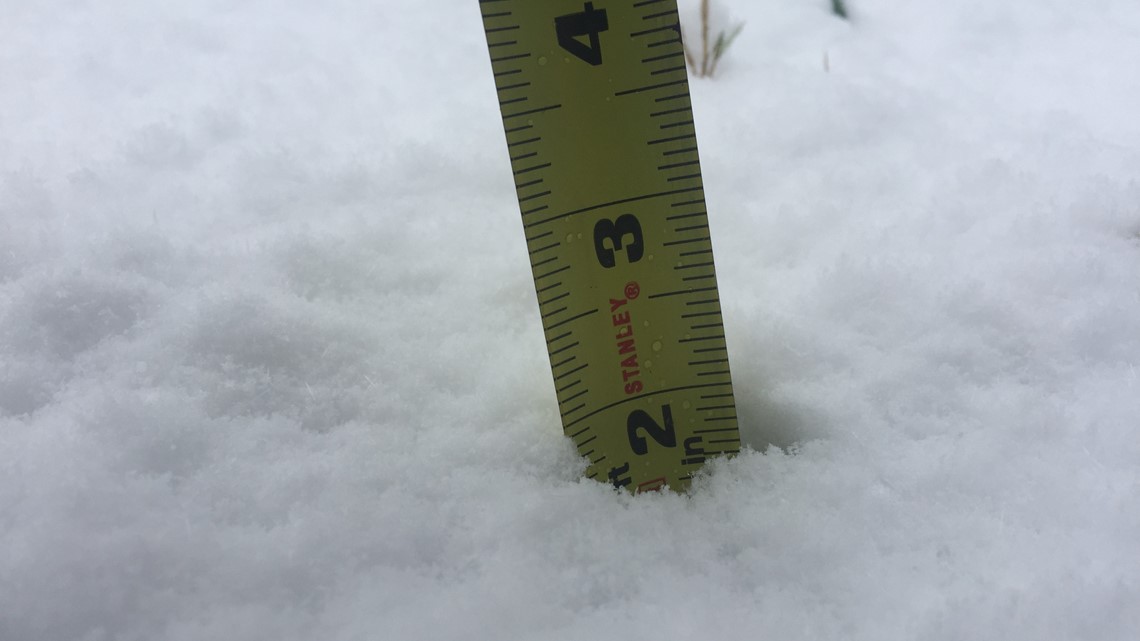 10:45 a.m.: 11Alive meteorologist Wes Peery reports an inch of snow fell in Marietta.
10:36 a.m.: At least one metro law enforcement agency has said they will issue SR-13 report forms for snow-related incidents with no injuries involved from this point forward during Saturday's snow event.
An SR-13 form is completed by the individual involved and submitted to their own insurance company. This will free up police officers to address more critical matters.
10:30 a.m.: Snow remains heavy along Interstate 575 in Cherokee County near Nelson.
10:20 a.m.: Cobb Libraries have delayed opening Saturday morning due to the snowfall across the county. The library branches will open on Saturday at noon.
Cobb DOT crews are reporting slick spots they are treating across the county.
10:20 a.m.: The area around the I-285/I-75 exit in Cobb County has significant snowfall.
10:14 a.m.: We are now receiving reports from Rockdale County of snow falling.
10:13 a.m.: Lumpkin County Sheriff's Office says they are receiving a high volume of accident calls. They are advising motorists to remain off the roads unless it is an emergency.
10:10 a.m. Traffic cameras are showing incredible snowfall in Cobb County right now.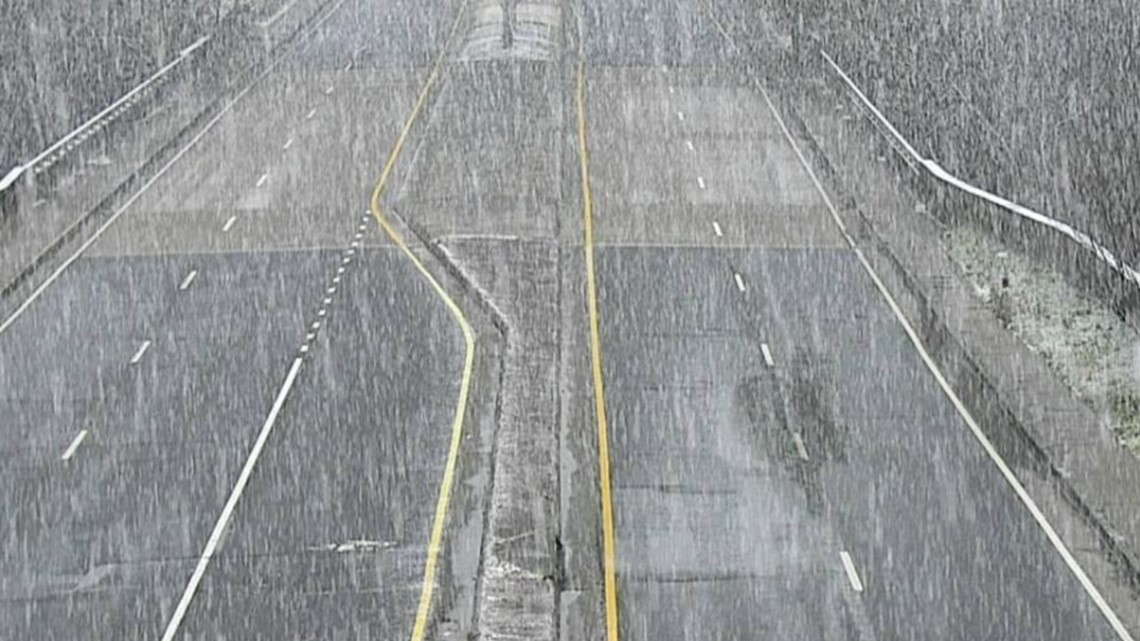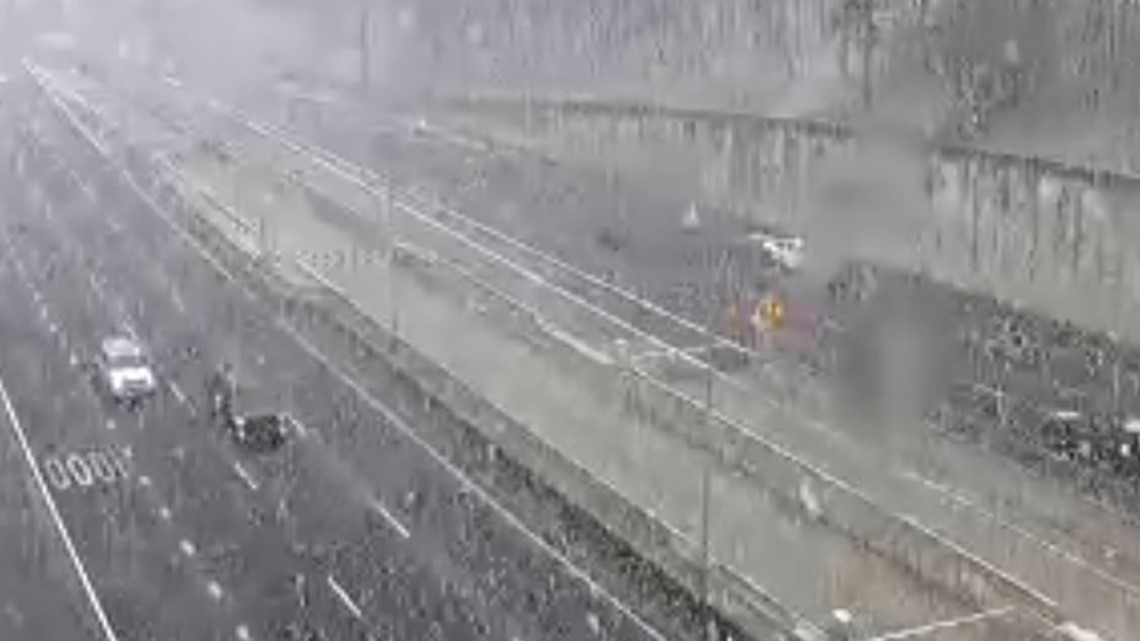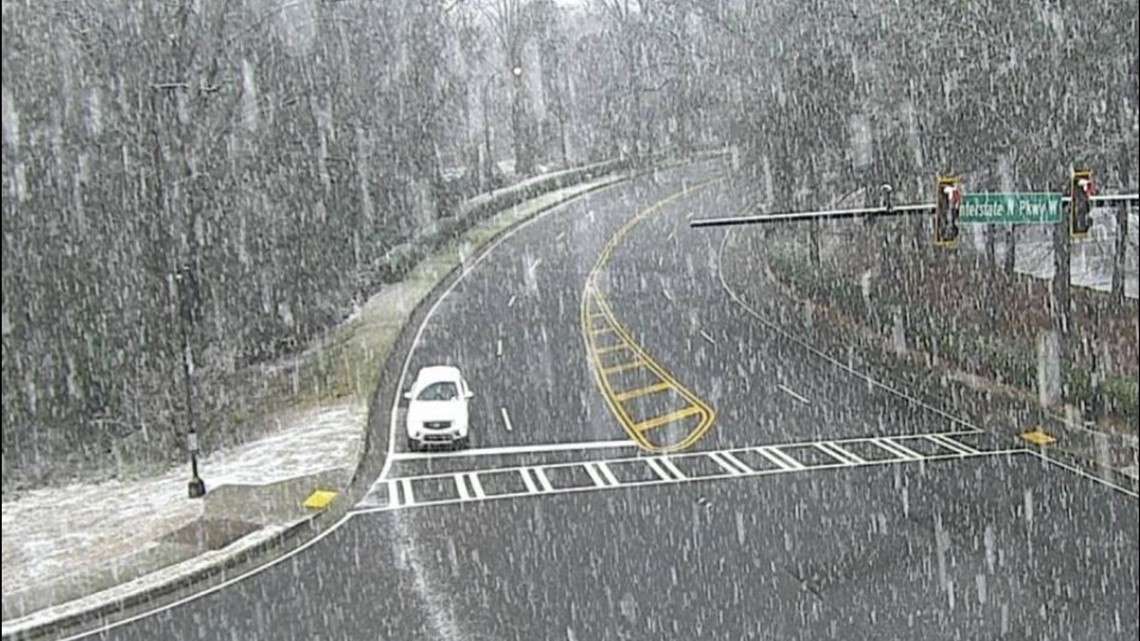 10:05 a.m.: Be careful driving out there! Traffic cameras are picking up what looks like heavy snowfall on I-75 near the Cobb Cloverleaf and the National Weather Service just sent this alert from Rome:
10:00 a.m.: We're hearing about a youth soccer tournament in Cartersville that is going ahead with playing in the snow. We've got a reporter on the way to catch the scene!
9:50 a.m.: Wes Peery says we have received reports of snow accumulating on the pavement in Cobb County. Be safe on the roads out there!
Snow coming down in Atlanta and north Georgia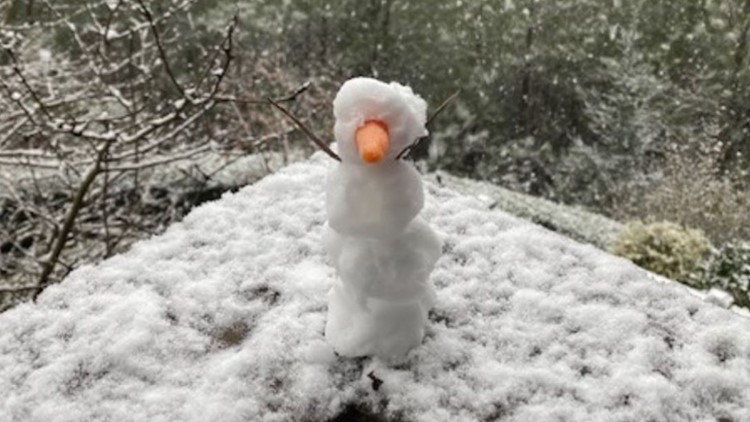 9:40 a.m.: 11Alive's Nick Sturdivant in Blairsville says there is about an inch of snow on the ground.
9:30 a.m.: We're seeing snow on I-20 and getting reports of snow south of the city too. It's snowing everywhere!
9:20 a.m.: GDOT is reporting snow on the roads in Blairsville. They're advising motorists to drive safely this morning.
9:17 a.m.: Flakes are falling outside the 11Alive Studios in Upper Midtown Atlanta!
9:14 a.m.: We have received reports of flurries in the Truist Park area of Cobb County.
9:10 a.m.: The National Weather Service has extended the area of the Winter Storm Warning to include Dade, Walker, Catoosa, Whitfield and Walker counties. An additional 3 inches of heavy, wet snow is possible in these areas through 4 p.m.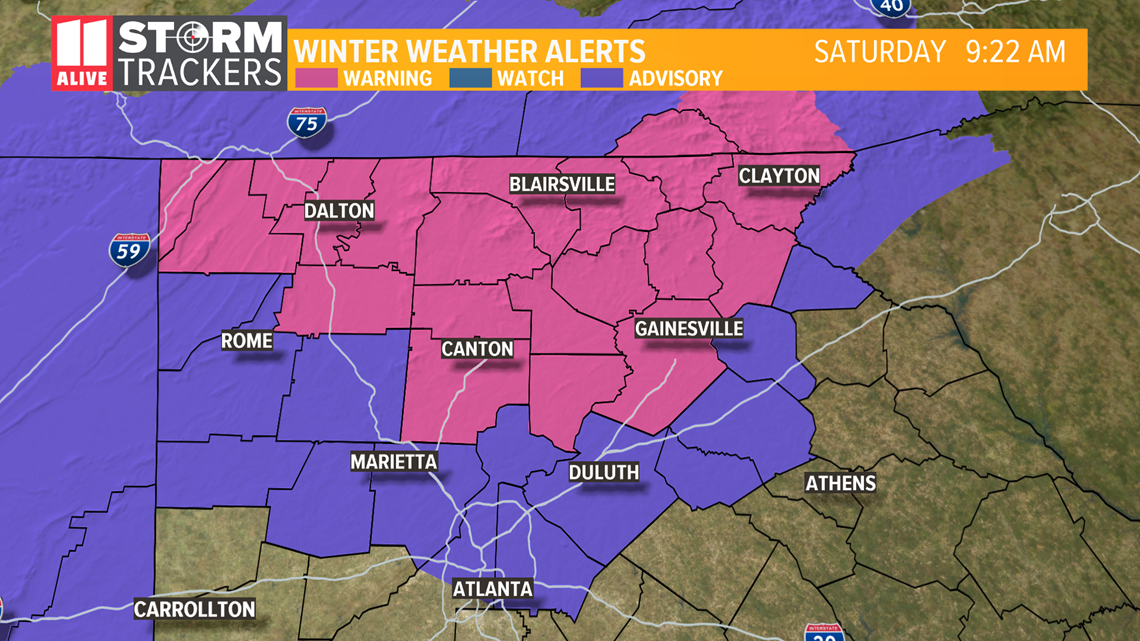 9:00 a.m.: We're now receiving reports of snow as far south as Kennesaw!
8:40 a.m.: Brasstown Bald, the highest point in Georgia in the Chattahoochee National Forest, is absolutely inundated with snow. You can check that out at the Forest Service's website.
8:35 a.m.: We're getting reports from our 11Alive StormTrackers of good snowfall in cities such as Calhoun, Elijay, Big Canoe - and our own Nick Sturidvant is seeing it start to come down in Blairsville.
8:30 a.m.: Blue Ridge is already turning white as heavy snowfall comes down and sticks to the ground. A handful of counties in Georgia are under a winter storm warning and could see as many as four inches of snow.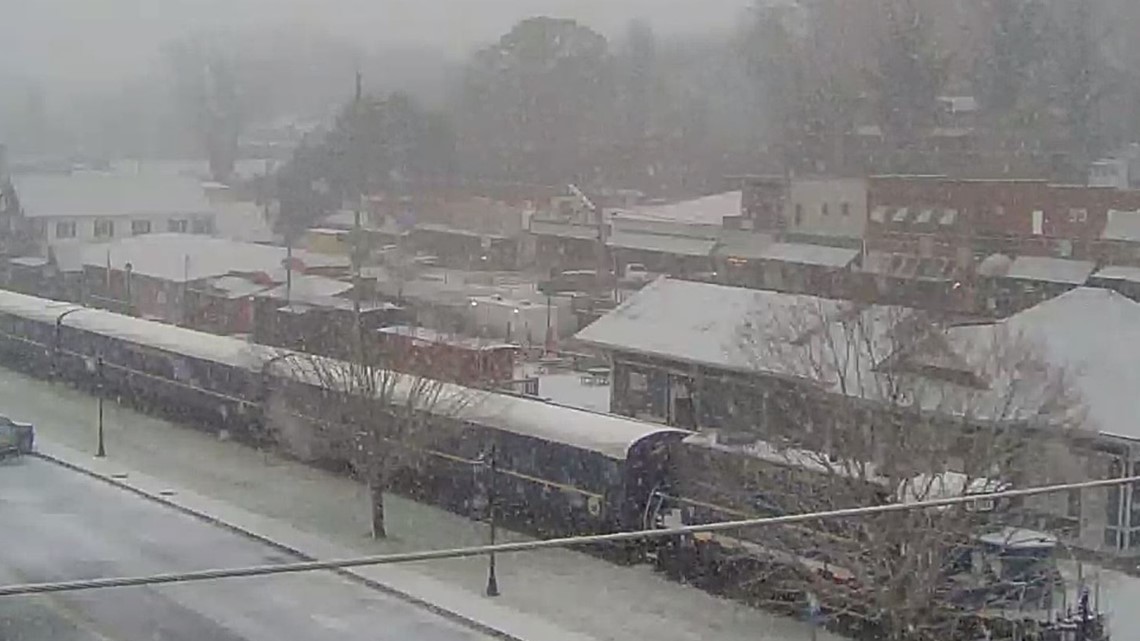 8:25 a.m.: We're starting to get reports of closings for various schools and institutions that have weekend activities: All classes at the Gainesville School of Ballet are closed for today.